Fall Driving Around Vancouver: Where to Go and What to Expect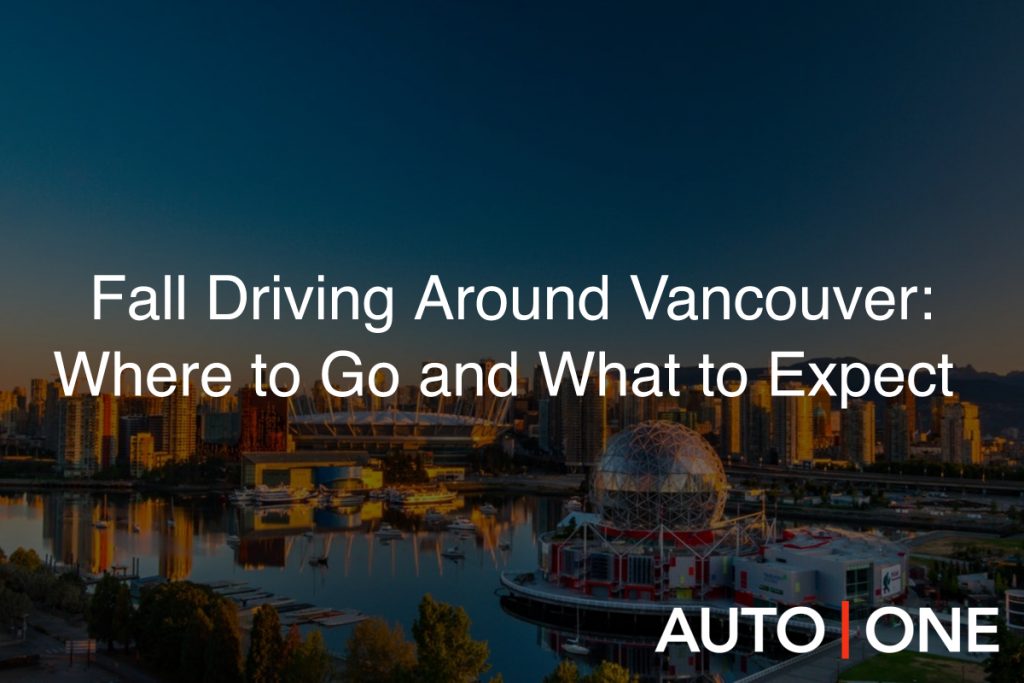 The West Coast is known nationally (and internationally) for a couple of things: its striking beauty, and its rain. Fall is also known for its striking beauty and – you guessed it – its rain. You put the two together and what you get is a lot of beauty… and a lot of rain.
Vancouver and its surrounding areas are amazing in the fall. The dog days of summer are past, the cruise ships full of curious tourists are starting to dwindle, and what we're left with is a mild climate, peaceful city roads and colourful scenery perfect for long drives. Sure, there is rain to contend with, but with a little advanced preparation, it doesn't need to be too much of an impediment to fun driving.
In this post, let's discuss how to prepare for driving in the rain, as well as a few of the scenic drives you can take around Vancouver. We'll also talk about hardware: your perfect car for fall driving. We're here to give you the AUTO ONE Vancouver Advantage this fall: rather than hit the road in an old, ill-equipped vehicle, our flexible lease programs or month-to-month car subscription program will seat you in the best fall car for the best possible price.
Preparing for Rain
There are a few ways you can arm yourself against the onslaught of precipitation. For one, consider your first line of defence against decreased visibility: your windshield wipers. Check the wiper blades to make sure they are in working order. If they are seizing up, leaving behind large streaks, or are worn out, it's time to replace them. Check your wiper fluid as well to ensure you have enough to last. For those who haven't yet had the honour of swapping out their wiper fluid, here's a simple video that instructs you on the process.
Next, turn your attention to the tires. You can have the best visibility on the road, but if you are forced to break along a newly wet surface, all the visibility in the world can't help. Check the tread on your tires to make certain they can handle the slick surfaces. You may also consider "wet weather tires" for your car, which offer improved traction performance for defence against hydroplaning. Luckily, if you lease a car from us, or subscribe through Drive, you will get a car in peak working order.
The last and most important thing to do, well after you have proactively fitted your car for the rainy season, is check the weather. Before you head out, check the weather online. Ask yourself: are these conditions in which I feel comfortable driving? Every driver has a different threshold for feeling safe and confident on the road, but if the weather conditions seem too risky for you, don't drive.
Fall Vehicles to Lease
A couple of months ago, we discussed the perfect summer car – a vehicle that was peppy, breezy and had a fantastic stereo system for pumping out summer tunes – but it's now time to talk about fall cars. What makes an ideal fall car? Firstly, it's a car that can keep you safe from the ornery weather, the powerful winds and slick, post-rain road conditions.
Secondly, you want a car that is spacious and comfortable. Since school is back in session, it is carpool season, which means you may want to consider an SUV with plenty of room and a great infotainment system. Alternately, you might also find that you do a lot more driving in the fall as compared to summer, so perhaps a fuel-efficient vehicle is best.
An Audi Q7 ticks off all the fall boxes. It is a 7-seater SUV with an abundance of safety features, like a backup camera and rear sensors, as well as an impressive infotainment setup, perfect for keeping a group of kids silent on a long carpool. We have an Audi Q7 Komfort for lease in Vancouver right now for only $878 a month, which represents a savings of over $400/month compared to traditional financing.
The Land Rover Range Rover Sport and Jaguar F-Pace are two more stellar options – both SUVs, both with powerful 3-litre supercharged V6 engines and both boasting stellar safety features, like surround camera, blind-spot monitoring, adaptive cruise control and park assist. Best of all, both SUVs are available for lease here in Vancouver for prices that are well within your range. Come visit our Vancouver location on Cambie Street south of Marine Drive.
For a more fuel-efficient option, take a spin in the Ford Fusion, which pairs its 2-litre inline 4-cylinder with a fully electric motor. We have a 2018 model in Vancouver for only $373 a month, an affordable price that gets even more affordable once you consider the money you'll save at the pump.
Scenic Fall Drives Around Vancouver
The Douglas Firs, Lodgepole Pines, Garry Oaks and Trembling Aspens all turn magnificent shades of yellow, orange and red in the fall here in B.C. To make the most of the season's scenery, there's nothing better than a weekend drive or getaway. While driving in Vancouver can come with its own rewards (and plenty of frustrations), it can be fun to discover the surrounding areas.
Highway 3, which snakes through Manning Park and Fernie on its way to Alberta, has some stunning scenery from September to December. Victoria, just a short ferry ride away, is particularly captivating in the fall, as the city's many Garry Oaks have a dramatic way of turning colours. The Okanogan Valley's many wineries are heading into harvest season this time of year, so it's a perfect time to catch the grape vineyards at their fullest. And, of course, the Sea to Sky to Whistler is – as with every other time of year – a fun, staggering drive in the fall.
Vancouver may start to get rainy soon, but the city more than makes up for it with its abundance of nearby scenic drives. Come check out your leasing options, or simply download AUTO ONE Group's Drive app to join our car subscription service, and start exploring the fall.