Canadian Business Pursuit: Life is a highway
Team Canada's Andrews brothers tackle the legendary Gumball 3000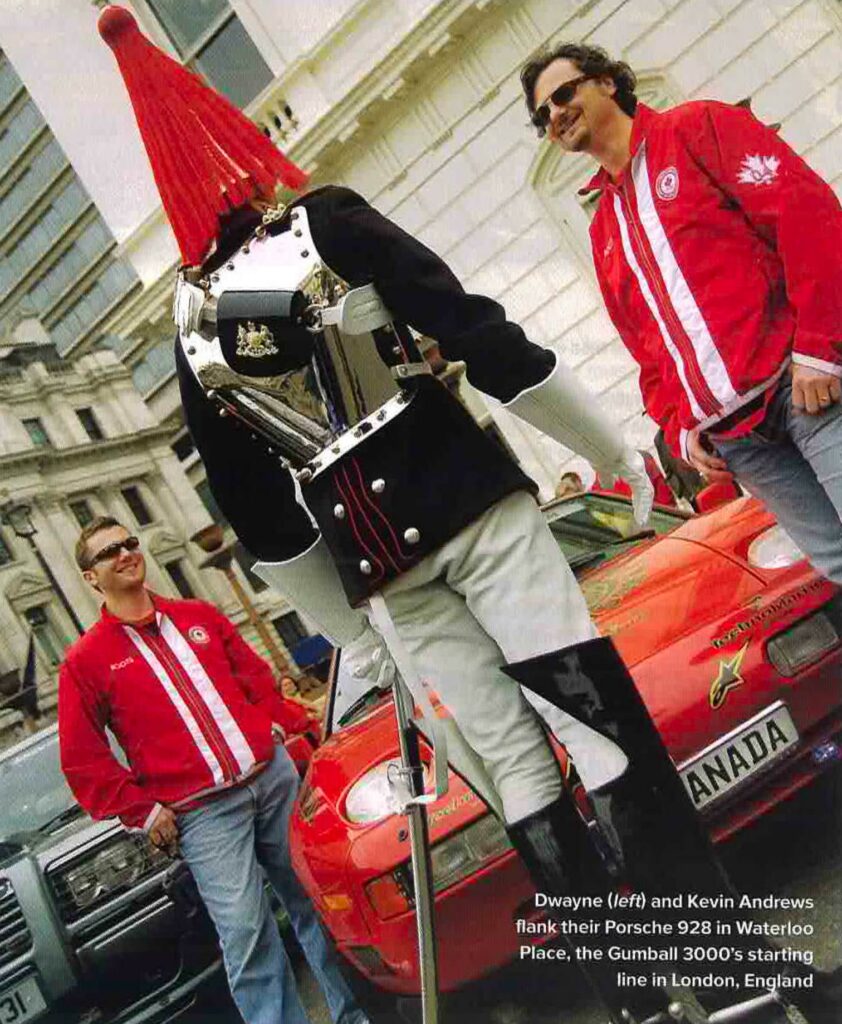 For a sun-kissed 90 minutes on an empty four-land highway cutting through the rugged Croatian mountains, brothers Kevin and Dwayne Andrews achieve driving nirvana. Three Subaru WRXs, outfitted with full-on rally-car muscle, are chasing their baby, a 1987 Guards Red Porsche 928 S4, around sweeping curves of pristine blacktop. The Subaru drivers take turns trying to get past the 928. The four cars scream along at 200 kilometres per hour, then 220, 230, until one Subaru drops back. Pushing them to match 250 km/h, Kevin watches in his rear-view mirror as they trade positions, angling for a way to overtake the 928. One Subaru moves into the others' slipstream, forming a shared passageway of low-pressure over both cars. The rear one eases off ever so slightly: the pocket of air between them stretches, and then slingshots it forward past the lead and races up behind the 928.
"it's like the guy's got nitrous in his car or something," Kevin thinks, as the Subaru begins to pull up alongside. He pushes the pedal to the floor. "Come on, baby, go go go!" they yell. At 280 km/h, the engine's howl reverberating inside the Porsche is deafening.
The long and windy road they took to get here begins nearly a year before. Like most men, Kevin Andrews wanted to mark the milestone of his 40th birthday by doing something special. Some guys go out and buy that little red sports car they'd always dreamed about. For Kevin, that wasn't enough. By day, he runs his own firm, Corpfinance International Ltd., which provides financial backing for leasing companies, but his true passion is cars. Just having a hot car in the garage for the daily commute is, for Kevin, a waste of automotive engineering. Powerful cars are meant to be driven – fast.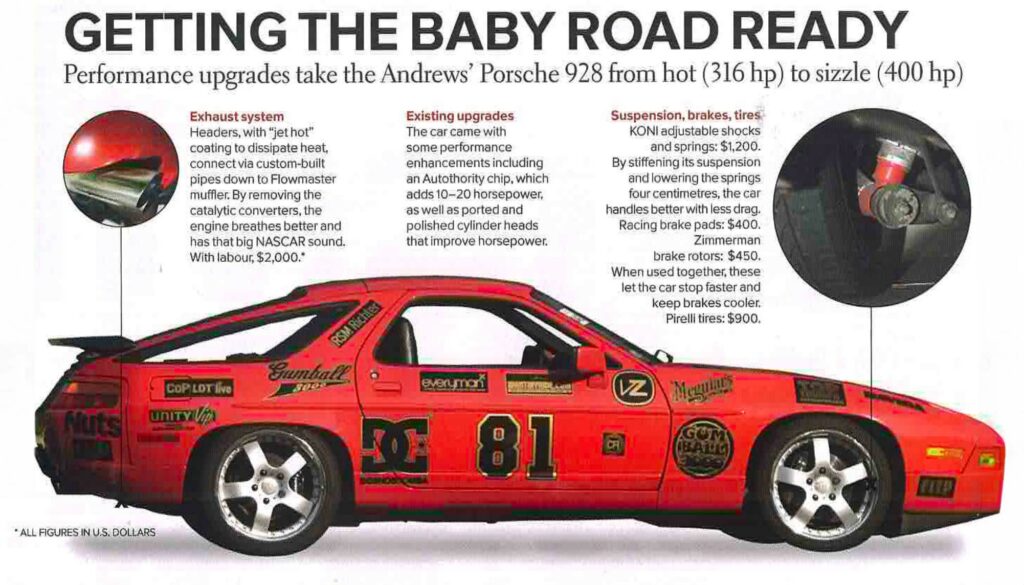 Kevin kicked around ideas on the phone with his brother Dwayne. Six years younger, Dwayne worked in sales at an IT consultancy in Charleston, S.C. Just as much of an auto aficionado as Kevin, Dwayne had read about this crazy six-day, 4,828 km (3,000 mile) rally across Europe called the Gumball 3000. Fashioned after the illegal 1960s American Cannonball cross-country races – inspired by Erwin G. "Cannonball" Baker's coast-to-coast road trips early in the century, and made famous in a duo of early-'80s movies – the Gumball Rally is the creation of one Maximillion Cooper, a Brit playboy never caught without his oversized sunglasses.
In 1999, Cooper invited 50 friends, including Canadian actor Jason Priestly, on a European auto tour that took them from London to Rimini, Italy, and back, through six countries, two principalities, and five Grand Prix tracks.
As much a series of all-night rock 'n' roll parties at luxury hotels as an occasion to drive rare million-dollar sports cars on a wild road trip, the rally grew in scope and publicity wattage. Pointedly not a race – with no official prizes for arriving first – its edgy and free-spirited underground mystique attracted celebrities, alcohol and clothing sponsorships and media partners like MTV and Playboy. Gumball first burned rubber across Europe – Russia and former Soviet states included – and then the United States. Speed limits were broken, drivers sweet-talked cops out of fines, and the occasional minor crash didn't dampen the drunken revelries. Last year, Gumball pushed its status to new heights: two major crashes in Morocco nearly cost the drivers their lives. In Spain, police arrested five Gumballers. All told, drivers were fined some € 50,000 as speeds topped 321 km/h.
The 2005 route would take 115 cars from London through Belgium, Germany, Austria, Hungary, Croatia and Italy, and end in Monaco on the weekend of the F1 race, May 20 – three months after Kevin Andrews would turn 40.
Perfect.  And only a $22,000 entry fee.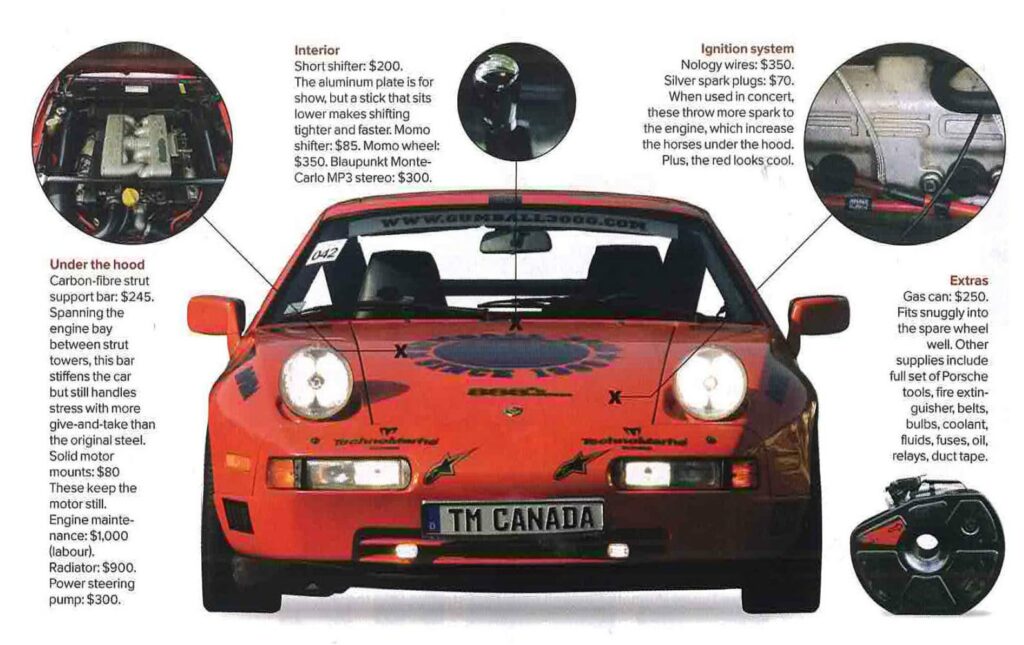 In August 2004, Gumball organizers told Dwayne some bad news: they couldn't enter the rally with Kevin's 1991 Porsche 911 C4 Cabriolet, as the starting roster already featured enough 911s, Kevin's 470 hp Mercedes ES5 AMG wouldn't pass muster either: a four-door sedan, no matter how muscled, just wasn't cool enough. And there was no way Kevin was willing to risk his precious '66 Mustang, which would need $30,000 in work to get it to race standard.
But the Andrews brothers both had a fondness for Porsche 928s. Each had owned one and knew that the S4 could do 275 km/h with almost no upgrades. At Gumball HQ, they loved the idea – the 928 had that '80s retro look, and there weren't any others.
Now Kevin and Dwayne just needed to buy one.
Porsche built only 14,900 928 S4s, between 1987 and 1990, and just a small percentage were manual five-speed, which would be key for this kind of driving. But within days, Dwayne spotted it on eBay: a five-speed Porsche 928 S4, and it already had some upgrades. Better yet, it was red – ideal for the only 2005 Gumball team from Canada. Dwayne called and negotiated a sale directly. Final price: US$13,000.
Team Canada had its baby.
MAY 14, 2005 – DAY ONE, LONDON TO PRAGUE
Waterloo Place in central London is lined with 80 Gumball cars, each outfitted with official black-and-gold decals. The cars gleam as the Brothers Andrews stroll past. Kevin and Dwayne have donned red-and-white jackets with "Canada" emblazoned across the back, and are chomping on giant cigars.
Two weeks earlier, their baby had made the transatlantic crossing safely. The day before the brothers delivered the car to Gumball organizers, who applied a large number 81 on its side, while they went out and enjoyed the kickoff party in a warehouse space packed with 4,000 people – the first of many late nights.
Over the previous eight months, the brothers have put some US$10,000 into upgrades, plus another US$5,000 for labour. Among the rows of million-dollar cars – Ferraris, Lamborghinis, Aston Martins – their 18-year-old 928 is quite unassuming. There are a few prosaic underdog entries, such as a Dodge Charger, and rare models like a Caterham 7 roadster. And then there are the oddities, including Kevin's favourite, a 1964 Volkswagen van powered by a Porsche engine and pimped out with nitrous canisters and snakeskin interior.
The crowd builds. Celebrities arrive: supermodels Jodie Kidd and Caprice, actress Darryl Hannah and champion snowboarder Tina Basich (in a biodiesel-fuelled Range Rover). And there's lots of colourful characters. One Gumballer, sporting an airline pilot's uniform is flanked by a coterie of "stewardesses." Kevin and Dwayne had no idea they were joining a cult, but they think they like it.
At 7 p.m., the drivers get in their cars and start their engines. As all 115 cars rumble slowly through a tight 2km-long corridor of an estimated 250,000 people, the 928's engine is among the loudest, a deep bellowing NASCAR-like growl from beneath the hood that is turning heads – or it might be that they're blasting Stompin' Tom Connors' song "Canada Day, Up Canada Way" – the only song they listen to all rally.
It's a swift 225 km/h drive to the Chunnel. A train takes them under the English Channel to France, and then it's back on the road to Belgium. By 1 a.m., they roll up to the Chateau D'Acoz, a castle south of Brussels that is serving as a checkpoint. Some 20,000 fans have shown up, creating a traffic jam. While Kevin takes tips of where to watch out for police, Dwayne hoofs it to where organizers are handing out route cards, which tell them how to get to Prague, the next checkpoint. A back route takes them out to a highway and they are off again, barrelling through the night toward the German border. In the early dawn, not far from the Czech Republic, things go awry. They're off the autobahn now – way off. In fact, they've come to a complete stop. The exit ramp they took on the advice of the small GPS unit that the rally organizers provided has ended in a gravel road. They can see another highway though, just 100 metres away. But between it and them is hilly terrain of gravel and dirt.
"OK, Dwayne," says Kevin, "we've got to go back."
A Porsche goes zipping by down the highway in front of them.
"Let's drive it," says Dwayne.
The little off-roading excursion goes well, and soon they're on the highway – but it's hard to make up time. At every overpass they slow to a crawl to traverse a lip of asphalt several inches high. No sign of that other Porsche that drove by just before them. Construction pylons start showing up; suddenly the road just ends.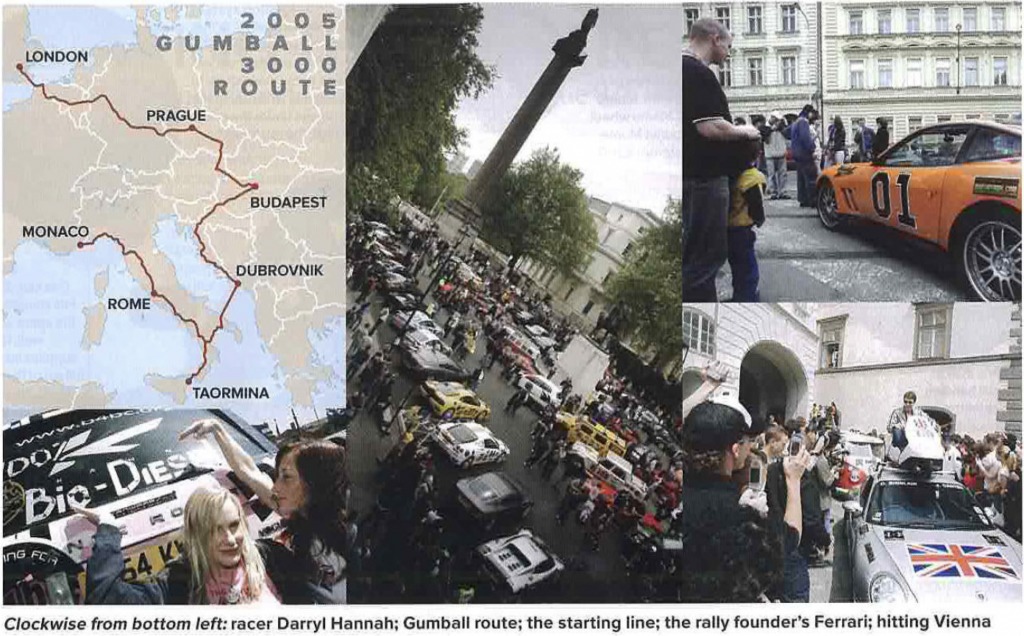 Spotting an on-ramp on the other side of the highway, they cut across the median, go down the wrong way and get onto a two-lane road. Just then four other Gumball vehicles zoom by on their way to the Czech Republic – with Team Canada in hot pursuit. The Czech police merely take pictures as cars barrel by at speeds over 300 km/h. The Andrews brothers only manage 250 km/h on the curving road, but pull into Prague's Hotel Carlo IV at 9:30 a.m., the 12th in the lot. The GPS unit proved to be useless in the city, but while other Gumball vehicles drove around aimlessly for half an hour, Team Canada asked for directions, politely.
MAY 16, 2005 – DAY 2, PRAGUE TO BUDAPEST
Kevin and Dwayne drag their butts out of bed, still nursing their wounds from the previous night's party. They head down to the garage for 8:30 a.m., lots of time to top up the oil and hit the road at 9. But the garage is nearly empty. Everyone got up early and left, completely ignoring the official start time.
All the more cars to pass.
Fortunately, the Czech police remain friendly, and Team Canada clocks 250 km/h trying to keep pace with a Noble M12. Then the alarm on their radar detector goes off. The police officer waves over the Noble, but only half-heartedly motions to Kevin and Dwayne. They ignore him and hit the gas.
Austrian police are less accommodating. Speed traps every few kilometers slow things down. Every Gumballer gets pulled over, and the Andrews brothers lay out their first € 35 in cash. Before they reach the Hungarian border they get pulled over again – another € 35. Other Gumballers, upset at the harassment, mouth off and get fined € 120 for speeding, plus € 150 for lacking a highway sticker.
Hungary blurs by at 260 km/h, but Kevin and Dwayne's thirst for speed still isn't sated. They drive through Budapest to the Hungaroring F1 racetrack. Another 20,000 people are there, cheering. Amazed, Kevin and Dwayne sign autographs, and then join 14 other drivers on the track for four perilous laps.
"You own the car," says Dwayne, as he vacates the driver's seat. "You wreck it."
After the first tentative lap, Kevin and Dwayne are thrilled with how their baby handles; it takes corners low and tight, and the rear drifts out perfectly, with no threat of spinning out. Others have less control. A 911 almost crashes into them, and another spins out. These guys can afford powerful cars, but they don't know much about handling them.
Kevin and Dwayne retire to Budapest's Kempinski Hotel Cornivus, and a party at the opulent Gellert Turkish Baths. Surrounded by tall, elaborately carved marble pillars and a high gallery where a band plays, the baths overflow with foam. Some 250 revellers party in the oppressive humidity. At 1 a.m., women start jumping into the baths naked; men follow in hot pursuit. Evening rolls into early morning. Takeoff time is 7 a.m. and someone has to drive, so at 5 a.m. Kevin sends Dwayne off to bed, then hooks up with a Brit named Cliff, the "airline pilot" from the starting line. Hopped up on a vodka and Red Bull, they decide to just stay up.
MAY 17, 2005 – DAY 3, BUDAPEST TO DUBROVNIK
Dwayne, with only a few hours of sleep under his belt, gets behind the drivers' wheel, Kevin slides into the passenger seat. "If i say, 'pull over,' do it right away and don't ask why."
Despite their post-party state, they blast through the Hungarian mountains, matching wits with a brand new Mustang GT.
The sun is shining as they cross into Croatia and are welcomed by four lanes unspoiled asphalt. By early afternoon, Kevin has recovered enough to take the wheel, so they pull into a gas station, switch places and refuel – something they have to do at least every two hours. On the way out, they meet up with the three Subary WRXs, all sponsored by DC Shoes, a U.S. skateboarding brand and backer of the Gumball 3000.
The race is on.
Kevin knows that WRXs are fast, all-wheel-drive rally cars, but these have clearly been worked over. All four cars are soon pushing 225 km/h, then 240 km/h. One of the Subarus drops back but the other two keep coming. The Subarus try to slingshot, a racing maneuver that uses the front car's slipstream to help propel the rear car past it, but every time one of them gets next to the 928 – which by this point is gunning to 280 km/h, faster than the brothers have ever pushed it before – it's like the Subarus hit a brick wall. For an exhilarating hour and a half they try, but the brand new Subarus can't overtake the 18-year-old Porsche 928.
The cars pull into a gas station, and the Subaru's drivers come over to find out how fast the brothers were going. The Subaru's speedometers had topped out at 160 mph (260 km/h).
"How do they drive?" Kevin asks.
Awful, he's told. Blocks of wood in the wind, Kevin and Dwayne are chuffed. The 928 could have been driven with one hand.
With Dwayne back at the wheel, they head off to the checkpoint at a spectacular national park, where the Krka River courses through seven waterfalls. They get their route card, and are off to Dubrovnik.
An hour and a half later, the car starts backfiring. The timing light has come on. They take it easy all the way to the overnight ferry that will take them across the Adriatic Sea to Italy.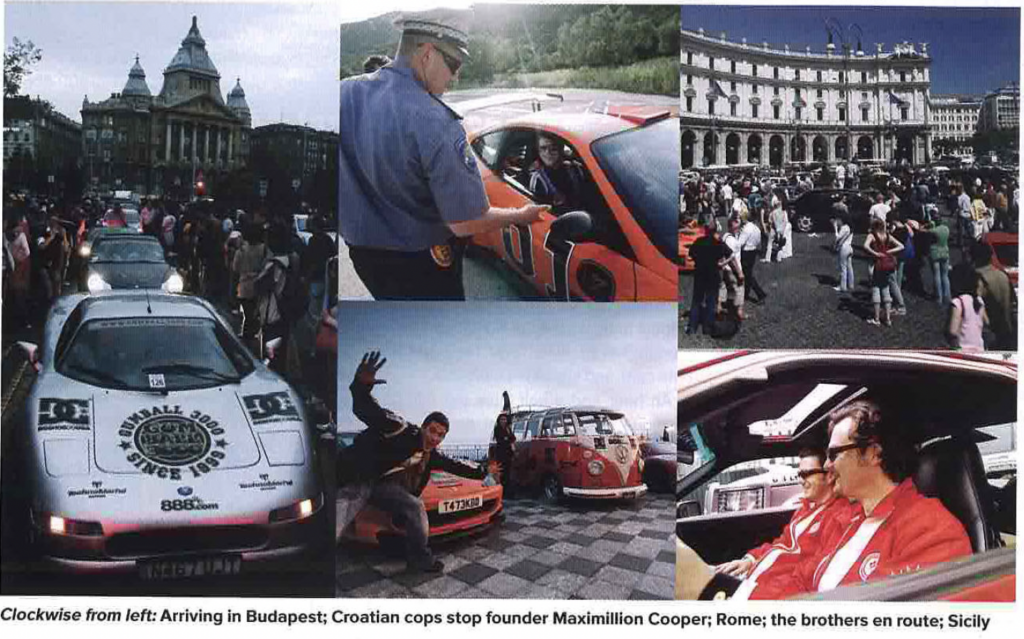 MAY 18, 2005 – DAY 4, BARI, ITALY TO SICILY
When the ferry lands in Bari, the Andrews brothers drive straight to a Porsche dealer. The mechanic claims it is fine to drive. An hour and a half later, they're on the side of the road. They think it's the mass air-flow sensor, a piece of electronics that governs the amount of air fed into the engine. Kevin and Dwayne decide to bypass Taormina, Sicily for Rome, where they're destined the next day anyway. They track down a qualified Porsche mechanic in Rome; Kevin gets a $700 mass air-flow sensor couriered from London. And then they call for a tow.
One € 1,300 bribe later (and hours of enduring the tow driver's chatter), they arrive in Rome at the lavish Hotel Boscolo Exedra in Piazza Della Republica.
MAY 19, 2005 – DAY 5, ROME
After a couple of tense hours with the mechanic, the 928 is back in fine form. The real problem? Some of the relays in the fuse box by the wheel well had a short – the brothers had the parts in the back of the car.
When the other Gumballers come tearing in to the hotel later that afternoon, they're impressed by the time Car 81 made (no need for them to know the real story) and Kevin and Dwayne settle in for a particularly wild night. Cliff, their party-mate in Budapest, arranges for three young female friends of his to fly in from London. They arrive wearing naughty nurse outfits. The party goes until 4 a.m.
MAY 20, 2005 – ROME TO MONACO
The final day. One last chance to feel the freedom of four wheels and a 400-horsepower engine going hellbent for leather. On the road to Monaco, Car 81 joins four other cars weaving in and out of traffic at speeds of up to 240 km/h, trying to block each other from passing. They cross through France and, at the exit to Monaco, let a French Gumball car pass in front to lead the way. Almost immediately, police pull over all six Gumballers. The French car, with a lovely lady gracing the passenger seat, is free to go, but Kevin and Dwayne get a € 90 ticket for following too close. "Perhaps we need a beautiful French co-pilot too," Kevin muses. Monaco is brimming with activity for the Formula 1 Grand Prix. Car 81 crosses the finish line at Casino Square in Monte Carlo, and the brothers head to a cruise ship in the Monaco harbour, where they'll spend the next two nights.
Kevin and Dwayne are exhausted, but find it hard to come down. So they just keep going, partying until 5 a.m. – thanks to more Red Bulls. They sleep it off in time to get into tuxedos for the final party the next night. Kevin's wife joins in the festivities, as do a few hundred other people, to hear road stories swapped and see Maximillion Cooper hand out awards. Two British women win the coveted "Spirit of the Gumball" trophy for finishing despite numerous disasters; their open-top Caterham 7 broke down eight times, and they had to hitchhike from Monaco.
Next year, Gumball 3000 will be like no other; 115 cars will cross three continents in nine days, starting in London on April 30 and driving to Istanbul, flying to Hong Kong, then driving 4,000 km-plus to Beijing, and then flying across the Pacific for a final leg from Salt Lake City to L.A., via Las Vegas.
Dwayne's bailing, but Kevin's up for round two. But the € 30,000 (about $66,000) entry fee is steep; "I'll have to do some serious justification to my wife," he says.
The baby will need some work, too. "We beat the crap out of the car," says Kevin. But he already knows how he'll prepare her. He'd like to take the five-litre engine to a 6.1-litre, which will give her another 100 horsepower. "This year's 400 wasn't quite enough," he says. "Needed 500. I don't want to have to worry about a Subaru."