The Cars of Summer: 7 Cars Perfect for the Sunshine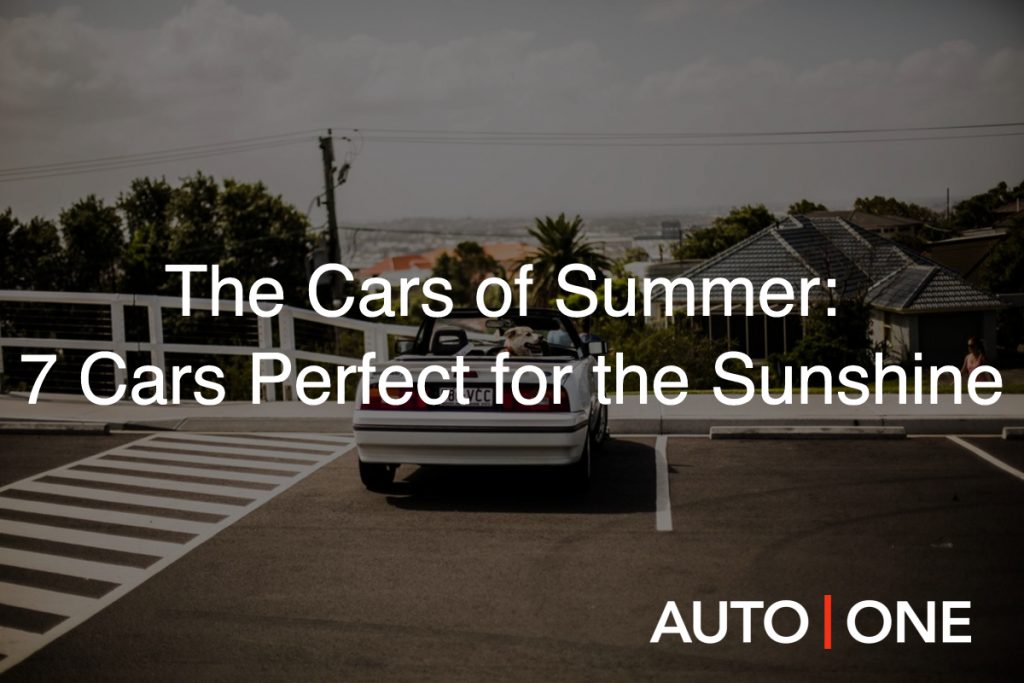 Summer has made its official entrance. The sunshine is plentiful, the air is clear and people are dusting off their "pedal foot" after a long winter indoors. Summer really is the best time of year to drive – it doesn't have the lousy visibility and icy roads that winter has, nor the constant rain of both spring and fall. Summer is all about rolling the windows down, packing the family or some friends into the backseat and hitting the open road.
To celebrate this most exalted of driving seasons, you need an equally fantastic car to match. And that's what we'll be talking about today: how to pick the perfect car for the summer sunshine. Before we dive into our seven picks, each available in our nationwide inventory, let's talk a bit about what makes a car suitable for summer driving.
There are a few key criteria when it comes to the perfect summer car, and they change according to how the car's going to be used. For families, the perfect summer vehicle might be a safe SUV, with a great entertainment system for the kids, and great handling for the driver. For others, the perfect summer car might be a sporty little two-door convertible, in which you can feel the air breeze by. For many, summer is all about muscle cars, powerful and nostalgic in equal measure. In any case, the criterion is the same: a summer car needs to be fun to drive.
With that out of the way, let's look at our seven picks for the best summer cars.
1. Chevrolet Camaro
The Chevrolet Camaro is a summer institution, a muscle car with undeniable power that's been around since the mid-60s. Each iteration of this iconic car has been a little different, but they all share the same indelible spirit and a powerful engine.
At AUTO ONE Group, we have a couple of Camaros to choose from. One is a newer silver Camaro with a 3.6L V6 and automatic transmission, while the other is an amazing, restored 1969 Camaro with a 350 V8 and manual transmission. Both cars are beautiful, but you should really check out that '69 Camaro – it might just be the most perfect summer car in existence!
2. Mercedes-Benz SL550
Most Benz's tick the "fun to drive" box, but we chose the SL550 because it's just a little more summery than the others. This Mercedes convertible is as powerful as it is exciting, with a 429-hp biturbo V-8, 4.5-second 0-60 and a retractable roof. At AUTO ONE Group we have a pristine SL550 to lease for just $1,074 a month – that's a savings of almost $500 a month over conventional financing. Or you can look for the SL550, or any of other great Mercedes cars, on our car subscription service, Drive.
3. Mini Cooper
Driving a Mini Cooper calls to mind winding through the English countryside in the middle of summer, taking in the rolling green hills from your tiny, European car. If "cute" is what you're looking for in a summer vehicle, then there truly is no greater car than the Mini Cooper. For such a small package, though, the Mini Cooper does have a surprisingly powerful engine, and handles incredibly well, even uphill. Just don't expect to fit a lot of cargo in there!
4. Land Rover Range Rover
Families have rallied around the Range Rover since its inception back in 1970. It is, quite simply, the perfect "family camping trip" vehicle, with all the safety and functionality you would expect from an SUV, but with a luxury twist. Its infotainment system is terrific, meaning that no one will be too bored on the trip, and its multitudinous safety features keep everyone breathing easy, even on the most treacherous of country roads.
The Range Rovers we have on offer have 5.0L V8 Supercharged engines, so they're no slouch in the power department either! Prices vary depending on type, as well as year. If you're interested in the Range Rover, or simply have questions for us, please don't hesitate to call or drop in!
5. Toyota Prius
Not every summer car has to be powerful, big or convertible-topped. Some people just want a summer car that's dependable, easy to drive and – crucially – light on the wallet. The Prius is all those things. Its fuel efficiency of 5 Litre per 100km in the city means that you'll make far fewer trips to the gas pump, saving you money for other fun summer activities. But it's not at the expense of driveability, as the Prius is a hybrid that drives incredibly easily.
6. Ford Mustang
Like the Camaro, the Mustang is preceded by its reputation. It's a summer car, through and through, one with a long history and great symbolic weight. Just like the galloping horse on its hood ornament, the Mustang is a symbol of freedom.
We have a couple of Ford Mustangs on offer here at AUTO ONE Group, one of which is a 2018 Mustang with a 5.0L V8 engine and 10-Speed Automatic Transmission for only $715 a month to lease.
7. Ferrari 430
We just had to put a plugin for one of our all-time favourites, and most blatantly luxurious, exotic cars. The Ferrari 430 Scuderia is a racecar in street clothes, a completely decked out, top-of-the-line, and high-performing Italian sports car with a buzz-saw 4.3L V8 engine. It's the kind of summer car that everyone stops to gawk at, not only for the snarl of its engine but also for how absolutely stunning this thing looks in the sunshine.
It may be over $4000 a month to lease, but a) you're saving over $2000 a month by leasing, and b) it's worth every single penny.