What to Lease in Halifax This Winter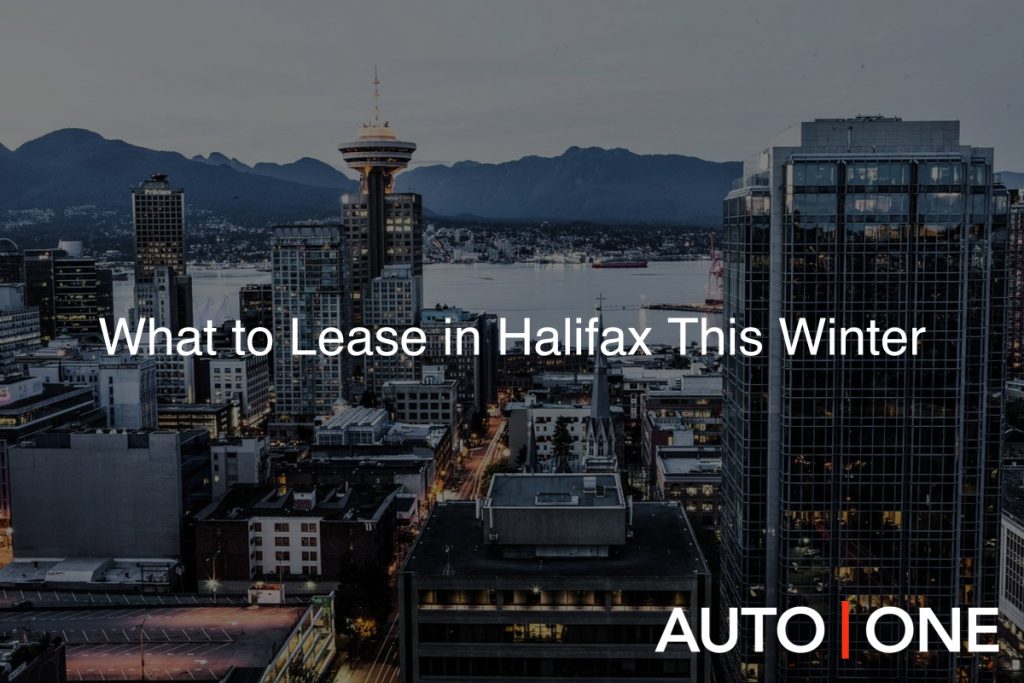 Last month, we listed our 2020 New Year's car resolutions. In one entry, we implored drivers, if you're unhappy with you're current car, just lease a new one. Of course, that's not a particularly radical take for a vehicle leasing dealership, but it comes from a place of genuine sincerity. Life's too short to drive a bad car, and the New Year, with its ceremonial turning over a new leaf, is the ideal opportunity to get rid of that old baggage and drive off in something special.
This month, we're offering up concrete examples. In another article this month, the Vancouver location of AUTO ONE Group is putting together their picks for what to lease in that city. Taking stock of the city inventory, they're putting forward a few vehicles that they believe represent the perfect winter lease.
Here in Halifax, let's do the same. The Haligonians we speak to regularly love a diverse grouping of vehicles, and so we at AUTO ONE Group – as your vehicle leasing experts in Halifax – try our best to keep a wide array of vehicle offerings. But there are a few types of vehicles that come up time and again in conversation, reflecting key concerns of Haligonians.
For starters, we see a lot of families looking for the perfect family vehicle, something that's practical, spacious, but still sophisticated and classy. What that usually entails is a luxury SUV. We also get people looking for that perfect truck, the one that's going to haul, tow and transport whatever they throw in it. We also get people who just say: 'we want something that's fun to drive through the streets of Halifax'. (But that'll be for another article).
We've combined all that information, all the many conversations we've had and deals we've inked, into a short list of vehicles to lease this winter. Each vehicle here, at the time of writing, is available to view in our showroom, and below we'll occasionally give the monthly lease price. If you see anything you like here, drive your old car down to 704 Windmill Road in Dartmouth, and drive off the AUTO ONE Group lot in a new, affordable luxury vehicle!
Luxury SUVs for the Whole Family
You want something big enough that the kids are kicking and clawing at each other, something that's safe enough for your (usually) precious cargo. But, darn it, you also want something that looks and feels luxurious. Look no further than these luxury SUVs.
Mercedes GL 550
A 7-seater Mercedes-Benz – the GL 550 is the epitome of family luxury. Load the family in, wait until everyone's relaxed on the heated and cooled leather seats, check the 360 Vision Camera to see that the road behind you is clear, then pull out of the driveway in this amazing vehicle. At AUTO ONE Group right now, we have a stellar 2016 version of GL 550 for just $927 a month, giving you a monthly savings of $425! That's a few hundred dollars extra you can spend on family activities each month.
Land Rover Range Rover
In the Venn diagram of cars that are fun to drive, look incredible and are safe for families, the Land Rover Range Rover lands squarely in the middle. This iconic SUV is beloved the world over for its spaciousness, safety and raw power. The 2014 Range Rover V8 Supercharged we have here in Halifax sports a beastly V8 engine delivering 510 horsepower. It also has 4-wheel drive, making it uniquely suited to driving in and around Halifax during winter.
Jaguar F-Pace
The Jaguar F-Pace is one good-looking car. Its sleek, crest-shaped grill and sloping back makes it look like a beefed up sports car, but it's all crossover SUV. There aren't many families driving around Halifax in a Jag, so this one definitely stands out, in a good way. The 2017 F-Pace 35t AWD R-Sport (quite the mouthful!) we have here is only $781 a month. It's stocked with a supercharged V6 engine and all-wheel drive as well.
Trucks Built Tough
You want a truck that will last you through tough winters, capably handling whatever load you're hauling or boat you're towing. And, of course, you want it to look good. To tick all these boxes, we turn to the big three in North American truck manufacturing: Dodge, Ford and GMC.
Dodge Ram 2500
The second-best selling truck in Canada (the first is just below), the Ram is pure dependability is a pretty package. It's so popular, in fact, that here at AUTO ONE Group Halifax we have three in our inventory – and that's just the 2500. For lease at affordable monthly prices, we have a 2016 2500 Power Wagon, a 2016 2500 Laramie and a 2018 2500 Laramie.
Ford F-350
The Ford F-series is the best selling pickup in Canada, and has secured that spot for a number of years. Why? It probably has something to do with the fact that it's notoriously good at its job. The nameplate is synonymous with power, torque, towing capability and looks. The F350 we have here in Halifax is 4×4 Supercab Lariat DRW, with a 6.7-liter Power Stroke turbo diesel V8 engine delivering 440 horsepower and 860 lb-ft of torque. Lease this beast for a low monthly price.
GMC Sierra 1500
How coincidental that our third truck on this list just so happens to be the third most popular pickup in Canada. Honestly, that wasn't planned. All we know is that the Sierra is a perfect Goldilocks truck for someone who wants power and luxury. The Sierra 1500 is spacious, with an intuitive, easy infotainment system and a number of cool luxury features. Best of all, it's only $732 a month, which saves you $336 a month when compared with purchasing!
Whether it's family luxury you're after, or a truck that'll tow a boat and load all your supplies, AUTO ONE Group has you covered. Come by our Dartmouth dealership to gawk at the luxury vehicles, each of which can be yours at affordable monthly lease prices.