The World's 5 Most Expensive Cars (and Their More Affordable Alternatives)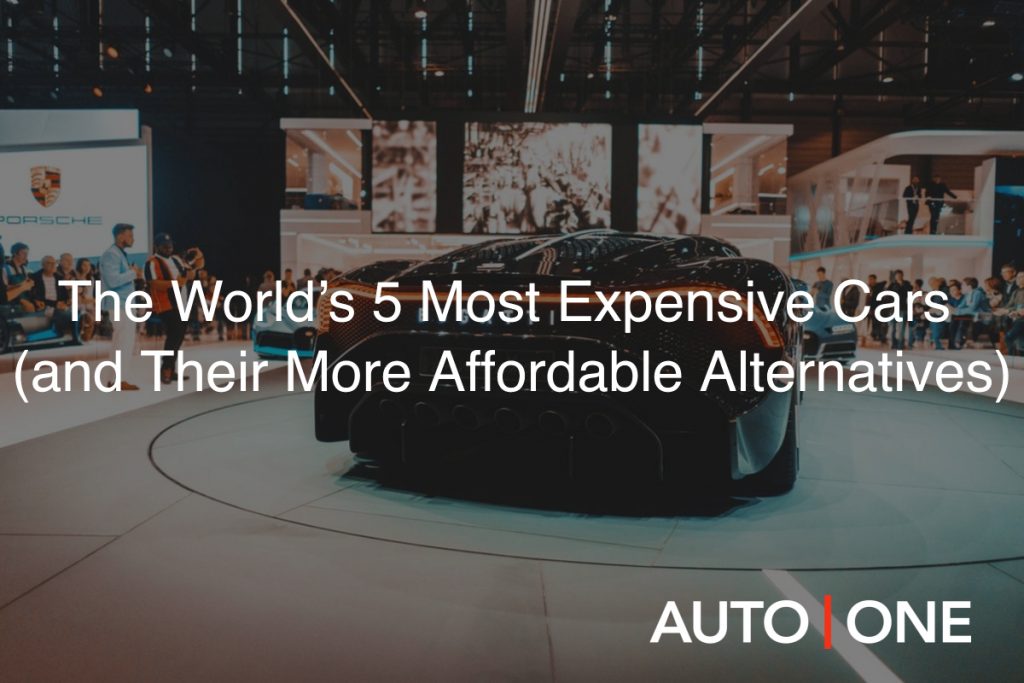 There is literally no limit to the amount of money some people will spend on things. There are $700 hamburgers, $30 million watches, $3 million shoes… one woman in the UK even spent $40,000 on dog food.  But whereas some of those purchases can be seen as brands excessively marking up their products to push a sense of "exclusivity", expensive cars are a bit different.
In general, if a vehicle is super expensive, it's because a lot of ingenuity, labour, quality materials and time went into the product. And, even then, the most expensive car in the world vastly trails the most expensive watch in terms of price. This is all to say that vehicles – even flat-out ridiculously priced vehicles – are inherently a good value.
In this article, we thought we would have a little fun and list seven of the most expensive cars in the world. And, just so you don't get a complete case of FOMO (fear of missing out), we'll also offer up some more affordable alternatives, each of which we have for lease or subscription at on one of our locations. Of course, you can cut the chase and see our luxury cars for lease here, if you want.
Start saving, because these seven vehicles don't come cheap.
Rolls-Royce Sweptail
The one-time most expensive car in the world might still be the most expensive car – the thing is, we don't really know. That's because the price that the single buyer paid for the personally commissioned Sweptail has never been revealed. But estimates put it at around $12.8 million! It might have a little to do with the 6.75L V12 engine, a Champagne dispenser in the centre console (we can only assume is stocked with alcohol-free bubbly?), and a panoramic glass roof, hearkening back to 1920's European design. It took a large team of people four years to build – at the end of which, you'd have to think, everyone was paid handsomely.
Nothing in our inventory quite matches the multi-million dollar price tag of the Sweptail, but for the experience of a luxury executive or full-size, we would point to either our Mercedes-Benz E400 or the BMW 550I.
Bugatti La Voiture Noire
Many experts agree, without knowing the true price of the Sweptail, that the Bugatti La Voiture Noire unseated it in terms of price when it was released. The La Voiture Noire, with its freakish quad-turbo 8.0-liter W16 engine and improved everything, has a price tag of $18.7 million. The vehicle builds on Bugatti's already massively priced Chiron (upwards of $3 million itself), adding a six-tailpipe exhaust and revised all-wheel-drive system.
Keep your millions for a rainy day though, because we have an ultra-fast vehicle with a supercharged v8, 575 horsepower and a 0-60 of 3.5 – all for just over $2,000/month. Click here to check out the Jaguar F-Type SVR we have.
Aston Martin Valkyrie
Named after the female battle rulers of Norse Mythology, the Aston Martin Valkyrie is just as swift, decisive and powerful. A collaboration between Aston Martin, Red Bull, Bosch, Michelin and a number of other manufacturers, the Valkyrie's makers claim it to be the fastest street-legal car in existence, with a 0-60 of 2.5 seconds. It isn't on the market yet, and it is reportedly already sold out, with a lucky 150 people getting in to pay around $3.2 million for the opportunity.
We don't have a Valkyrie, but we do have an insanely fast Aston Martin. The Aston Martin DB9 we have is equipped with a 6.0L V12 that propels you 0-60 in 4.6 seconds, all for under $2000/month to lease.
Mercedes Maybach Exelero
Making an appearance in Jay-Z's video for the single "Lost One" isn't even the most impressive point on the Maybach Exelero's resume. Hitting a top speed of 350km/hr is up there. So is its 690-horsepower-producing twin-turbocharged V12 engine, its slick black leather interior and, of course, the fact that it was bought for a cool $8 million, reportedly by the rapper "Birdman".
There is only one Exelero in existence, so you can put aside that pipe dream. But, check out these luxury SUVs and cars we have at AUTO ONE Group, including the incredible Mercedes-Benz SL550.
Ferrari Pininfarina Sergio
As a tribute to Ferrari's titular former chairman, they created the Pininfarina Sergio, a reworking of their 458 Spider. More than the power or speed of this vehicle (and, believe us, it has both of those in spades) the real draw here is the vehicle's aesthetics. It's bold, aerodynamic throwback design recalls sports cars of the '70s and '80s while maintaining an unmistakably contemporary sleekness. When it came out, it went for around $3 million, but it seems like age has only appreciated it: one of the few Sergios built was recently sold for around $5 million.
For a similar driving experience, check out one of our absolute finest cars, the Ferrari 430 Scuderia, a veritable racecar in street legal clothing. This thing does a 0-60 of around 3.6 seconds, propelled by a 4.3L V8 delivering over 500 horsepower – which is massive for the car's slender weight.
If you want a car that's going to rock your world, you've arrived at the right place. At AUTO ONE Group, we specialize in fantastic used luxury cars for industry-leading lease prices. Plus, we now have our "Drive" auto subscription service, a monthly car subscription that lets you drive all sorts of different sports cars, all for a flat monthly fee.
If you are able, drop by one of our three locations: in Vancouver, Halifax or Toronto. Or reach out to us by phone or through the website. Our number one priority is seeing you drive away in your absolute dream car.
Contrary to public opinion, you don't have to spend vast amounts of wealth to drive some of the world's best cars – all you need is the right luxury car dealership and the right lease!