9 of the Coolest, Quirkiest Cars in Our Nationwide Inventory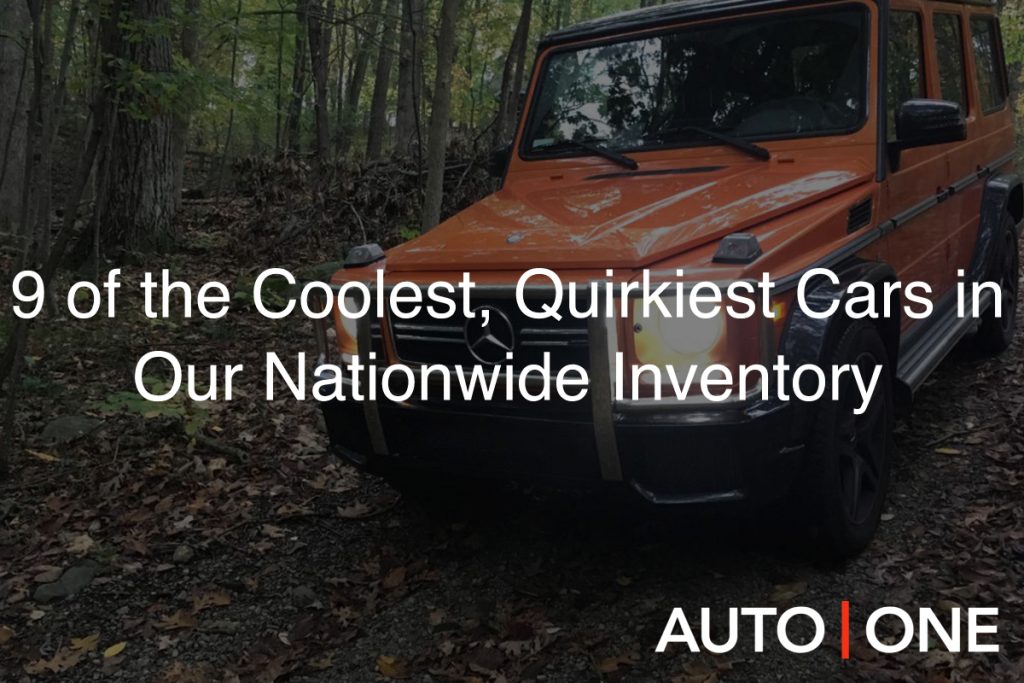 At AUTO ONE Group, we are incredibly discerning about what vehicles we take in. In order to make it onto one of our luxury car dealership lots, the vehicle has to be in spectacular shape, adhering to a level of class and luxury that has made us famous. This has led us to bring in some of the very best new luxury cars, from storied manufacturers like Mercedes, Audi, Porsche, etc.
Every once in a while, however, there is a car that just stands out above the rest. Whether because they are insanely sleek, incredibly rare, or just plain strange (in a good way), some cars just stick like a sore thumb. For this post, therefore, we thought we would spotlight those exceptional cars, giving them a bit of space on the digital showroom floor, if you will.
These nine cars have one thing in common: they are each, unlike any other car. At the time of writing, these cars are all available in our nationwide inventory. Eagle-eyed readers will detect that many of these cars are at our Toronto location, but there are also ones here from Vancouver and Halifax. Let's take a look!
Mercedes-Benz G63 AMG
This car made the list by its sheer novelty of appearance and performance. Benz's off-road, trail-capable "G-Class" is unlike anything the manufacturer makes. Its boxy appearance recalls a bygone era of the utility vehicle, but its 4.0-litre V-8 engine, which delivers 577 horsepower and 627lb-ft of torque, puts it squarely amid its contemporaries. The exhaust not here is also a thing of absolute beauty. Check it out at our Toronto location, where you can lease it through one of our knowledgeable representatives.
Maserati Levante
Wherever you are, a Maserati turns heads. We're pretty sure that even if you lived in the town where they make Maseratis (Maranello, Italy, for your information), driving one would still cause heads to turn. That is because Maserati's attention to detail is unparalleled, and their cars rightfully have a reputation for being some of the slickest, quickest and – let's be honest – priciest on the market. But they don't have to be prohibitively expensive – you can lease our Maserati Levante for only $1,351 per month. That's right: you can drive your dream car this year for about the cost of two people eating out a day.
Land Rover Defender 110
Wait until you see this thing. The 1997 Land Rover Defender 110 that we have is an incredibly unique and somewhat retro-looking vehicle that remains as great at navigating difficult terrains as the day it left the lot. It looks sort of like a Jeep, but with more character; the paint and wheels on this particular vehicle are top-notch and it performs amazingly well.
Porsche 911
If the Porsche 911 isn't the quintessential luxury sports car, what is? It is the perfect blend of performance and aesthetics, with a buzz-saw engine wail that will have you drooling as you drive. It goes insanely quickly (not that we're advocating for speed…) and it handles like a dream. We have a few 911 options to choose from: a Turbo in Vancouver, and a GT3 RS and S Convertible in Toronto. To get behind the wheel, you can lease or learn about our luxury car subscription service through our website.
Lamborghini Gallardo
Lamborghini is and always has been an exotic manufacturer, branding themselves as having rare and racecar-quality cars. But the Gallardo was something else; as the manufacturer's best selling car, it was the Lamborghini car that broke through and became popular. It's easy to see why. Equipped with a 5.0-litre V10 engine delivering 520 horsepower, coupled with a rare 6-speed gated gearbox, wedge-influenced body and a whack of luxury features, our Gallardo gets gawked at often.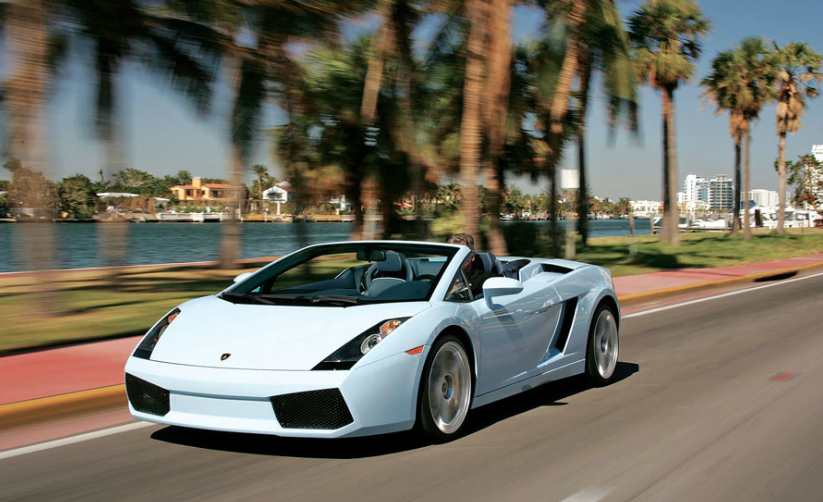 Rolls-Royce Phantom
Despite what its name might suggest, this vehicle is very real (at least for the time being) as evidenced by the fact that we have one of our here at AUTO ONE Group. It really is one of the most iconic cars ever produced, exuding gravitas and class with rev forward. Its 6.8-litre V12 engine also makes it formidable under the hood, and its lambskin rugs and detailed interior ensure that you can see its luxury from the inside as well. In its day, it commanded nearly a half-million dollar price tag, but with AUTO ONE Group you can lease it for a mere $2,249 per month.
Tesla Model S
The Tesla Model S makes this list because there has never really been another car like it. Fifteen years ago, if you had said there would be a car to combine a totally electric engine with sports car performance and good looks, you might have laughed off a car lot. But here's the proof. Between our low monthly lease price and the fact that you don't ever have to hit up a gas pump again, this car pretty much pays for itself.
Ferrari F430
Looking to get as close to an F1 as is legally possible on the Canadian roads? Look no further the Ferrari F430, with its naturally aspirated 4.3-litre V8 kicking out 490 horsepower and a 0-60 record at 3.9 seconds. We are lucky enough to have an F430 in a classic red colour, to lease for only $2,236 per month.
Cadillac Escalade ESV
It is as though the good people at Cadillac got together and asked, "just how big can we make a car?" And the answer they came up with is the Cadillac Escalade ESV. With seven seats, 22-inch custom factory wheels, 6.2-litre V8 engine and a 21-inch increase in length over the standard Escalade, the ESV is big in all regards.
These unique cars don't tend to stick around the dealership very long. The more rare and interesting the car is, the more likely it will catch someone's eye. That said, come visit us at one of our few dealerships across Canada, or sign up for Drive, our new car subscription service, to see yourself in one of these truly one-of-a-kind cars.