The Workhorses: 6 Trucks Perfect for Small Businesses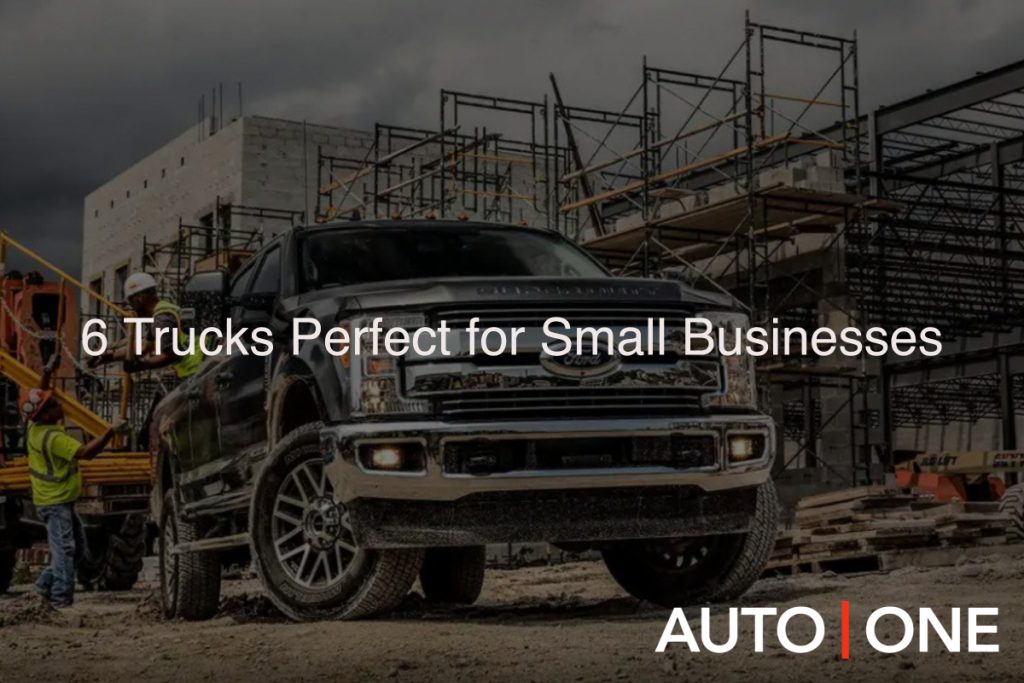 Trucks are, first and foremost, utility vehicles, built to help their users tow, stow and transport various cargo or attachments. Unlike cars, which are primarily focused on speed and aesthetics, trucks are functional automobiles, but that doesn't mean they can't also be easy on the eyes and fit for the fast lane. Finding a truck that ticks all your boxes is going to take some consideration, research and a fine commercial auto leasing dealership (ahem, us.)
Small business owners, especially, benefit from having a great truck in their garage. But, obviously, not all businesses are the same; some may need their truck for hauling cargo, while others might want it for more for the image because a truck suits their business better than any car.
Some businesses might transport heavy payloads, like cinder blocks and other building materials; some might carry mid-weight loads, like HVAC equipment; and others might only use the bed for the odd piece of bric-a-brac. Some businesses need major towing capacity, pulling heavy construction machinery, while other businesses might only need to pull a small trailer or boat.
The six trucks we have listed here offer a good range of options. Besides that, they are each immensely popular among businesses and consumers alike. If you are looking to lease a fleet vehicle today then peruse these options, or come by one of our dealerships to get a closer look!
What to Look for in a Company Truck
To get a general sense of the appropriate truck for your business, ask yourself the following questions:
What am I carrying or towing?
What's the approximate weight of my cargo, or load being hauled?
How much cab room will I need? (I.e. will this truck be taking passengers long distance?)
What's more important to my business: engine size and power, or fuel economy?
With answers to those questions, you can determine a) whether you need a light truck, a medium- or heavy-duty; b) whether you need four- or two-wheel drive; c) whether you need a regular, extended or crew cab; and d) what size engine best suits you.
Ford F350
With a powerful 6.2L V8 engine, four-wheel drivetrain and a class-leading maximum towing capacity of 32,000 pounds (for comparison, the Super Duty one size down, the F250, sustains a max towing capacity of 18,500 pounds), the Ford F350 is built for work. This is a fantastic choice for small businesses that need to transport or haul heavy trailers or materials. It can take a lot of weight without struggling up hills.
We have a 2017 Ford F350 in our inventory right now, currently residing in Toronto, for an incredibly reasonable $733 per month to lease. And remember, when leasing, you can deduct a percentage of the lease payments commensurate with the vehicle's business use – so, if you used our F350 75% for business, you could deduct about $550 of that $733 monthly lease payment. That's pretty awesome, right?
Ford F150
One of the most popular trucks among consumers, the F150 doesn't pack the same wallop as its bigger brother above, but it's a decent choice for businesses that either don't need to transport a lot of heavy stuff or simply want a truck to fit their business image. Don't get the wrong idea, though: the F150 is no slouch. Its 2.7L turbo V6 and ample cargo space can handle pretty sizeable loads. It just doesn't quite measure up to the power of the F350, a detail that's reflected in the relative prices of the two trucks.
Chevrolet Silverado 3500
The Silverado 3500 is a heavy-duty truck that nevertheless feels comfortable in the interior. Its max towing capacity of 23,300 pounds is more than most businesses will ever need, and it has abundant storage in the cab. In other words, if you want a truck that will haul heavy loads and comfortably accommodate employees, look further into the Silverado 3500. AUTO ONE Group has a 2018 3500 right now with power locks, windows and mirrors, a larger center screen with a backup camera, a Bluetooth, compass, bed liner, 6 passenger seating and more for only $960 a month to lease.
GMC Sierra 1500
This one draws fair comparisons to the Silverado 1500, because it sports the same respectable power mixed with a little luxury. Its base V6 is powerful enough, but you can upgrade to a 6.2L V8 if you want the extra power. It has a max towing capacity of around 7,000 pounds, which is less than some of its competitors (certainly less than the larger models listed above) but would suit a business that doesn't need to transport all that much. Plus, it beats its competitors in comfort – especially the top-of-the-line Denali model we have at our Nova Scotia AUTO ONE Group location.
Chevy Colorado
This mid-size is the perfect Goldilocks truck – not too big, not too small, not too shrimpy and not too brawny. It's fit for play and for work, making it a versatile addition to your fleet. It's also North America's most fuel-efficient mid-size pickup, so if you're looking to save your business some cash at the pumps, the Colorado is worth considering. At the time of writing, we don't currently have a Colorado in our inventory, but contact our Toronto, Halifax or Vancouver fleet leasing dealerships (or shoot us an email) and we'd be more than happy to source one for your business.
Dodge Ram 2500/3500
The little brother to these two models, the Ram 1500, is the second best selling automobile in Canada – not just truck, but automobile in general. The 2500 and 3500 build upon that popularity with more powerful engines, better towing capacity, larger beds and more space overall. They still retain the features people love about the Ram, though: reviews praise the high-tech features, spaciousness, handling and smooth suspension.
Already know what kind of truck you want for your fleet? Contact us anytime and we'll help you get the best lease price possible.