Small Wonders: 7 Small Cars with a Big Presence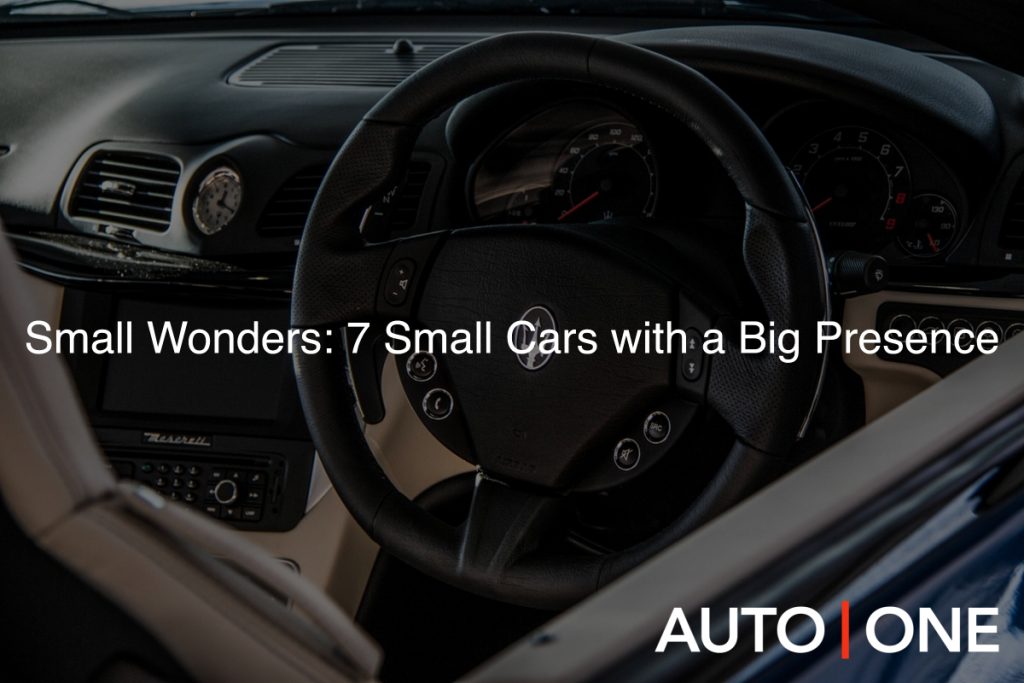 They say great things come in small packages. Whether it's a baby, a puppy, a diamond ring or a Rolex, we understand that the relatively tiny size of these things is the complete inverse of their momentous value.
Sometimes, that's true of cars as well. While an increasing number of Canadians hop onboard the SUV craze, there's still something to be said for the compact and subcompact classes. They aren't limited by their small stature; and, in fact, their smallness is an inherent part of their appeal.
There are a number of reasons why you'd choose a small car over a big one. Small car aficionados point to the peppiness, handling and all around fun driving experience you get with a small car; it's lighter, more immediate and responsive. Others point to the fact that, especially if you live in a city, a small car's manoeuvrability is incredibly beneficial, allowing you to take narrow alleyways, circumvent garbage trucks and parallel park in the tightest of spots with ease.
Finally, some people just love how economical they are. They are (arguably) better on gas than their bigger counterparts, especially if you opt for a hybrid or electric. And their parts are often less expensive to fix and replace.
In short (no pun intended) there's a lot to love about little cars. And, while we here at AUTO ONE Group usually tout the luxuries of fuller sedans and SUVs, we thought we'd take this occasion to spotlight the smaller end of our inventory spectrum. When you visit to find your next exotic car at AUTO ONE Group, consider these seven compact and subcompact cars that pack a big punch!
The Mini Hardtop
The Mini is the gold standard of subcompact sophistication, dating back to its Austin Mini and Morris Mini days, its Mini Cooper trials, and throughout its acquisition by BMW. It has always occupied a lauded spot in the automotive imagination, thanks to its exaggeratedly small stature and massively fun driving experience.
It's not really a single vehicle, though. The Mini name is attached to a few different models, each of which spin out into a number of different variations: the basic Mini One, the sportier Mini Cooper S, the higher end John Cooper Works model, etc.
It can be tough to keep track of, but even among all the many variations and models, you know, unmistakably, that you're looking at a Mini. The bug-eyed headlights, thin grille, knobbed rear views and snappy body design are inimitable and loveable. The Mini Hardtop may be the one you know and love, but the following three entries will introduce you to a few of the entertaining models we have in our nationwide inventory.
Mini Clubman
The Clubman is what Mini refers to as its estate model. It's almost the same as its standard hardtop model, but just a little longer (around 10 inches). The one we have in Toronto is a four-door Clubman, so it's perfect for a small family. It has power seats with driver memory, keyless entry, Bluetooth capability and a push button start, just to name a few of its cool features. And the lease is just $323 a month, saving you $149 monthly as compared to buying.
As mentioned, if you and your family are on the lookout for a compact vehicle, this might be just the car for you!
Mini Countryman
A decade ago, when Mini announced it was making a crossover SUV, the car world scratched its head. SUVs are supposed to be big, and Minis are supposed to be… well, miniature. But the ensuing vehicle made perfect sense. Officially labelled as a compact crossover SUV, the Countryman proved that it could retain its essential charm, size and image, while garnering the coveted five-star safety rating many big SUVs got from the Euro NCAP.
You can find a blue, 2017 Countryman at our Halifax location for just $422 a month, a monthly savings of $195.
Mini Paceman
Originating as a concept car, the Paceman is a three-door, subcompact SUV that somehow looks sleeker and sportier than other Mini models. It's a joy to drive, and roomier than any subcompact has the right to be. At AUTO ONE Group we've got an all-wheel-drive John Cooper Works variant of the Paceman for just $269 a month.
Volkswagen Golf GTI
The Volkswagen Golf is iconic among small cars. Maybe not in the same, classically British way that the Mini is, but in the last decades the Golf has amassed its own fan base. While we could have absolutely just slapped the Golf onto this list, we decided to trumpet what we believe is the ultimate Golf: the Golf GTI.
The GTI is basically the Golf but with amped up performance specs, including a more powerful engine that delivers greater horsepower, and a superior transmission system. The Golf GTI is the pinnacle of compact pep – sporty and speedy, without any extra fat.
Nissan Leaf
The Nissan Leaf has an alien, almost futuristic design. That makes sense because, a couple decades ago, you would have thought this was the car of the future. Fully electric, this compact car will have you whizzing past the gas stations with style.
In Vancouver, we have a 2016 Leaf that gets an impressive 172km between charges, making it the perfect commuter car for anyone fed up with gas prices. It's just $292 a month, which is fantastic when you consider that, according to this Personal Finance thread on Reddit, many Canadians are paying $200/month on gas alone!
Fiat 500
Finally, if you want to keep driving the hottest exotic cars – the ones that no one else around you drives – check out the lesser-known European manufacturers, like Fiat. Their 500 is what's known in Europe as a "city car", essentially the smallest form of passenger car available, suited perfectly for driving the narrow alleys and sharp corners of Italian cities.
But it works well here in Canada too. And if you don't believe us, stop by out Toronto location to give it a test drive. You'll quickly learn that, not only does it handle well, it's also insanely fun.
There's a lot to love about small cars. If you're looking to lease a fun new car, come visit us at one our nationwide AUTO ONE Group locations.