Six Things to Consider When Leasing Vehicles for Your Business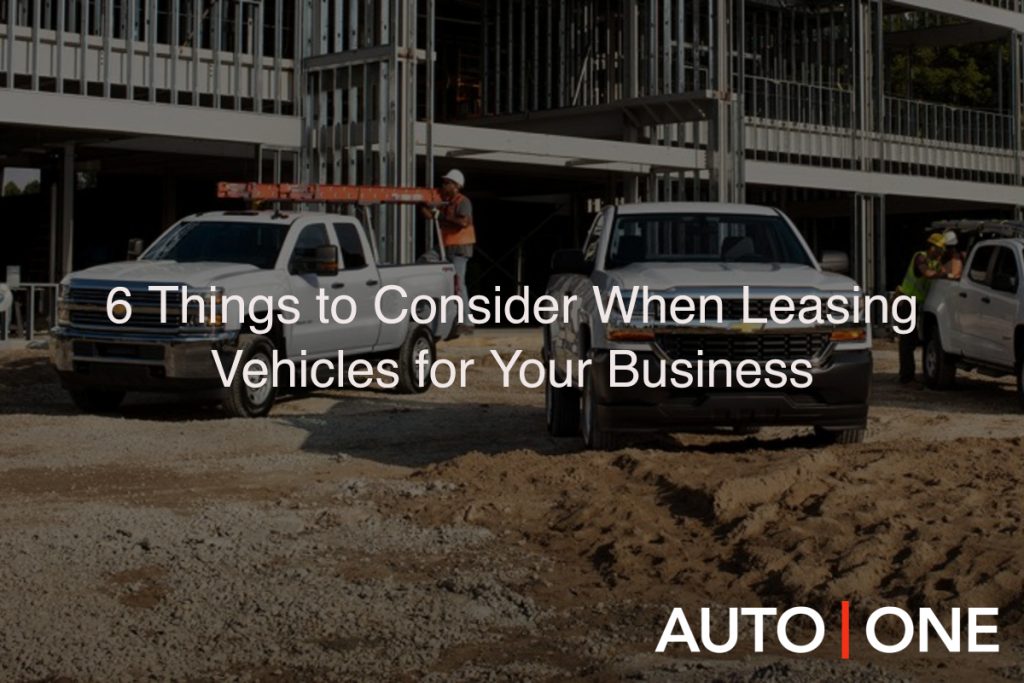 Choosing a car for your business isn't as straightforward as choosing the cardstock for your bulletin board or the brand of coffee for your break room. The decision requires you to look at a number of different factors – the size of your company, your cash flow, needs, purpose, etc. – and then collate those concerns to look at what specific vehicles suit you best.
It can be a tricky process, and there are too few articles online directed at helping along the way. Luckily, we here at AUTO ONE Group have done some of the research, and, along with the knowledge we've gained helping companies from a number of different industries, we've compiled a list of six things to consider when leasing your business vehicles.
Here, you'll find the topic approached from a few different vantage points: cost-saving, aesthetics, utility, size, price and additional dealership perks. Every business is different, and what is important to one business might be unimportant to another. With our car and commercial fleet truck leasing by AUTO ONE Group, we understand that, and strive to ensure your business gets the best fleet possible.
Read through the following considerations, and hopefully, you can get a clearer understanding of what type of vehicles you should lease, and from whom you should lease them. Let's take a look!
Size
Where fleet vehicles are concerned, size matters. If your business transports cargo, or even if its sole responsibility is to transport employees and materials around to meet clients, you need to consider the size. If you're transporting cargo, what size load do you anticipate? If transporting passengers, how many do seats do you anticipate needing?
Size is often the first consideration businesses make when choosing fleet vehicles, because it's a basic starting point for deciding on the perfect vehicle – basically every consideration past this point can apply to whatever you size you choose here.
Fuel Efficiency
There's a reason that the Ford Fusion, Toyota Prius, and BMW 3-series are popular with businesses, especially startups or small businesses that don't require hauling product: the fuel efficiency of these vehicles translates to major savings for a business. If you're looking to free up cash flow, the first place to look is your fleet.
For starters, rather than buying, you want to consider Vancouver, Halifax or Toronto fleet leasing – the lower monthly payments can seriously aid in controlling costs. Secondly, you'll want to investigate the ongoing costs of the vehicles in your fleet, of which fuel is a major part. It's possible to find a vehicle in your size, with the same utility needs or aesthetic value, that's fuel-efficient. And if you do, there may be tax incentives and rebates available to take advantage of.
Utility
This is best considered by asking yourself the following question: what do I need these vehicles for? At AUTO ONE Group we have a wide diversity of vehicle types, from cargo vans, trucks, SUVs, two-doors… the list goes on.
Come chat with one of our knowledgeable representatives about what vehicles might best suit your businesses unique utility needs, or go ahead and check out our nationwide inventory, available to peruse on our website. If there's a vehicle you need that isn't currently in stock, simply contact us and we'll do our best to track it down.
Prestige
The bald fact of the matter is that, for many businesses, a vehicle is part of their branding. It is tied to their messaging, and its prestige is therefore of key importance. You don't want your competition to arrive at a client pitch meeting driving a nicer car, and so you need a car that conveys class and prosperity. The problem is that, unless you're firmly and decisively in the black, it can be difficult to afford such a car.
Luckily, leasing gets you there. You can lease a far better car than your business would otherwise be able to buy. Just choose from one of our many luxury vehicles, and start driving in Toronto Halifax or Vancouver in style. Rolling up in one of our cars, you can guarantee your clients will be impressed.
Price
Price is obviously a prime consideration with fleet vehicles. At AUTO ONE Group we're of the mind that there are fantastic options at just about any price point. We also believe that leasing used from a professional and reputable dealership is the way to do if you want to save money.
When you lease used, you save a significant amount of money that you can reinvest into other areas of the business. And because all our cars are acquired in great condition and handled with the utmost care, it's like driving new. In other words, we offer insanely good ROI. Come chat with us about your budget, and we'll show you some options!
Servicing, Detailing and Ease of Upgrade
We work with businesses, but we're a thriving business in our own right. In that way, we understand that in order to get an edge over the competition we need to offer perks and value add-ons. With AUTO ONE Group, you get a one-stop-shop for all your business vehicle needs: we offer reduced maintenance costs, servicing, detailing and a robust, efficient process that allows you to easily upgrade your vehicles/equipment as needed.
It may sound like we're tooting our own horn, but you really do need to consider ease and convenience when considering where to get your fleet vehicles. Your time and energy is a commodity best focused on your business' work – you shouldn't have to worry about the vehicles. Leave that to us.
Hopefully, you've found this little list helpful. Consider it as a checklist for the next time you have to decide on fleet vehicles. And remember that, any time you have questions or concerns about business vehicles, you can always reach out to the awesome staff here at AUTO ONE Group.
As a business ourselves, we want your business to do as well as it possibly can, and the best way we know how is by offering quality vehicles, at a great price, easily and conveniently.