Made to Be Appreciated: The 6 Cars Car Lovers Love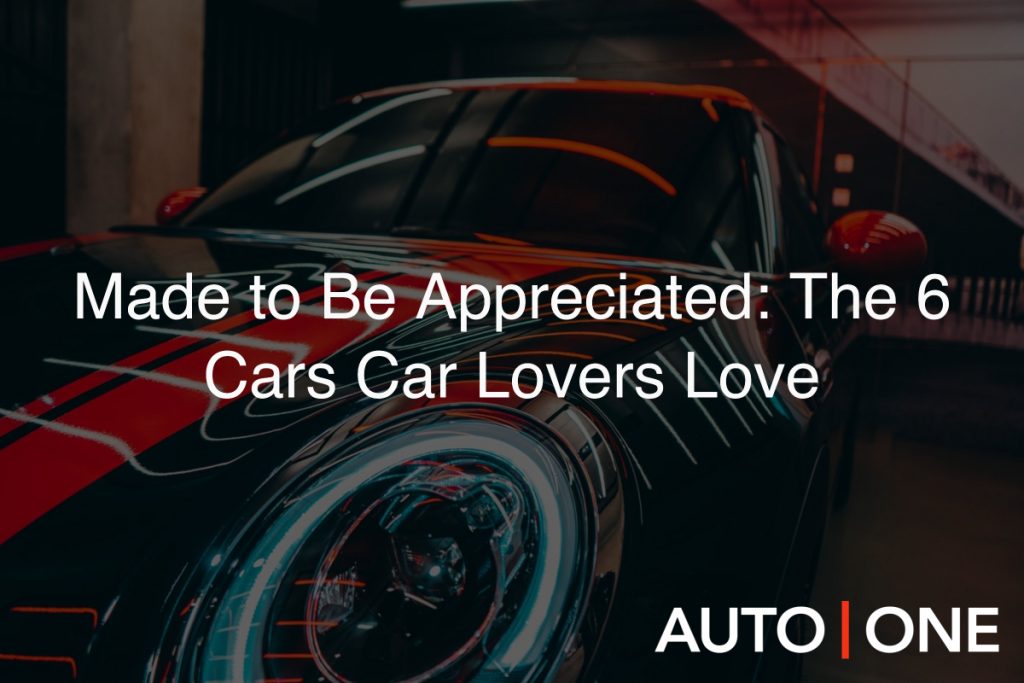 There are as many types of car enthusiasts as there are types of cars. Some are constantly looking to the cutting edge of technology for their excitement, while others prefer the throwback charm of a vintage set of wheels. Some enthusiasts need to hear the roar of a diesel engine to get pumped up, while others are content driving a well-engineered hybrid car.
But one thing that all car enthusiasts can agree on is that, whatever the make, model, year or type, the car has to be made well. The manufacturer's passion should be written all over the vehicle, from the way it was designed and engineered, to the finest interior details.
More than speed or price, it is this passionate quality – hard to define, but easy to recognize – that guides the following list. Here, you'll find cars across a number of budgets, and each from different manufacturers. Finally, at the end, we'll discuss how you can truly come into your own as a car enthusiast by trying out AUTO ONE Drive.
Jeep Wrangler
King of the back roads and trails, this iconic car has inspired a zealous fandom for quite some time. And it's not just simple name recognition; the Jeep wrangler is arguably one of the finest made SUVs on the market, and inarguably one of the finest off-roaders, with its solid axles and low-ratio off-road gears.
And the price point is fantastic for what you get. Through our car leasing programs in Toronto, Vancouver & Halifax we at AUTO ONE Group see a lot of Wranglers come through. Currently, we have a 2018 Wrangler Sport in Toronto for just $463/month on lease. If you can drive stick – and most car enthusiasts can – and like to escape the city, this is the car for you.
Porsche 911
While it's fashionable right now to celebrate mid-range cars, and the often-overlooked champions of popular manufacturers like Honda or Mazda, no car enthusiast is going to turn their nose up at the Porsche 911. It's the perfect marriage between laser-focused German engineering. racecar speed and richly detailed luxury performance. It is the preeminent Porsche, and regardless of what generation you choose, you'll get a gorgeous, high performance vehicle.
Case in point: check out the 911s we have right now in our inventory, both 2008s with 3.8L flat 6 engines. One's in Halifax and the other's in Vancouver. One is a Carrera and the other is a Cabriolet (with a nifty fabric roof). But they're both so much fun to drive.
Mercedes-Benz E Class
The highest reviewed Mercedes on Top Gear is the perfect blend of class, power and performance. While the executive size isn't everyone's cup of tea (it's big, for sure), car geeks love its stately appearance, powerful V6 engine, and multitude of interior luxury details. Seriously, this car feels like it should be transporting a world leader.
Find a 2016 E400 at our Toronto dealership for just $570/month, an insanely good deal on an insanely luxurious car.
Dodge Challenger
American muscle cars continue to inspire the imagination of car enthusiasts, as much for their storied pasts and cultural significance as for their technical performance. And while you have your Mustang camp, and your Camaro or Corvette people, we're going with the Dodge Challenger as being the car lover's muscle car.
That's largely because the Challenger is such great value. It offers gargantuan power (6.1L HEMI, for crying out loud) for a reasonable base price. It's like the car equivalent of all-you-can-eat ribs – lots of meat for a little price – and what can be more American than that?
Subaru WRX
People love their Subarus, especially their WRXs. Massively popular among online car enthusiasts, on Reddit's r/cars forum or Jalopnik, the WRX is often cited as being one of the most fun cars to drive. Its popularity probably traces back to its presence in rally racing, but it built out its fan base naturally with its high performance AWD at an affordable price point.
It's definitely a statement, and there's a lifestyle and culture that accompanies driving the WRX, but if you're into that, we have one in Vancouver to lease at just $487/month. Even if you're just curious, join our car subscription service and give it a whirl for a few months – that's the AUTO ONE difference for you.
Maserati GranTurismo
Sure, most car enthusiasts are interested in what they call their "daily" – that is, cars they can take out in any weather, and on commutes. But some car enthusiasts don't care; they want a special car, a rare car. Enter the Maserati Granturismo, a grand tourer from the high end Italian manufacturer, whose beautiful bodywork and music-like exhaust make it a top pick for car lovers who want to turn heads.
If you want to be seen, we've got a GranTurismo in Toronto for $1,563/month, which constitutes a monthly savings $759.
Drive Them All With Drive
Unless you count yourself among the ultra-rich, or you have a cushy job reviewing cars for a major publication, you don't get the chance to drive a lot of different cars. In that way, it's a hobby that's hard to get into completely. Most car enthusiasts have to settle for ogling pictures and reading spec sheets. Or at least they used to.
If you want the freedom to drive a bunch of different cars, on a month-to-month basis, for a single, affordable monthly price, consider a car subscription service like Drive. Last year, after listening to our customers' repeated requests for a more flexible way to lease, we developed Drive.
With it, you pay a flat monthly fee, and choose your car. Every month, you have the opportunity to swap your car, renew it, or cancel. Want to drive 12 different cars in 2020? This is the way to do it!
As mentioned, there are as many types of car enthusiasts as there are types of cars. What's your favourite car, the one you like to "geek out" on?