Leasing Vs. Buying: The Commercial Vehicle Edition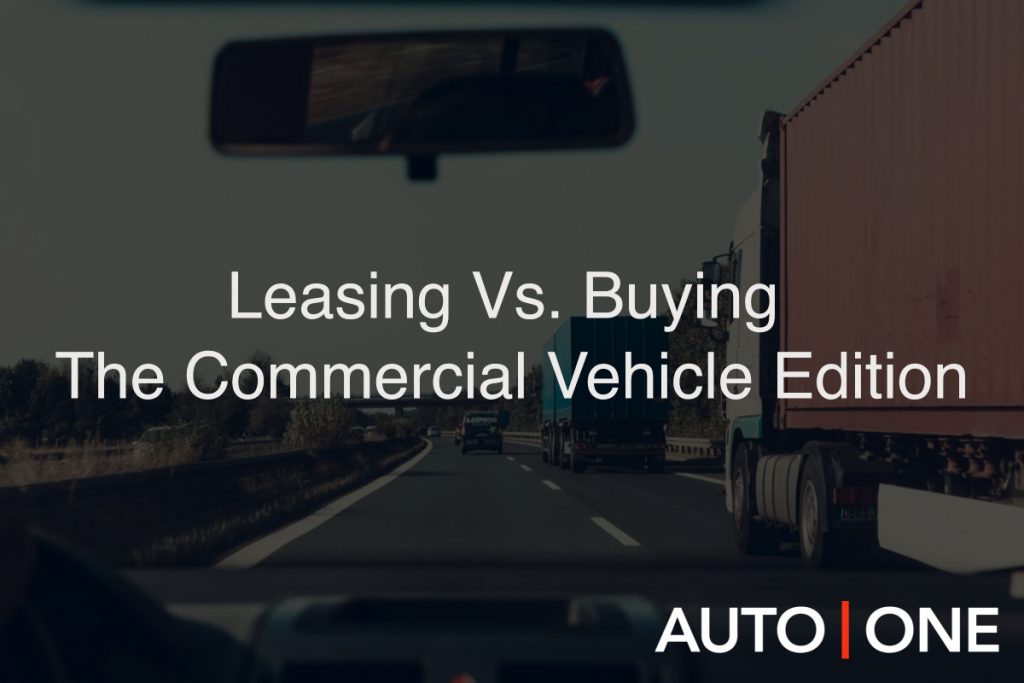 On this blog, we've discussed the pros and cons of leasing a personal vehicle versus buying one. The first to admit that we may have a bit of a bias, we here at AUTO ONE Group nevertheless strongly believe that leasing a personal car is better than buying one.
Here are Cole's Notes of our reasons. For one, when leasing, you pay a lower monthly cost; that means, month after month, you have more money in your wallet for things that matter, like groceries, travel and keeping the lights on.
Secondly, leasing allows you to drive a better car, and upgrade more frequently because of its lower initial cost and short term; this means you get to take advantage of improvements in technology and fuel efficiency more often than those who buy. Finally, because of that short lease term, you get to drive more cars, period. Every couple of years, you're in a new ride.
But we're curious: how do those benefits stack up when considering commercial vehicles? Is leasing still the smart choice when putting together a company fleet? Let's take a closer look.
Benefits of Leasing a Business Vehicle
The first, most immediately apparent benefit that most people cite with commercial leasing is the tax advantage. When you lease a commercial vehicle, the percentage that you use the car for business is tax-deductible, up to $800 a month, or $10,000 a year. Someone who uses their business vehicle three-quarters of the time for business would be able to deduct 75% of the annual cost. If you are leasing commercial trucks like these and use them entirely for business, then you can deduct 100% of what you paid. Come tax time, that's a massive benefit.
Another benefit we often hear cited is that, with leasing, businesses are able to manage cash flow much more easily. As with the private leases mentioned above, lower monthly payments translate to stronger cash flow for needs elsewhere, including key operating costs. If you're firmly and plentifully in the black, this may not be a major concern, but most businesses could certainly use the free cash flow.
With leasing, companies can also take advantage of improvements in tech and fuel economy. When you buy a car, you are locked, essentially, to that year's technology for about seven years (on average). With leases, you can upgrade every 2-4 years (sometimes more, sometimes less) to a better performing, safer and more economical car.
Finally, leasing a business vehicle gets you a better vehicle. What you can afford to buy and what you can afford on lease are two very different things. Because you only pay for the lease term's depreciation, as opposed to the whole shebang, you can afford a better class of automobile. For businesses aiming to project a professional image through your vehicles, custom leasing for your fleet is an easy, affordable way to do that.
Benefits of Buying a Business Vehicle
While leasing offers a veritable laundry list of advantages, not even we can overlook the fact that buying still has a few fantastic benefits. Buying vehicles is popular amid businesses in part because they aren't really educated on the leasing option (many aren't really familiar with leasing for businesses), but also, in part, because of companies like control. They like to control their assets and equipment, and buying has an undeniable edge over leasing in that regard.
Some businesses also value longevity in their equipment. While we think it's fantastic that leasing allows you to upgrade your vehicle every few years, for some businesses the leasing model represents a rate of change they are uncomfortable with. They would rather stick with a vehicle that works.
And although at AUTO ONE Group we offer a one-stop-shop, which makes it dead simple to maintain, detail and upgrade your fleet, not all businesses know that; some have had negative experiences with dealerships that make leasing difficult.
Finally, some businesses opt to buy instead of lease their vehicles because they know they need a lot of mileage. Any lease from anywhere is going to have over-mileage fees worked into the contract; if a business knows they will be doing extensive long-distance travel, they may calculate that it is in their best interest to buy. Some rideshare drivers who do a lot of airport runs, for instance, may determine that buying is easier (although not necessarily cheaper).
What's Right for You?
If you want to manage cash flow, deduct your commercial vehicle use from your taxes, take advantage of improvements to safety, technology and fuel efficiency, and/or drive a better automobile – leasing is the way to go.
If you plan on driving very long distances, or you just value longevity and stability with your business equipment, you might consider buying. In any case, we hope you will come visit us to check out our inventory and chat with our knowledgeable representatives about driving your dream vehicle. Not in the mood to leave your computer? Check this out – a few things to consider when leasing a fleet.
A Third Option: Car Subscription
Of course, if you need a vehicle now, for an indeterminate amount of time; or if you anticipate needing a car for only a short period (a few months), then check out Drive, our new car subscription service. With Drive, you pick a plan and vehicle, then decide on a monthly basis whether to renew the vehicle, swap it for a different one, or cancel the service entirely.
It's perfect for businesses that are hiring short-term temp work, or out-of-town work and need a vehicle on flexible terms to provide them. You can read more about Drive on our website, or contact us with your questions.
In conclusion, even where commercial vehicles are concerned, we still think leasing is the best way to go. You just can't beat the price, tax breaks and flexibility. Having said that, we understand that no two companies are alike, and that what works for one may not work for another. In any case, we hope you'll come to see us for all your commercial fleet needs!