Keep Driving Forward 6 Fleet Maintenance Tips for Your Business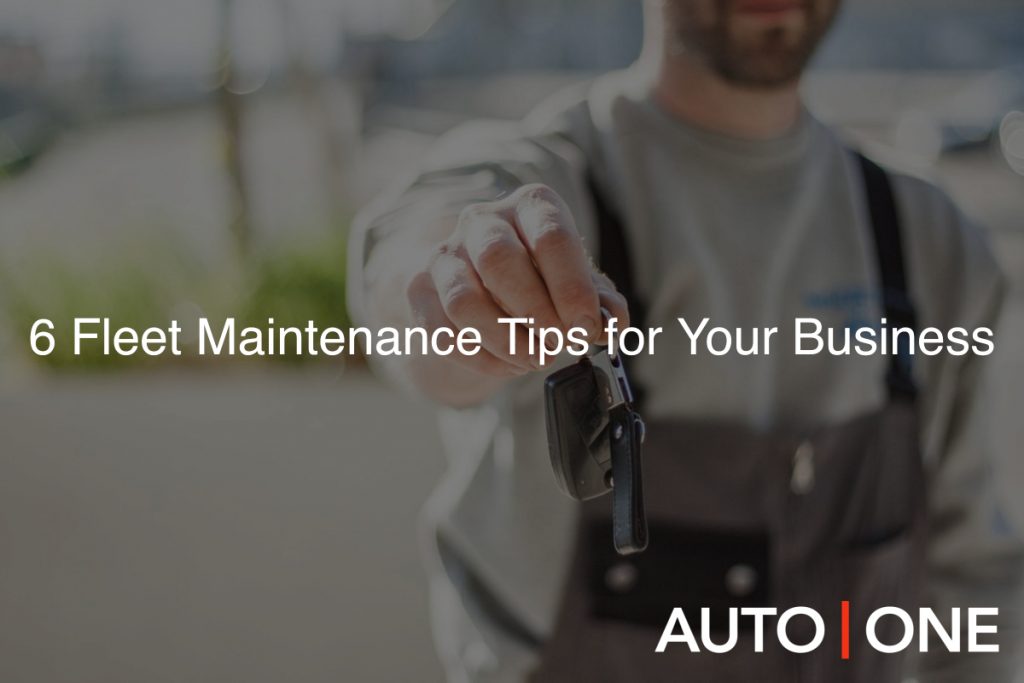 If you're a fleet manager, or if you simply own a small business that avails itself of a vehicle fleet, chances are you're intimately aware of the challenges of fleet maintenance. A fleet is the lifeblood of a business, and when that lifeblood is in disrepair, the entire organization suffers – bottom line included.
Regular scheduled maintenance is obviously important, but so is top-down policy and education. Ultimately, it's the employees who spend their time driving fleet vehicles, and so getting them on board with maintenance makes a big difference. In order to run your business effectively, and optimize your fleet for efficiency and productivity, everyone has to be on the same page: namely, that maintenance is everyone's responsibility.
To help you formalize your fleet maintenance protocol, we here at AUTO ONE Group, your business fleet leasing experts, have put together a list of helpful tips. Essential for every fleet manager and small business owner, these tips will ensure you keep your fleet in tip-top shape.
Put Clear Policy in Place
Fleet maintenance starts with clear, comprehensive policy. As a fleet manager or small business owner, it's your responsibility to delineate your drivers' responsibilities. Depending on your business, you might prioritize either aesthetic or functional maintenance – though, ideally, you are focusing your efforts on both.
For a salesperson's vehicle, for instance, it's imperative to include aesthetic upkeep. The look of the vehicle is important to its role; its appearance has a marked effect on client/customer impression. A transportation vehicle, on the other hand, needs to be mechanically kept up, if it's going to do its job properly and efficiently. Again, ideally you are focusing on both, but allow your business' needs to inform the way in which you prioritize maintenance policy.
Teach Employees the Importance of Fleet Maintenance
With firm policies in place, it's time to turn to education. Policy in a vacuum doesn't really do anything. Lead training sessions with your drivers that outline the importance of maintenance. In these sessions, you can draw a direct line from fleet maintenance to the overall health of the business.
When fleet vehicles don't perform at their best, the business suffers. The bottom line suffers. In turn, employment security suffers. Putting it this way may seem confrontational, but it's important to emphasize the personal consequences of poor fleet maintenance. If employees believe that fleet maintenance is just some nebulous expense that the company covers, they're less likely to take an active role in vehicle upkeep. Proper maintenance is good for everyone, not just managers and owners.
Be Proactive
Dealing with vehicle problems as they arise is obviously good, but it's half of the equation. Ideally, you're doing enough preventative maintenance that those problems don't arise in the first place.
Make a schedule of regular maintenance procedures and do your utmost to stick to them. Preventative maintenance is always less costly than having to fix problems as they arise. If you wait for a fleet vehicle to break down before you attend to it, you're paying to fix rather than maintain.
Regularly Check in with Drivers
Who in the company is most intimately involved with the day-to-day workings of your fleet vehicles? It's your drivers. To that end, check in with your drivers regularly. Ask them if there are any issues with their vehicle, however minor or seemingly inconsequential. Take notes.
Doing this regularly gives you a completer picture of your fleet's health. If you're heading to a dealership or mechanic for maintenance, it pays to be as informed as possible. If it helps, schedule these check-ins, so they're part of your business process – you don't have to do it daily, but weekly or bi-weekly will certainly help, depending on the vehicles' particular use.
Partner with a Great Dealership
As your business car leasing experts we know fleet maintenance very well. With AUTO ONE Group's business leasing programs, not only do you enjoy reduced maintenance costs, but we also offer servicing, detailing and an easy, lightning quick process that allows you to upgrade your vehicles.
In these posts, we've discussed the benefits of fleet vehicle leasing, so we'll keep this brief. In short, when you lease your fleet vehicles, you get better vehicles for less money. You gain the opportunity to easily upgrade your fleet vehicles, making use of the latest technologies and ensuring that each of your vehicles is current, quality and well equipped to handle whatever tasks you throw at it.
That's not even mentioning the tax benefits that our business car leasing made easy affords you – for a more detailed take on that, you'll have to go back and read our article on leasing vs. buying fleet vehicles.
Make a Basic Maintenance Checklist
If a fleet is like the lifeblood on your business, than the maintenance checklist is like its scheduled physical exam. A checklist helps you systematize vehicle maintenance, making it far easier to stay on top of. Here's what a basic maintenance checklist looks like, one that takes into account both aesthetics and function:
Check tire pressure
Wash your vehicles to avoid wear on the body, but also to keep it looking great
Schedule semi-regular detailing to keep things clean and presentable inside and out
Check wipers
Check fluids: oil, power steering, radiator, transmission, brake, washer and AC coolant.
Ensure safety features are working properly
Have a professional inspect the vehicle's undercarriage
Make sure the headlights, tail lights and brake lights are all working
Replace any dirty air filters
Check the condition of the battery
This might all seem like a lot, but when you have it written and systematized in a checklist, it makes the whole process easier.
If you're not leasing your fleet vehicles yet, stop by one of our AUTO ONE Group locations to chat about your fleet. A well-maintained fleet starts with the right financing program, and we're confident that our business leasing is the way to go. You'll get a better vehicle, a less expensive vehicle and a program that puts maintenance – and, in turn, your business' overall health – first.