How Vehicle Leasing Helps You Run a Better Business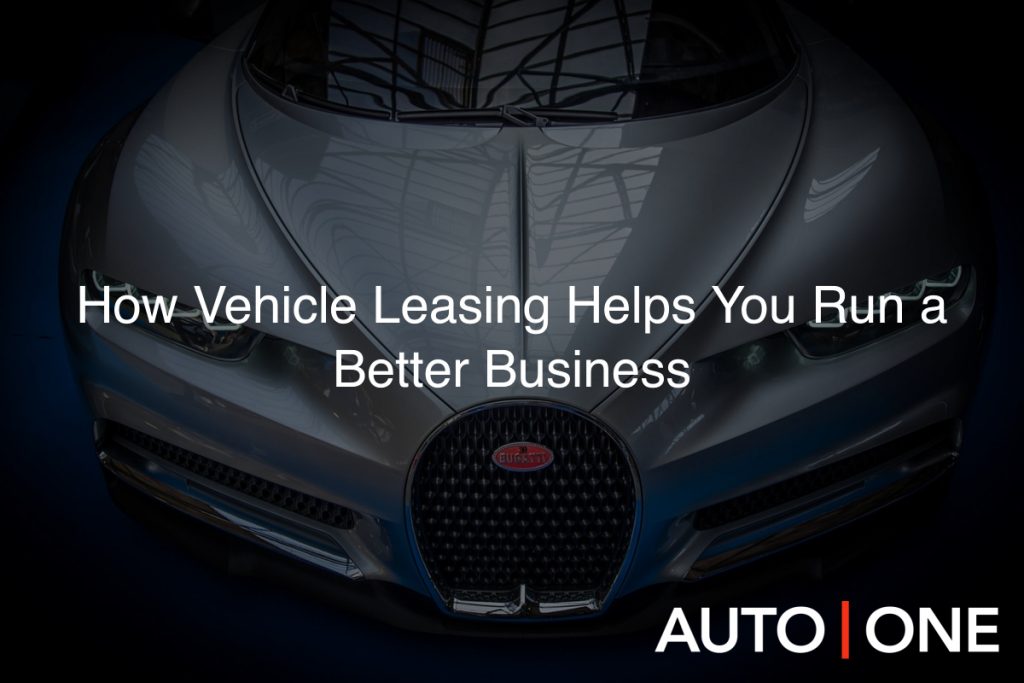 You could say we're pretty enthusiastic about vehicle leasing here at AUTO ONE Group. On this blog, we've extolled the virtues of leasing in nearly every conceivable way. Mainly, we've discussed how fantastic it is for drivers, for private customers who want an impressive luxury experience without the accompanying drain on the bank account.
That's still all true. The particular car lease experience we offer at AUTO ONE Group not only saves you money month-to-month, but it also makes your life easier and more exciting – easier because we are the bank and we can approve you in minutes, and more exciting because, well, you get to drive off in a better car than you could have otherwise afforded.
But for all we've talked about leasing's merits for the private driver, we haven't talked all that much about the impact of commercial leasing on businesses. Leasing is a business decision that has myriad payoffs. Yes, it saves you money. Yes, it puts employees in the driver seat of a better vehicle. But it's so much more than that.
AUTO ONE drives businesses forward with its leases. We can help you run a better, tighter, more cost-effective operation. Here's how.
Brand & Image
Let's start with commercial leasing's impact on brand and image. Under a traditional finance model, a business can realistically afford to buy a modest vehicle every 7-10 years. When initially purchasing your commercial vehicle, you are forced to go with something cheaper. And, when all is said and done, traditional financing leaves your business with a clunker of an automobile.
Whatever your business does – whether you repair pools, transport food supplies, fix plumbing, do landscaping etc., etc. – you need to control presentation. You need to inspire confidence in your customers. That's tough to do when you pull up in a coughing, clunking, half-rusted automobile.
With a vehicle lease, you upgrade every few years when your current lease term expires. You are in a constant state, therefore, of driving a new, well-maintained vehicle. It's tough to overstate the impact that has on your customers. Just as an office space can tell clients a lot about a business, your vehicle is an extension of your enterprise. You get one shot at a first impression; you might as well drive up in something great.
Finances
The reason, we have come to discover, that many businesses make the leap to leasing is that it improves cash flow. Rather than muddying a credit line to purchase your vehicles, you can instead reduce the fleet to a monthly operating cost. It's a lower monthly payment than if you were to purchase, leaving you with extra cash to grow or refine your business. For this reason, a lot of businesses, once they've tried leasing their vehicles, will quickly take advantage of the equipment leasing options we offer as well – plows, tractors and excavators, to name a few.
Another financial upshot of leasing is tax deduction. The CRA lets you deduct a percentage of your business vehicle lease equivalent to its use, up to nearly $10,000 a year. Let's say your vehicle did cost you $10,000 a year, and you used it 70% of the time – that would mean that you can deduct $7,000. That information comes courtesy of Intuit, but for a more detailed breakdown of deductions, head to the source, the CRA page linked.
Operational Efficiency
When we posed the question a while back on this blog, should you lease or buy your next commercial vehicle one of the main pros for leasing was that leased vehicles tend to work better. This is because, as mentioned above in the Image section, leased vehicles are often newer and better maintained than their purchased counterparts. If yours is a business that depends on its fleet – whether for transportation, hauling or delivery – having a better-maintained vehicle means greater operational efficiency.
Leasing, at least when you go through us, is also so much simpler than purchasing. We are the bank, and approval only takes minutes. Upgrades are also incredibly easy. When you let us do the work for you in regards to your vehicle fleet, that frees you up to focus on your "core competencies", that is, the unique skills and advantages that differentiate your company.
Safety
Finally, with newer, better-maintained cars comes a greater sense of safety. That 8-year-old beaten-up truck may drive fine today, but there's no telling what it will do tomorrow. And, with safety features becoming more sophisticated every year, a newer car will be safer than an old one throughout its lease term.
Your employees want (and deserve) to feel safe. Upgrading your fleet every few years goes a long way toward making that possible. It's difficult to quantify the impact that newer, safer vehicles will have on morale, but we're comfortable assuming that it will have at least some impact.
Yes, there are a thousand facets to a business, and yes, running a better business means learning new things daily. But we're here to make one easy decision for you: lease your fleet vehicles. As stated above, it will improve the image of your company; it will improve cash flow; it will open your business up to some fantastic tax deductions; it will allow you to operate more efficiently, and it will help keep your employees safe.
In the past, we have focused on private drivers, because – to be quite honest – we are all private drivers ourselves, and are excited about the amazing luxury cars we get to drive to and from work. But we're also a business. And, as a business, we know that making a switch isn't easy. We're here to report, though, that switching from vehicle purchasing to vehicle leasing is as great for your business as it is for the common consumer.
If you want to chat more about leasing your fleet vehicles, come chat with one of our knowledgeable representatives at AUTO ONE Group, with locations in Vancouver, Toronto and Halifax.