8 Myths About Vehicle Leasing… Debunked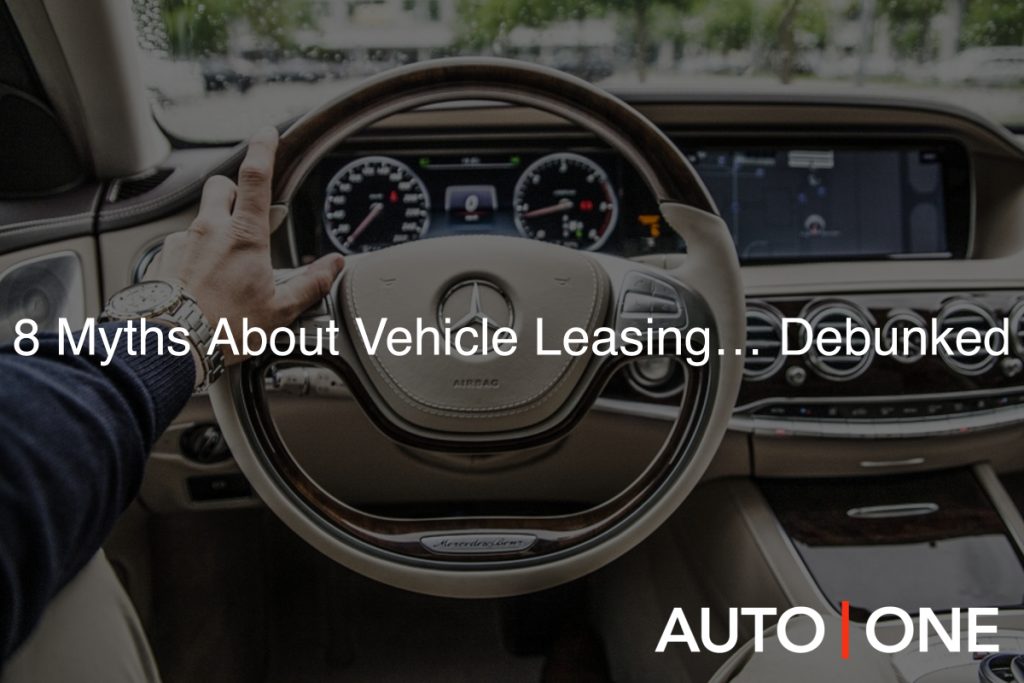 Here at AUTO ONE Group, we're passionate about what we do – and a big part of what we do is leasing vehicles. Yes, we understand why some people prefer to purchase or finance their vehicles, that there is an emotional element to ownership. These people have weighed their two options – leasing and purchasing – and decided that the idea of ownership, to them, is more attractive.
But then there is a whole subset of people who don't know all that much about leasing, who have maybe heard a thing or two anecdotally, from friends or family members, and who craft their opinion of leasing and purchasing based on… well, let's say incomplete information.
It's for those people that we've decided to clear the air. There are a lot of myths flying around, through word of mouth or on slapdash blog posts throughout the internet, that simply isn't true. Passionate as we are here about being Pacific, Central and Atlantic Canada's trusted luxury dealership we feel it necessary to debunk a few of these myths, to set the record straight about vehicle leasing, so that you, the savvy consumer, can make the most informed choice possible.
Here are nine of the most popular myths around vehicle leasing, and a brief note on why they're totally bunk!
It's More Expensive than Buying
No, it is most certainly not. With vehicle purchases, not only do you have to pony up a sizeable down payment (which can stifle your personal cash flow) but the monthly payments on a purchased vehicle loan are quite often higher than if you leased. In fact, many people turn to leasing because it's the cheaper of two options, by a notable margin. Of course, to really save money, you have to choose the right leasing dealership, and (you probably know what's coming here) AUTO ONE Group is dedicated to offering the most competitive lease prices in Canada.
There's a Load of Paperwork Involved
For the paperwork-averse, there is no more frustrating prospect than having to sit and comb through sheets and sheets of agreement legalese. While we can't speak for our competitors, the representatives at our dealership pride themselves on being straightforward and easy-to-understand. The paperwork won't be laborious, thanks in part to our quick and easy approval process (more on that in a moment) and you'll be driving out of the dealership lot in your dream car in no time.
There Is No Guarantee My Leased Car Will Perform Properly
When you buy a car, you better be completely sure it's the car for you. Yet, we heard a lot of customers venting that, in past experiences with dealerships, they felt rushed, pushed toward a make, model or colour that they weren't 100% in love with. First of all, we're not going to rush or push – you take as much time as you need to decide your perfect vehicle. Secondly, if for some reason the unpredictable happens with your vehicle, we offer a 30-day guarantee. It's one of the main reasons, we think, that we see so many happy, repeat customers.
It Will Hurt My Credit
It's understandable that you want to be protective of your credit. Your financial future, your ability to secure loans and credit cards, are contingent on that credit staying good. You may have heard some form of the prevailing myth that getting approved for a loan will negatively impact your credit, but that's simply untrue. As part of our flexible leasing options we offer pre-qualification, which means that, while we look at your credit score, we will absolutely not affect it. From the comfort of your computer, and with the peace of mind that your credit score will remain unaffected, you can easily get pre-qualified.
It's Fine for Personal Use, but Not for Businesses
On the contrary, leases are terrific for businesses. Rather than disrupt and bottleneck your business' cash flow by purchasing outright, leasing offers you the opportunity to instead pay a low monthly payment. Not only that, but the fact that leases are shorter, (2-4 years, as opposed to around 8 with purchasing,) your business always has a shiny, up-to-date fleet, which reflects positively on your brand image. All that's not even mentioning the tax benefits of business leasing – but in the interest of saving space in this post, check out more about fleet leasing on our blog!
It's a Waste of Money
The mentality that putting money towards a thing you won't eventually own is understandable. But we also happen to think it's wrong. There is a difference in cost between leasing and buying – provided that you use that difference wisely, whether toward investments or simply cost of living expenses, then no money has been wasted. Whether you're overseeing a business fleet in Vancouver or driving in Halifax to work, leasing is part of a wise money strategy.
There's Too Much Depreciation to Shoulder
When you purchase a vehicle, you shoulder the entire cost of depreciation, including that inordinately depreciative first year. Here's the beauty with leasing though, especially when it's a used vehicle: you only shoulder the cost of depreciation during the lease term. For used vehicles that are already past their fast-depreciating first year, that winds up being a great deal.
There Is No Difference Come Tax Season
Especially for businesses, leases are advantageous come tax season. The percentage that you use the vehicle for work is tax-deductible, up to a generous $800 a month. Even putting it conservatively, if you used the vehicle 50% of the time and paid a premium $1000 a month, that represents an incredible tax deduction of $500 a month, or $6,000 a year.
Here's a bonus myth for you: "I Can Lease Anywhere, With No Real Difference." Not true. AUTO ONE Group offers the best prices, most flexibility and easiest process of any dealership in the country. There's a reason why people keep coming back – they have come around to the merits of leasing, and know that we offer the best leasing experience around.