6 All-Wheel-Drive Luxury Cars Perfect for a Canadian Winter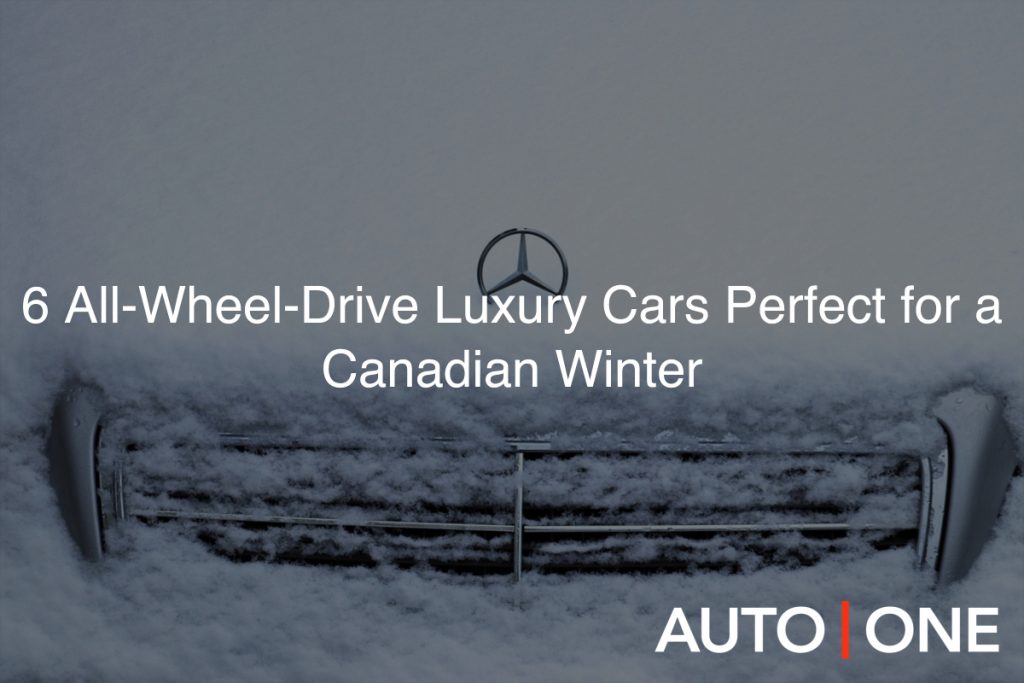 It's that time again, folks – the time of year where we switch our sweaters for down coats and our hats for toques. It's also the time of year where you rummage through your garage for that ice scraper, and set your morning alarm for 15 minutes earlier, to account for the extra time it takes your car to defrost.
Driving in the Canadian winter is a double-edged sword. On the one hand, there are fewer things more stunning than a winter drive, with its dramatic white landscapes and bright sun. On the other hand, all that beauty comes at a cost, as the roads are rendered icy, wet and snowy (sometimes all at the same time).
To tackle that last issue, drivers turn to all-wheel-drive (AWD) vehicles, whose drivetrain provides power to all four wheels, allowing the vehicle to manage low-friction roads better. One thing to note, before we go any further, is that we're not talking about 4-Wheel-Drive here (4WD). Although 4WD and AWD are similar, it's generally agreed that AWD is better for city driving, since its wheels can turn at different rates, making corners easier.
Wanting an AWD vehicle through our leasing or car subscription service doesn't mean that you'll have to settle for an ordinary car though. There are a number of luxury cars, from sporty two-doors to SUVs, offering AWD. Case in point: the following six cars, all plucked from our nationwide inventory.
These six cars successfully mix luxury elegance with powerful winter defence. Pair them with a good pair of winter tires and a smart approach to winter driving, and you're set for a safe, sophisticated winter.
Mercedes-Benz 4Matic Cars
Mercedes' 4Matic is an AWD system developed specifically to perform well in slippery conditions by increasing traction. You can find it featured in just about every Mercedes-Benz class, meaning that there's a 4Matic AWD to be driven at a number of different price points.
At AUTO ONE Group, we have a few 4Matic cars right now. We have a 2016 C300 to lease for just $536 a month. And we have a 2015 CLS400 and a 2019 GLA250, each available to lease for $650 a month. Mercedes are leaders in both aesthetic refinement and engineering, and these cars fully display that; they are perfect for a city professional who needs a winter vehicle.
Porsche 911 C4
Understanding the Porsche 911 range can be tricky (GT3, Turbo S, RS, etc.?) but all you need to know in this case is that the "C" here stands for Carrera and the 4 stands for all-wheel-drive. Other than that, this is your everyday, average Porsche 911, which is to say, of course, that it's an insanely sporty and beautiful car.
The 911 C4 currently in our nationwide inventory comes with sports chrono plus, a sports steering wheel, sports seats, heated/cooled seats, sophisticated navigation, camera, glass roof, Alcantara headliner, sports exhaust, Bluetooth and a heated steering wheel, to name just a few details.
Porsche Panamera 4S
The 911 is awesome for cruising solo or with a partner, but as soon as you add a family in the mix, you'll need something a little bigger. The Panamera, Porsche's take on the full-size luxury vehicle, certainly accommodates. But it is no average family car; with a Twin Turbo 3.0-liter V6 engine under the hood, and 7-speed PDK transmission, the Panamera produces a formidable 440 horsepower.
This might sound like too much power for a family vehicle, but the Panamera's All-Wheel-Drive keeps it grounded and gripped to the road in even the most unforgiving weather. To come check out our Panamera 4S, visit our Vancouver location, or drop us a line. Our knowledgeable representatives are always there to help steer you toward smarter car ownership with our leasing programs and car subscription service.
Tesla Model S 70D
Safety, fuel-efficiency, luxury: it used to be that you had to pick two. Then Tesla changed everything. If you come across a Tesla Model S sporting a "D" in its name, you're looking at an all-wheel-drive version of the infamous car.
Even in the best of weather, standing at the pumps of a gas station is tedious, but in the winter it's a real drag. If you're a gas-station-averse driver, or you just don't like paying $200+ a month for fuel, check out our Model S 70D. And read our breakdown on the car subscription vs car leasing to see which financing method works best for you!
Jaguar F-Type SVR
The Supercharged 5.0-litre V8 in the F-Type SVR delivers a rowdy 575 horsepower, kicking the car from 0-60 in just 3.5 seconds. That's a lot of performance. So much, in fact, that you might pause to consider how it would navigate a slick Canadian winter.
You'll be glad to know, then, that the F-Type SVR's all-wheel-drive tempers its bold, accelerative power. If you're looking for power and performance that you can take out year-round here in Canada, consider the Jaguar F-Type SVR.
Maserati Ghibli
The Ghibli's 3.0-litre V6 delivers power to all four wheels – and it also delivers a thunderous, growling exhaust sound that will turn heads wherever you drive.
The Ghibli is one of the quintessential "exotic" cars we have: it's rare enough to garner a few stolen glances when you drive it down the street, but it's more than just a curio. It's a high performing car that delivers a uniquely pleasurable driving experience. If you're a car nut, and you want an AWD vehicle for the winter ahead, this could be your next lease!
Enjoy the upcoming winter in style knowing that you have power in all four wheels of your new luxury car. Stop by one of our three locations – Vancouver, Halifax and Toronto – to test drive the cars above, or ask about our other fantastic vehicles for lease. Or check out our car subscription service, Drive, wherever you get your apps.
The roads may be slick this winter, but that doesn't mean you can't also be slick!