Your Complete Guide to Test Driving a Luxury Vehicle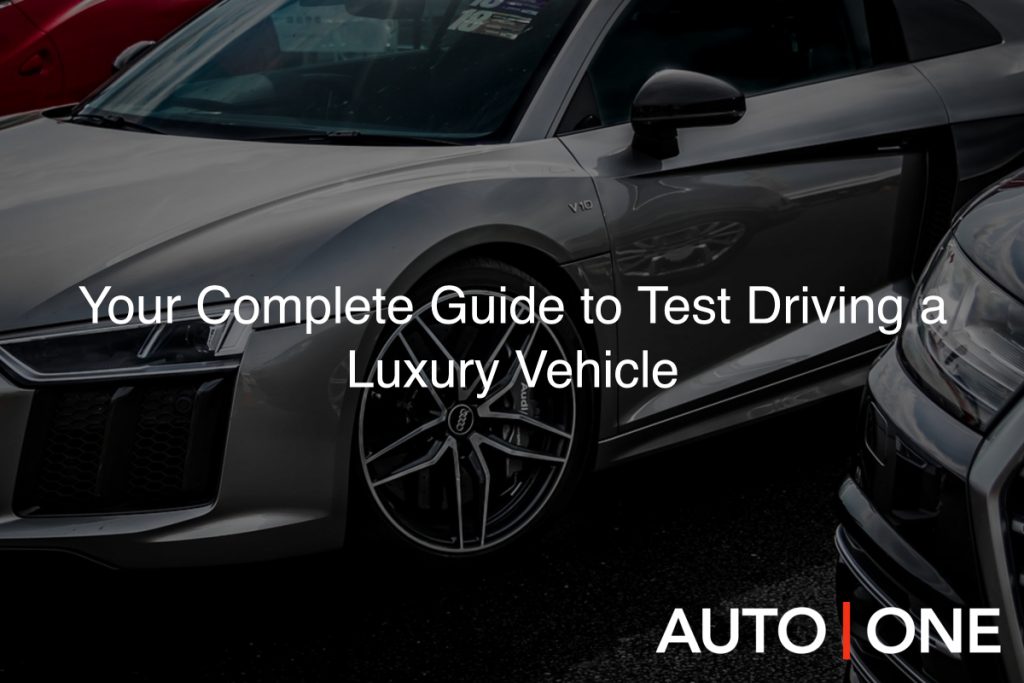 You can do all the research you want, but until you actually step into a vehicle, grip the wheel and turn the key, you're not really going to know if you've got the perfect vehicle.
That's why test-driving is so important when you're shopping for a luxury vehicle. If you'll permit a bit of a strange analogy, test-driving is like a first date. Only, in this scenario, you have to decide whether you're going to marry that person for at least two years on the strength of that first date! Put more plainly, it's your sole window of opportunity to decide whether you harmonize with the car. So you should be prepared.
The experts at Auto One will do all we can to accommodate your test drive, answer questions and offer guidance during the process, but it pays to know in advance what you want to accomplish. That's why, in this article, we'll be running through a comprehensive guide to test-driving.
Of course, it occasionally happens that a car you like during the test drive has issues once you take it home. Don't sweat it. As part of AUTO ONE Group's modern buying experience we offer a 30-day guarantee on vehicles, so you can shop with confidence.
Now let's test-drive some vehicles!
Come With Personal Criteria
Some criteria are just far too personal for us to anticipate. It might be a personal aesthetic preference – you like wide grilles instead of thin ones. It might be a logistical limitation – your garage isn't big enough to fit certain vehicles. It might be a matter of usage – you need a vehicle that fits the whole family, plus a few bags worth of hockey gear. Knowing your own personal criteria will provide guidance throughout the test-driving process.
Bring a Second Opinion
It's never a bad idea to have a fresh set of eyes on your purchase, especially with something as monumental as a luxury vehicle. At worst, they'll just confirm what you already know – that this car is awesome! And, at best, they'll provide necessary counterpoints that you might have overlooked. Whether it's a friend, family member or co-worker, it's wise to have a co-pilot.
Inspect the Exterior
At AUTO ONE Group, we go to great lengths to offer the best used luxury vehicles and ensure that they look and work great. Even still, before you even step in the car, do a walk-around. Note any small imperfections, scrapes or dents and talk to the dealer about it. You're not really going to find anything at our impeccable dealership, but it's a terrific habit to have. Another consideration, during this process, is measurement – measure the vehicle to ensure that it fits in your garage/parking space, and that it's the size you want.
Inspect the Interior
Infotainment systems and dashboards vary quite a bit, vehicle to vehicle, so fiddle with the controls to make sure that this particular system works intuitively for you. Some people love, for instance, the modern Tesla dash; they love the computer-like controls. For others, it may take some getting used to. One of the benefits of leasing is being able to take more frequent advantage of changes in technology, so make sure your chosen vehicle is up to your technological standard!
This is also the part of the test drive where you consider space: does it have enough legroom for you and your passengers? Does it have enough trunk space for your lifestyle?
Play With the Vehicle
Fold the seats up and down, fiddle with the GPS, open and close the glove compartment, click the seatbelt in, adjust the seat back and forth – heck, even put a cup in the cup holder! All these things offer small but useful tidbits of information about the vehicle's usability. It may feel a little silly at first, but trust us: we've seen it all before!
Test the Vehicle in a Variety of Settings
Treat this vehicle like it's your own, like it's accompanying you through the next few years. Take it uphill, downhill, on the highway, in residential areas, taking sharp corners, etc. Don't just drive it down a single 50km/hr. street and be done with it. Plan a route in advance and, if you're unsure of the area, discuss the route with one of our knowledgeable representatives before you start driving.
Test the Steering
Completing a vehicle manoeuvre shouldn't feel straining. A stellar steering system should make you feel like your movement of the steering wheel is totally in sync with the movement of the wheels.
Test the Handling
Steering is a part of overall handling, an important component of the driving experience. While handling can be measured by an objective set of metrics, what you're looking for in the test drive pretty much boils down to confidence. How confident are you in this vehicle's responsiveness, in the way it handles corners and the overall feel of the vehicle. It's ultimately summed up by a subjective question: is it fun to drive?
Test the Brakes
Hit the brakes hard and soft. But before you do, warn everyone in the car! Did you have to floor the brake pedal to accomplish a full stop? Did the brakes feel "spongy"? If so, bring these issues up with the dealer. (Though, all our vehicles are expertly maintained, so it won't be a problem here!)
Ask Yourself: Do I Love This Vehicle
All your test-driving has led you to this – one, solitary, all-encompassing question. "Do I love this vehicle?" It's one of those things that you just know. If you do love the vehicle, then it's time to figure out a lease that works for you. And if you aren't crazy about the vehicle, then it's time to start the process over again. Don't worry though, with our vast nationwide inventory, you will find something you love.
Come down and chat with us here at AUTO ONE Group about leasing a luxury vehicle. Our knowledgeable representatives will make sure you end up in something you love.