Road Tripping with Dolce: Food, Farm and Fun
Another Dolce Road Trip Embraces the Best of the Autumn Season
Late summer and early fall is one of the most beautiful times of the year in a multi-season region such as Ontario, and I recently had the opportunity to embrace its natural splendour on another Dolce Road Trip, courtesy of our friends at AutoOne Group, one of Canada's largest automotive leasing companies.
Joining me for a day in the countryside was Realtor Jo-Ann Folino, of Sotheby's, with two destinations in mind: Dixie Orchards farm, nestled near the Caledon escarpment between the villages of Caledon East and Inglewood, and Giro D'Italia Ristorante in Vaughan. It's the perfect way to spend a day when just a hint of change is in the air, and Mother Nature is sending her signal that seasonal transition will soon be upon us.
Our hosts for the day were Kevin Andrews and Rozmin Patel from AutoOne, which has an impressive track record of success based on a very simple yet convincing financial formula. Depreciation is the largest portion of the annual cost of car ownership. On average, a car will lose 15 to 20 per cent of its value each year, according to Bankrate.com. Leasing a car with the opportunity to drive a new one every two or four years is a growing and popular trend.
From luxury and exotic vehicles to commercial trucks and cargo vans, AutoOne offers a broad range of custom in-house leasing options and services, such as used vehicle sales and leasing, along with vehicle service and maintenance. For me and Jo-Ann, Kevin and Rozmin had chosen a mix of classic and new for our drive in the countryside.
The classic was a 1989 Jeep Grand Wagoneer 4D Utility, the SUV that started it all. It happily transported us back to the time before social media or Bluetooth, when road trips involved actual conversation.
For the new, they chose a 2019 Mercedes-Benz S-class drop top. This was an AMG S63 Cabriolet, with "S" standing for the most luxurious model offered with the incredible power of a 4L twinturbo V8 under the hood. While this machine can transport you from 0 to 100 km/h in 3.3 seconds, we took our time enjoying the scenery and the cars' handling abilities on the winding country roads.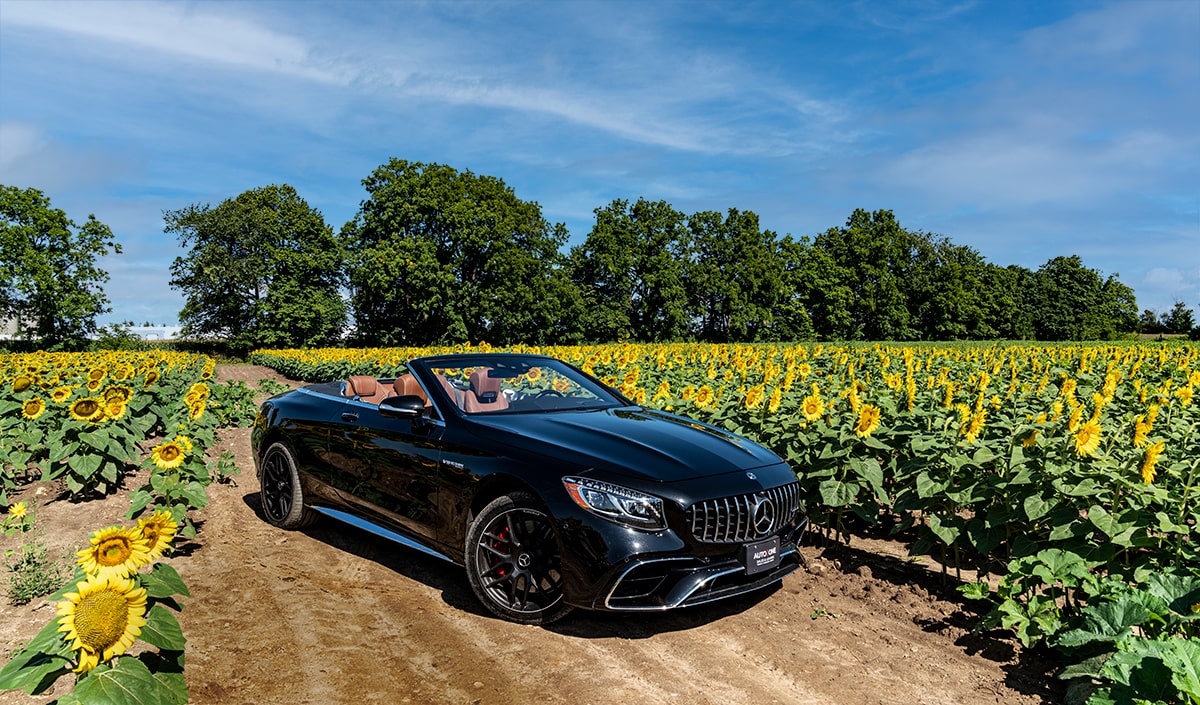 Dixie Orchards was our first destination, and it is absolutely the perfect spot for a day in the country, especially at the onset of the autumn season. The Orchards' season starts in August with a stunning display of sunflowers, followed by apples in early September, pumpkins in late September and hazelnuts in early October. It is also the perfect location for family fun, offering apple-picking, a large pick-your-own pumpkin patch, and its hazelnut orchard supplies the experience of learning how to pick your own nuts.
Dixie Orchards also has a market offering ready-picked apples, pumpkins, hazelnuts and seasonal produce, along with baked goods, pies, jams, honey, maple syrup, cider and gift items such as candles. Jo-Ann, Kevin, Rozmin and I could have spent the entire day there, but it was time to return to our classic and new vehicles as our luncheon reservation awaited us.
Giro D'Italia Ristorante in Vaughan is one of those authentic Italian restaurants that I treasure so much, with its food, hospitality and atmosphere capturing the vitality and essence of Italy perfectly. Its menu celebrates the 20 regions of Italy, with each month featuring a different regional menu so you can fully experience the diverse foods that make the country so special.
Greeting us with great hospitality and friendliness was manager Michele Pellegrini, who made us all feel like family as we sat down to enjoy one of the best luncheons I've had in many years. Our special lunch was prepared by corporate chef Claudio Tentenni, a master of authentic Italian cooking. The antipasto featured Black Angus beef tartare served on the typical Sardinian flatbread pane carasau, with Famiglia Zerillo extra virgin olive oil topped with truffle and balsamic vinegar spherification.
"A PERFECT DAY IN THE COUNTRY: ENJOYING MOTORING ALONG WINDING ROADS IN EXTRAORDINARY VEHICLES WITH LOVELY PEOPLE"
Our pasta was Rummo spaghetti with carbonara sauce enriched with white-truffle essence and was cooked to perfection. Our secondi featured a beautiful sous-vide duck breast, purple potatoes purée, demi-jus and butter-sautéed baby heirloom carrots. There was barely enough room for dessert, but we were easily convinced given the choice between sfogliatelle napoletane or ricotta and pear cake. According to a quick survey of our table, both were delicious.
It was the perfect ending to a perfect day in the country: enjoying motoring along winding roads in extraordinary vehicles with lovely people, enjoying the fresh air and many activities at Dixie Orchards farm, followed by a splendid luncheon of authentic Italian food prepared by a master chef. Jo-Ann, Kevin, Rozmin and I were especially fortunate to enjoy it all.
At this perfect time of year, when the nights begin to get chillier, the angle of the sun starts to change, and we settle back into routines, there can be so much joy in putting the perhaps-individual pursuits of summer vacations behind us and returning to the comfort and familiarity of hearth and home with family and friends — the very definition of la dolce vita.
www.autoone.ca
@autoonedrive

www.zerillo.ca
@famigliazerillo

www.giroditalia.ca
@giroditaliaristorante