Lease Your Commercial Vehicles in Time for a Busy Spring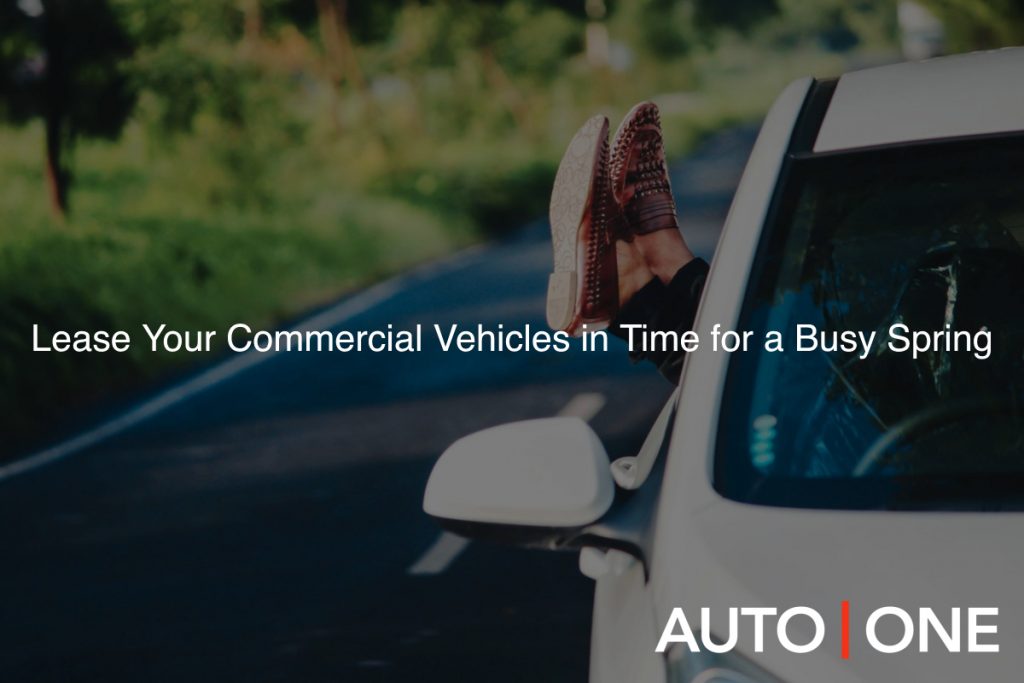 It's that time of year again, when, tired of the winter weather, we start dreaming of spring. And, in truth, spring isn't really that far away – just about a month away, at least by its traditional definition. It may still be a couple months until the weather starts feeling like spring.
Spring is Big Business
As exciting as spring is on a purely human level, it's also an exciting time for businesses. Just like the weather, business can tend to freeze in the winter, only to thaw in the spring. For tradespeople, construction projects start to kick into high gear, no longer battling the freezing temperatures. For plumbers, the onslaught of spring precipitation ushers in numerous waterproofing jobs, sump pump and backwater valve installations, etc.
For caterers, spring means one thing: wedding season. With the sun making its grand reappearance, and flowers starting to pop up, couples across Toronto, Vancouver and Halifax get the very same idea – let's get married. Cleaning services also see a big bump in the spring months, with every homeowner's mind on "spring cleaning", as do moving services, as they help reshuffle students leaving for the semester or renters who want to move when the weather gets better.
The list of businesses goes on. In short, spring is the perfect time for businesses to lease their new fleet vehicles for the year – it's the beginning of the busy season, a time of increased exposure, and you want the best possible commercial vehicle in your corner. Get started by visiting AUTO ONE Group to fill out a commercial credit application or come visit us in person to talk about your business' fleet.
Why lease? Before you make up your mind, here are a few key reasons to lease your fleet vehicles.
Why You Should Lease
The reason we at AUTO ONE Group became commercial fleet leasing experts in the first place is because we truly, wholeheartedly believe that leasing is the smartest way for a business to drive its vehicles. The key reasons are fourfold: cash flow advantages, tax advantages, image advantages and better functionality.
Let's start with the issue of cash flow. Maintaining healthy cash flow – an in- and outflow of cash that leaves you net positive – is what keeps a business in good shape. You might be having a fantastic quarter, with lots of incoming cash, but if you have to put up sizeable down payments on vehicles, then follow them with high monthly payments, you might still end up cash negative. With leasing, you all but forego the down payment, and the monthly payments are far less, since you're paying a monthly portion of the depreciation of the vehicle, not the vehicle as a whole. With better cash flow, you can reinvest your positive cash into growing and improving your business!
Next, let's talk tax advantages. The CRA generously allows you to deduct a percentage of your lease payments equivalent to its use (up to $800 a month). For instance, if you use your business vehicle 75% of the time for business, then you can claim 75% of the lease payments. This is far better than the tax situation for purchasing, where only the loan's interest is deductible. It's for this reason alone that experts often recommend commercial leasing over buying.
Then there's the matter of image. With leasing, you swap your car out for a new one every couple of years, meaning that you're always driving a clean, contemporary vehicle. And because the monthly and upfront costs are lower, your business is able to afford a better vehicle than it would otherwise have been able to with a loan. With a lease, you're never rolling up to a wedding in a rusty catering van, nor are you arriving at a client meeting a 00s Honda Civic. You're driving an impressive, squeaky clean car to match your business' impressive, squeaky clean image.
Finally, what it all boils down to – the entire reason you got a commercial vehicle in the first place – is functionality. You want a vehicle that works for your business. With leasing, you're already getting newer vehicles, and swapping them out more frequently (a 2-4-year lease as opposed to an 8+ year involvement with a purchased vehicle). More than that, at AUTO ONE Group we make maintenance easy, so you always have a vehicle that's reliable and dependable.
If you want to learn more about the differences between leasing and buying, in a commercial context, feel free to read Auto One's commercial vehicle buying guide – it weighs out the pros and cons of the two, as well as introduces a third option: car subscription services.
What to Lease
What to lease will ultimately depend on what kind of business you have. For a business centered on transportation, you'll likely want a dependable cargo van, like the Nissan NV200 we have currently. For a business that requires hauling and towing heavy equipment, a muscular truck like our Ford F-350 may be your best bet. For a business where image is paramount, you might consider a luxury car, like the BMW M4 in our inventory.
We have all those options, as well as heavy equipment to lease. And it there's something you need that you don't see in our current inventory, come speak with an expert representatives and we'll work to procure the vehicle you need.
Businesses can expect a busy spring. To help your business run as smoothly as possible, without taking a hard hit to cash flow, look into leasing commercial fleet vehicles with AUTO ONE Group. You'll reap the benefits of tax advantages, improved image and superior functionality, all while keeping more money in the company coffers.
Drop us a line, send an email, or come visit us in person at our Toronto, Vancouver or Halifax locations. As a Canadian business ourselves, we understand what it's like to want to save money without sacrificing quality. This spring, let your business blossom by switching to vehicle leasing!