Entertainment Meets Luxury With These 5 Infotainment Systems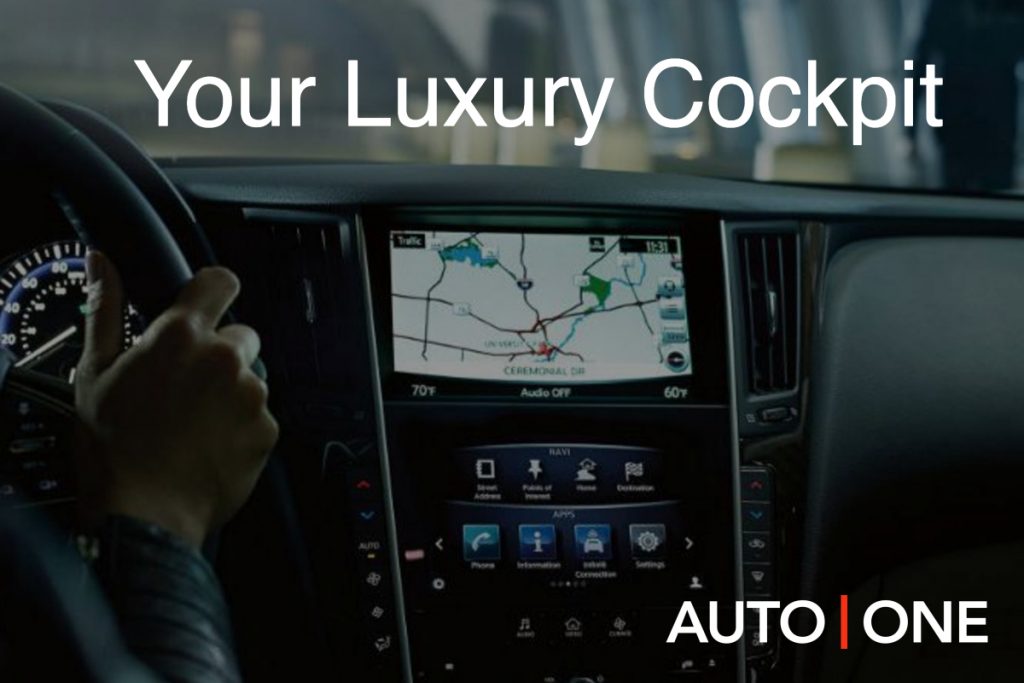 There's this certain phenomenon that most drivers can probably relate to: it's when you get behind the wheel of your car, start driving, and then your brain goes completely on autopilot. Next thing you know, you're at your final destination. It's not that you weren't paying attention; it's just that you zoned out so completely that the passage of time seemed to melt away.
This "zoning out" is pretty common among motorists, and is mostly due to a lack of stimulation, but it can have some dangerous consequences. In order to keep yourself alert and informed while driving, it's smart to have a good infotainment system. And, as we'll see, these systems have a number of other great perks. Luxury cars often have some of the most cutting-edge infotainment systems on the market, and these following five lead the pack in terms of entertainment, convenience and intuitiveness.
Audi MMI
The early 2000s were a boom-time for in-car entertainment, and that was in part due to Audi rolling out its Multi-Media Interface, a sophisticated infotainment system that offered a display screen and various media integrations. If you went to a luxury car dealership like AUTO ONE Group around 2002, you'd no doubt find a number of prospective buyers gawking at the MMI in awe. The intervening years have been very good to the MMI, as Audi has continued to upgrade their system, including a touchpad, higher resolution displays, 3D Google Earth, Apple CarPlay, Android Auto and an increasing amount of driver information. Nowadays, you don't even need to go down to the dealership to try this car out – oh, how the times have changed – rather, you simply have to log into your Drive app and find the perfect Audi for you.
BMW iDrive
Technophobes balked at the iDrive when it was first introduced back in 2001, but since then the world has become a little more tech-savvy, and motorists have embraced BMW's forward-thinking infotainment system. There's no doubt that the iDrive has so many features that it can confound the average user expecting to understand every function of their automobile, but this handy Techradar guide details the infotainment system well, breaking down its navigation system, smartphone integration and accompanying BMW apps.
Mercedes-Benz COMAND
Short for Cockpit Management and Data System, the COMAND pretty much is your car's cockpit – the control centre for communication, navigation, telematics, sound system and (an optional) TV receiver, among other things. You can also get the COMAND with what's called the "Lingatronic voice control", an in-car speech recognition and voice command system that allows you to operate your Mercedes-Benz without even lifting a finger. If you're looking to lease a luxury car in Toronto and want a car you can talk to while you wait for traffic to clear on the 401, a Mercedes is the car for you!
Porsche PCM
The PCM is a slick, sleek system. Standard Bluetooth and smartphone connectivity aside, this infotainment system also offers Apple CarPlay, so you can make calls, text or access Siri while driving. You can also stream music or access vehicle diagnostics, keeping you both safe and entertained as you cruise around town. Not a lot of people think of infotainment when they think of Porsche, given its stellar reputation as a manufacturer of fast, streamlined sports cars, but the PCM puts that notion to rest. Didn't think you could afford a Porsche? Hop onto our Drive app and give one a try for a few months – you're guaranteed to get some envious looks.
Infiniti InTouch
Stay in touch with the InTouch, Infiniti's entry in the luxury car infotainment arms race. It has a lot going for it: touch screen, voice recognition, emergency assistance, enhanced traffic information, and even a built-in calendar and scheduling software, so you never miss a meeting or engagement. So if you're looking to lease a luxury car in Halifax that can also double up as a personal assistant, an Infiniti will do the trick. Also, if for some reason you forget to lock your car, you can simply log into the Infiniti app to get access to your vehicle's lock.
Whether you need a luxury car for three years or three months, AUTO ONE Group has a plan for you. Come in and talk to one of our knowledgeable representatives about our lease programs, and pay a low monthly cost to enjoy one of these fine brands. Or, with our Drive app, give each of these car brands a whirl, enjoying each for a short amount of time, without the bureaucratic back-and-forth of a car lease. The program is perfect for new Canadians, as well as contract workers from abroad, since we determine eligibility according to bank account rather than the Beacon score, which makes the program much more accessible.
Save yourself from zoning out on the road with these five exceptional infotainment systems. With wide ranging functions like communication, navigation, vehicle information, emergency assistance, media playing and scheduling, an infotainment system will not only help you be a better driver, but it'll also help you enjoy your commute. Sample each of them through our brand new car subscription app, Drive, which is the first of its kind in Canada – who knows, maybe you're a Porsche person and you didn't even know it!