Biggest, Fastest, Priciest: Meet the Current Record-Holding Cars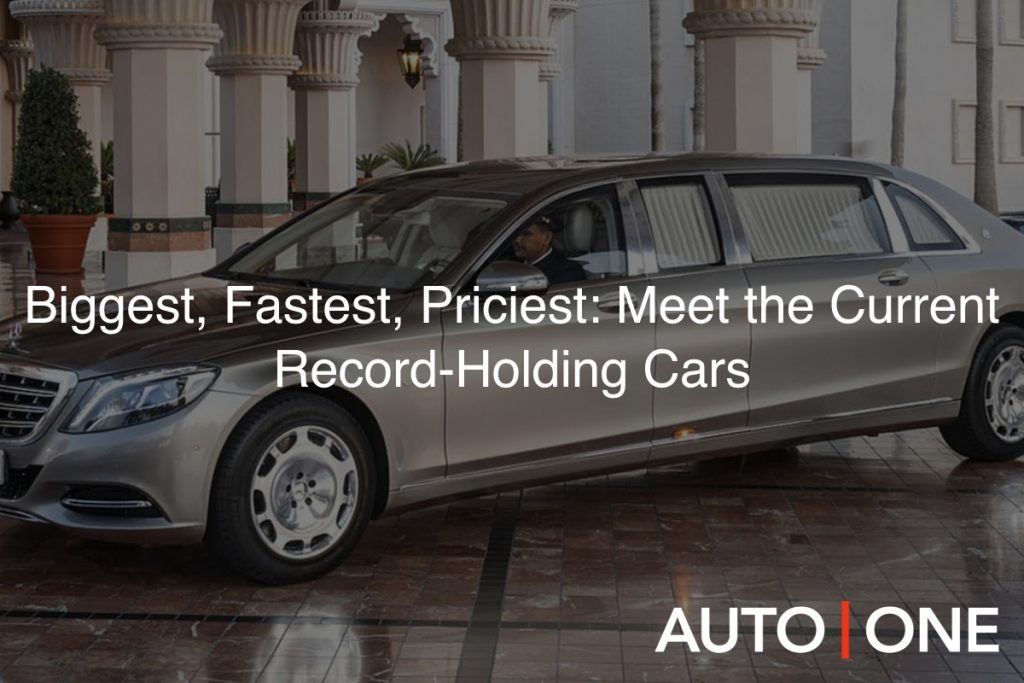 In the world of sports, they have stats – those concrete series of factoids that cut through anyone's biased opinion (and there are a lot of biased opinions in sports!) to deliver the cold, hard, numerical truth.
The world of cars is no different, and in fact, car lovers geek out over the stats just as much as sports fans. You may be a Mercedes fan, or a Honda diehard, or a Jeep loyalist, but when you see a spec sheet for a new Bugatti or Audi, you put your partisanship aside and revel in the technical marvel.
That's what we have for you today: technical marvels. As any sports fan knows, the stats all come with records; in baseball, they might be as basic as most home runs (Barry Bonds with 762) or as obscure as the fact that Kirby Puckett is the only player with a 0-homerun and 30-homerun season. In the automotive world, these records can also get pretty strange.
But in this article, let's stick to big ones. Which cars are the biggest, the fastest, the most efficient, the most expensive and the most popular? We'll drive you through the current record holders. And, because we offer luxury vehicle leasing made easy we'll be giving you suggestions along the way for cars in our AUTO ONE inventory.
Here are the record holders!
The Fastest: Porsche 918 Spyder & Koenigsegg Agera
It's important to note, right off the bat, that the cars in this record list are current production vehicles – that means no historical cars, no concept cars, no mods and no cars that weren't specifically designed for the road.
That said, depending on which metric you prefer, the fastest car in the world is either the Porsche 918 or the Koenigsegg Agera. The former takes the cake for acceleration, achieving a 0-60mph in just 2.2 seconds – a rate of acceleration that one can only assume would pull your face back like a cartoon character in a jet rocket.
The top speed record, however, belongs to the Agera. Its top speed has been observed at 447 km/h, or roughly as fast as the world-famous Japanese bullet train. The Swedish carmaker doesn't make a lot of vehicles, and so the ones they do make are rare, which is probably why you've never seen one in Canada.
But for a comparable (albeit not as blindingly fast) take on the sports car, check out one of the Porsche 911's we have in our nationwide inventory.
The Most Expensive: Bugatti Chiron Sport
The Bugatti Chiron is an eye-watering $4.3 million CAD. You could buy a downtown home in Toronto, Vancouver and Halifax for that kind of money, and still have some left over for a luxury car. But the Chiron is objectively a work of art. It is lightning quick, masterfully engineered, and brimming with luxury features.
For the most expensive private sale, however, the title goes to a 1963 Ferrari 250 GTO, which fetched an obscene $93 million CAD. WeatherTech CEO David MacNeil, a car collector of the highest order, bought the vintage, Tour de France-winning car last year – no word yet on how his finances are doing this year.
You don't need to dish out $4 million or (god forbid) $93 million to get an incredible luxury car. If it's a supremely impressive sports car you're after, check our 1998 Ferrari 355 Spider or Ferrari 430 Scuderia, both affordable on our competitive leases. Or, if you need a sophisticated luxury car for work, impress your clients in an Audi RS7 or A7.
The Best Fuel Economy: Hyundai Ioniq
In both the hybrid and electric categories, the Hyundai Ioniq takes top honours. The Ioniq electric gets a wild, city-highway combined 136 mpg. For reference, the top fuel economy not for an EV or hybrid, for a midsize station wagon, is the Volvo V90 at just 30 mpg.
According to the US Department of Energy, (which provided the stats above as well,) the Ford Focus is the world's most economical car on Flex Fuel (E85). Now that one we do have in our nationwide inventory, at just $601 per month. A fantastic deal considering the money you will save on gas as well.
The Best-Selling Car: Toyota Corolla
What's to say here? The world loves a Toyota Corolla. Chances are everyone reading this has ridden in at least one Corolla in their lifetime, and there is probably a sizeable number that have owned one. It's a dependable, pleasing-to-look-at, trustworthy nameplate that's been around for a long time. That's why it has sold a record 46 million units!
We don't have any Corollas in our inventory at present, but for a similar price, you can get luxury on lease with a Volkswagen or Audi.
The Biggest: Mercedes-Maybach Pullman, Chevrolet Silverado 3500HD & Lincoln Navigator
For the biggest car, we've decided to break it down into three facets: the longest, the widest and the tallest.
Technically, the longest car currently in production is the Ford F350 with a crew cab and long bed, but that's sort of cheating. So let's go with the Mercedes-Maybach Pullman, a very long car that is all car. Measuring 6,499 cm, the thing looks more like a limousine than an actual car and must be an absolute pain to parallel park.
The widest vehicle in production is the Chevrolet Silverado 3500HD at an impressive 2,457 mm. Put in a measurement that you can perhaps visualize better, that's just over 8 feet wide – not even Andre the Giant, laying down, could touch either end.
Finally, the tallest vehicle (not including commercial vehicles, of course) is the Lincoln Navigator, at almost 2,000 mm. For those who complain about a lack of headroom, consider giving the Navigator a spin!
Meanwhile, here at AUTO ONE Group, we try each and every day to break the record for customer service. We measure it with the satisfaction and happiness of our customers, and our prize is knowing that we're helping fellow drivers.