Best in Class: 7 Cars Perfect for College Students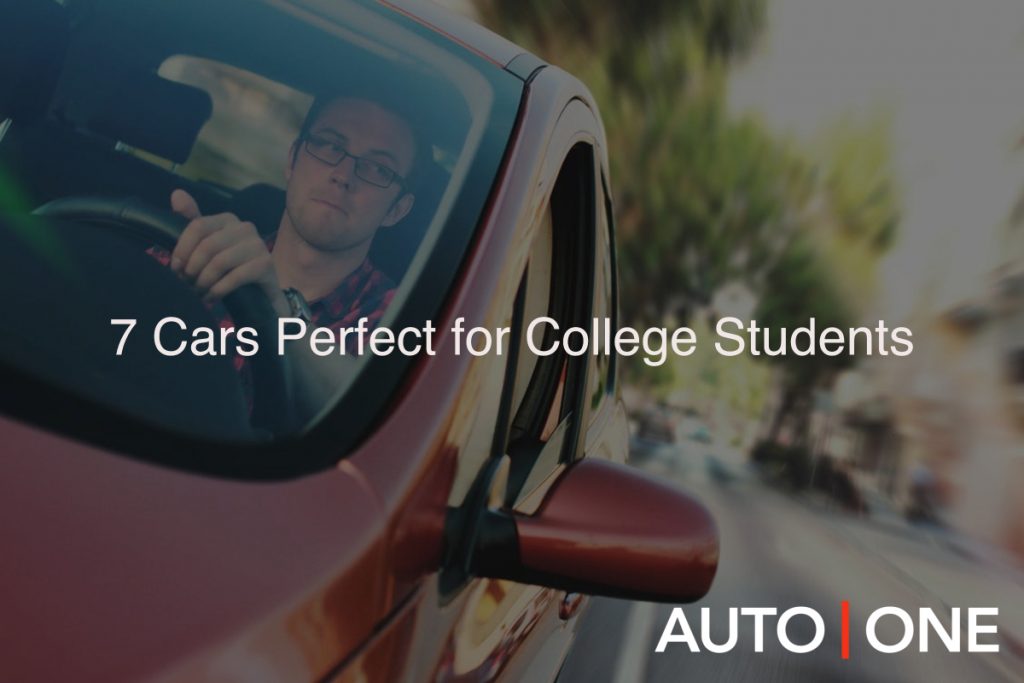 We know, we know – it's not always fun (at least not if you're a student) talking about going back to school. But we're not here to discuss course loads, majors, exams or dissertations. We're here to talk about something altogether more fun: what kind of car you (or your kids) should consider driving.
For many students living off-campus, or commuting from another town, a good automobile is an absolute must. Even those living in residence on campus may find that they need a car, simply to run weekend errands or visit home on occasion. The problem, traditionally, was that cars are expensive to buy outright – far more expensive than a college student could afford – and, later, you are stuck with them regardless of where your studies or career take you.
In this post, we've taken it upon ourselves to list what we think are seven of the best "college cars" – that is, cars suited to the needs and wants of students. Anyone of these cars would make a fantastic ride for your college years, but remember, you don't have to settle for just one. With Drive's month-to-month "swap, renew or cancel" policy, you can try a number of these, without having to buy, sell or spend additional money! Let's get the engine running…
The Criteria
What exactly makes a good "college car", you might wonder? For the purposes of this list, we looked at five different criteria: safety, fuel efficiency, aesthetics, reliability, and what we're calling "the fun factor". Cars that rated highly in two or more of these categories earned themselves a spot on this illustrious list, as the "best in class" for college students.
Ford Fusion
Ford Fusion is a well-rounded workhorse. Its hybrid engine is very fuel-efficient, meaning that you'll spend less of your hard-earned money at the pumps (and more of it at the pubs), and you'll also get the satisfaction of knowing that your car leaves a relatively minor carbon footprint on the environment. It's also very safe, earning great safety ratings across the board for its barriers, rollover resistance and ample safety features.
Mini Cooper
The Mini Cooper is a rare example in the auto industry of a manufacturer trying to craft a car based around fun and whimsy. Yes, the car also handles beautifully and looks fantastic, but the bottom line with the Mini Cooper is that it's a fun drive. Don't expect to be able to help your friends move with this car, but it's perfect for zipping from class to class, or on a short weekend road trip.
Jeep Wrangler
Jeeps have a look all unto themselves, an immediately recognizable body that's unlike any other automobile. To that end, it's the perfect car for standing out. But to reduce the Wrangler to its mere looks would be to overlook a whole whack of other benefits. For one, the Wrangler is surprisingly economical with gas. It's also widely regarded to be one of the best off-roaders around, so if you're the outdoorsy type, this car can definitely keep up.
Volkswagen Golf
The Golf is small. It's economical, it's ridiculously reliable, and it's easy on the eyes. It's also really good value: you get all that precise German engineering and attention to detail, for the cost of a basic compact. Towing the line between utility and luxury, the Golf is a vehicle perfect for anyone who wants a little luxury without being too flashy.
Honda Civic
You already know the Honda Civic. You know, the car that you see everywhere. The one that earned the title of Canada's best-selling car for a staggering 21 years in a row this year. It's the car equivalent of Top 100 pop music. But don't let its popularity fool you, because the Civic has some real talent. It is dependable, drives easily and is just sporty enough to make you feel as though you're driving something special. There's a reason your campus parking lots are dotted with Honda Civics!
Toyota Prius
The Prius easily made our list of the best commuter cars – you can check this out for the full article – and now it's easily making our list of the best student cars. Its impressive 5L per 100km fuel efficiency makes it a cost-effective commuter car, while its generous trunk space (67 cubic feet, with the rear seats folded down) makes it an excellent cargo car, for Costco bags, hockey equipment, stacks of textbooks and whatever else you need transporting.
BMW X1
There's no rulebook stating that a student car needs to be ordinary. A great luxury vehicle to start with is the BMW X1, a luxury crossover SUV with good gas mileage, tons of room, sophisticated safety features and a bumping infotainment system.
What's important to you in a car? Is safety your top priority, or fuel-efficiency? Do you want utility or luxury? Would you prefer a compact car, or space for errands? None of these pairings is necessarily mutually exclusive, but in order to discover your perfect college car, you need to first ask yourselves these questions.
Above are our picks for the best student cars, each of them fulfilling a number of our criteria, and each of them fantastic in their own rights. Now you have to decide, what's your perfect college car? Contact us to chat about it, or drop by one of our dealerships to look around.