9 Car-Related New Year's Resolutions for 2020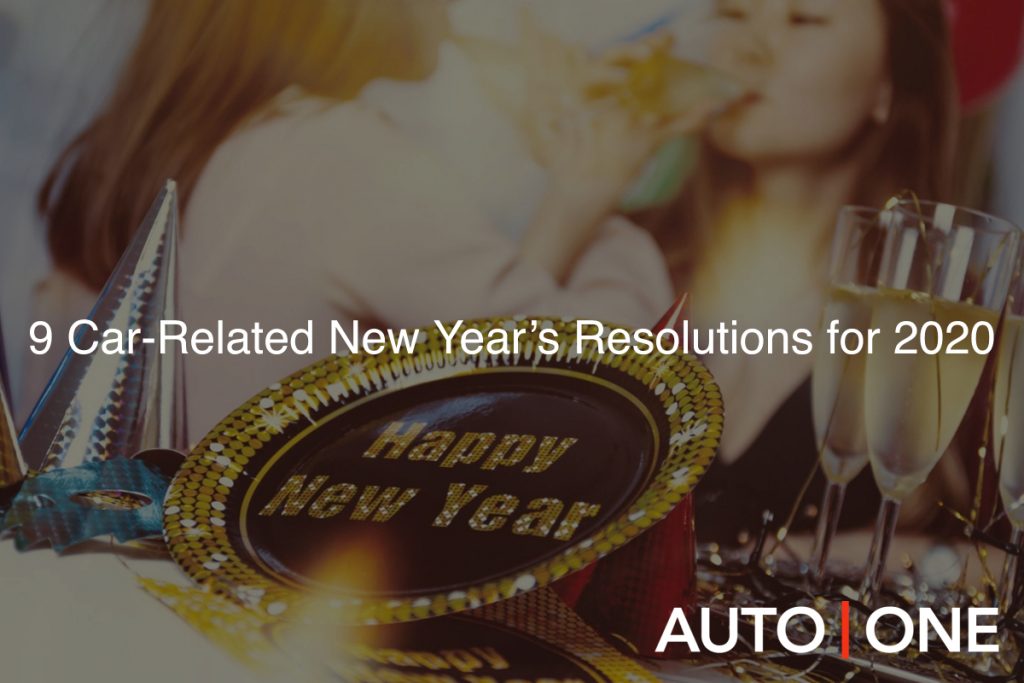 A new year is nearly upon us, and it's once again time to think about how we can learn from the previous one, and improve our lives going forward. For many, this means signing up for a gym membership, stocking the fridge with vegetables, or making time for creative endeavours.
For the car lover though, it's a great opportunity to reevaluate our relationship to driving. Are you quick to anger when you get stuck behind another car at a yellow light? Is your car floor littered with old receipts and corn nuts? Are you really driving the car you want to be driving?
As 2019 winds to a close, and we welcome to the new decade, these are the questions we should be asking. Sure, physical health and wellbeing is important too – but let's make 2020 the year when you improve your driving life.
In this fun article, we're going to list nine car-related New Year's resolutions that will accelerate you into a better driving life.
Get Your Car in Shape
It's one thing to get yourself in shape, but it's another thing entirely to get your car in shape. Are you observing those biannual tune-ups? Are you regularly checking your tire pressure, your fluid levels and your undercarriage? If not, make a 2020 commitment to keeping your car in tip-top shape. Not only with your car thank you, but it will reward you with a smoother driving experience and a heavier wallet (those emergency repairs to a faulty car can be costly!)
Keep Your Vehicle Looking Its Best
In the same way you might, let's say, follow proper hygiene and dress yourself respectably, you want to extend the courtesy to your car. Your car is, after all, an extension of your personality, and it colours the way people perceive you. That slovenly interior and muddy exterior stops December 31st 2019. Learn a few simple car care tips – courtesy of this very blog – and take the time to detail your car. Break out the soap and wax, and drag the vacuum outside every once in a while.
Get That Car You've Always Wanted
As Canada's leading luxury car dealership we obviously have a vested interest in seeing you in your dream car. If you were too timid to pull the trigger mid-year, maybe the New Year is a perfect excuse to get that car you've always wanted. Life's too short to drive a clunker.
Stop Idling
30 seconds – that's the maximum amount of time, according to experts, that you should idle your car. Anything past that, and you should cut the engine. This is such a simple fix to make, but it has wide-ranging positive effects. Not only is it better for the environment to cut your engine, but it's better for your car too. In this Stack Exchange thread, you can read different mechanics explaining the various ways that idling is bad for your car, but what it boils down to is that you're essentially wearing your car's electrical components and engine for no good reason.
Add Another Vehicle to the Family
Some New Year's resolutions center on adding a new family member. While those resolutions typically refer to a new baby, we choose to reinterpret it to mean welcoming a new car into your life. One car is wonderful, but you don't want your car to have "only child syndrome". If you're ready to welcome another vehicle into your garage, browse our luxury car brands or come chat with us at one of our three locations – Halifax, Vancouver and Toronto.
Try an Auto Subscription Service
Do you love driving, but are tired of committing to a single car for years? If so, this New Year might be the perfect time to make a car subscription resolution. For many people, trying new things is difficult, but variety is the spice of life. Try AUTO ONE Group's car subscription service, a flexible way to drive a number of different luxury cars.
Sign up in the Drive app, and choose what luxury car and package you want; then you're totally free, on a monthly basis, to swap or renew your car, or simply cancel the service if it doesn't work for you. You can get a fully loaded vehicle for the winter and drive it as long as you want – the ball is completely in your court.
Make a Massive Spotify Driving Playlist
Driving shouldn't be boring, nor should its entertainment be solely at the mercy of whatever radio stations choose to play. Take control of your music this New Year by creating a massive Spotify playlist (or whatever streaming service you use). Comb through your library and make an hours-long playlist that, no matter how often you shuffle, you'll never tire of.
Be a Zen Driver
That vein on your neck should not be permanently popped while you drive. Stressing over driving – over anything minor, for that matter – isn't great for your health. Make 2020 the year that you relax your knuckles on the steering wheel and become a more Zen driver. Last year, the Globe and Mail put out a guide for staying calm while you drive, and it's pretty spot-on. Basically, it advocates for leaving plenty of time for your drive, and not taking the bait when another driver does something that hinders you.
Keep Your Phone Well Out of Reach
If not because of the sizeable fine for getting caught, do it because it's a safer way to drive – for you and for everyone else around you. Whatever text or email you just got on your phone can definitely wait until you're safely stopped. If you have to stay connected, use a hands-free wireless communication device, and if you need to look at something, have it projected to your dashboard screen.
A new calendar year can be a fantastic opportunity to clean up our cars, retune our behaviours on the road, and finally get around to driving that dream car. For help with the latter, visit us today at AUTO ONE Group!