7 More Cars for 7 More Companies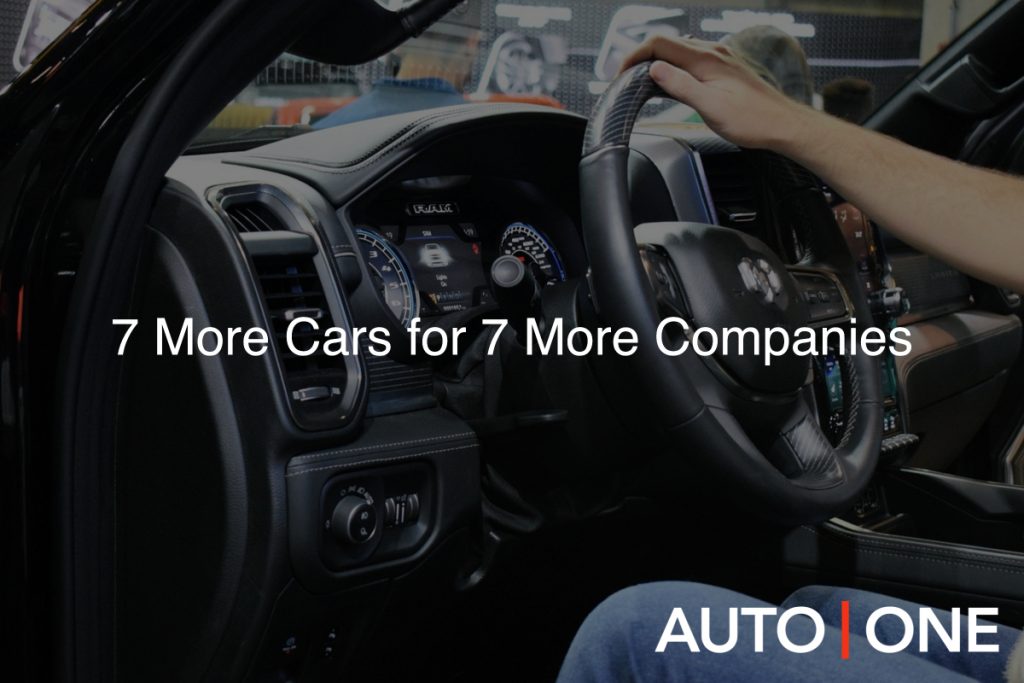 A few months ago, on this very blog, we though it would be fun to list some different businesses, and then offer up suggestions for a type of vehicle. After all, no business is alike, varying in their needs according to the type of services offered, and the level of aesthetic presentation required.
It was a lot of fun. As experts on commercial fleet leasing and business luxury vehicles, we deal with many business owners and fleet manager, and we revel in the opportunity to chat with them – to learn more about particular industries and sectors, and the unique challenges they face when looking for a vehicle to lease. It was so fun, in fact, that we're back to do it again.
Each of these professions can benefit from a vehicle lease. Each profession listed can profit from the fact that vehicle leasing offers lower monthly payments in comparison to purchasing, which frees up cash flow. Each profession can benefit from the amazing tax benefits associated with leasing. Each profession can take advantage of the flexibility of leasing, allowing them to update their vehicles more frequently, to ensure a newer and better fleet. And each profession can rest easy knowing that AUTO ONE Group is in their corner, ready to jump in and lend a knowledgeable, helping hand.
Then, it's just a matter of what to lease. If your profession – or a profession like yours – is listed below, check out the vehicle we've paired with it, or come chat with us about your perfect commercial vehicle.
The Busy Delivery Service: Ford Transit
With the popularization of various subscription services (ahem, our very own AUTO ONE Group Drive among them) subscription boxes have also become more popular. Food boxes, tool boxes, dollar shave boxes, you name it… And along with the box boom has come a notable uptick in delivery demand. Of course, there are still the existing delivery services, doing better than ever: courier services, food shipment, furniture delivery, medical lab test delivery, etc.
For a delivery business, space is key. Beyond that, you also want a reliable vehicle that's comfortable for the driver and easy to handle in all weather. One of the best options on the market right now has to be Ford's foray into the commercial van, the Ford Transit. To help you maintain your fleet of delivery vehicles, and keep your drivers safe, check out our safety tips for your business fleet in the link provided.
The Finish Carpenter: Toyota Tacoma
Finish carpenters are responsible for the finishing touches of a home or building; the trim, crown molding, baseboards, shelves, counters, windows, etc. They're generally not hauling huge lengths of lumber, but they need a truck nonetheless for wood, supplies and tools.
The perfect truck, therefore, is a relatively compact one. The Toyota Tacoma is a perfect vehicle for finish carpenters, because it has ample bed room for supplies, but it's a little smaller than other trucks on the market. If you find a big job that requires more supplies, you can simply attach a trailer, since the Tacoma's towing capacity is quite good. Right now, we have a 4X4 V6-engined Toyota Tacoma for lease in Toronto at just $595 a month.
The Rough Carpenter: Dodge Ram 2500
Before the finish carpenters can start their work, the building needs a structure. That's where the rough carpenters excel. Building wooden frames and supports, a rough carpenter requires signifactly more wood and supplies. They need a full-size truck that can haul lengths of lumber and heavy equipment.
The Ford 350 definitely works, as does the Chevrolet Silverado 2500, but here we'll give it to the Dodge Ram 2500. The Ram 2500 pairs its superior towing and hauling capacity with a powerful 6.7-litre V6 diesel engine delivering 370 horsepower and 850 lb.-ft. of glorious torque. It's one of the only trucks that works as hard as a rough carpenter.
The Clothing Designer: Porsche Cayenne
Aesthetical but practical, the fashion designer has to balance the realistic demands of business with the loftier demands of the artistically minded. They need something that will, on the one hand, fit their fabric, samples and equipment, but also looks like a piece of art. A luxury crossover it is.
The Mercedes-Benz GLE would certainly fit the bill, as would the Jaguar F-Pace. But how can you say no to the inimitable Porsche Cayenne. It oozes luxury, but it also has ample space. AUTO ONE Group, at the time of writing, even has a beautiful 2015 Cayenne for lease for just $701 a month – that's $321 a month in savings! If you're curious how we can pull of these savings, check out our commercial vehicle lease vs buy article from a few months ago.
The Green Architect: Tesla Model S
Here's a professional moniker we've only seen recently: green architect. They create sustainable designs using eco-friendly materials intended to mitigate the harmful environment impact of building. They're becoming increasingly popular in city projects, and if you count yourself among them, you'll want a car that reflects both your professionalism and dedication to sustainability.
Here, the Tesla Model S is a no-brainer. It has all the looks and sophistication of a luxury car (well, it is a luxury car) but with an electric engine.
The Lawyer: Audi TT
The stereotype of the lawyer in a sports car is only a stereotype because it's often true. To project success and merit, a lawyer will often turn to a luxury sports car to complete the appearance.
The Audi TT is just the right amount of sports car appeal, without going overboard. It's not a 6-figure vehicle, but it looks like one. With purchase prices in and around the $50,000 range, it's a more practical example of a luxury sports car. At AUTO ONE Group, we have an Audi TT RS (the upper end of the TT range) for just $790 a month to lease!
The Car Dealership Representative: Jaguar F-Type
Now this profession is one we know well! Just for fun, we figured we would throw in a car that we as AUTO ONE Group representatives are super excited about, which was no easy task, since we have a king's ransom of awesome vehicles. We could have literally chosen any of our cars, but we'll give it to the Jaguar F-Type, routinely listed as one of the best looking cars you can find!
Whatever your business, and whatever your needs, we here at AUTO ONE Group have you covered with our stellar inventory and unbeatable lease prices!