What to Lease in Vancouver This Winter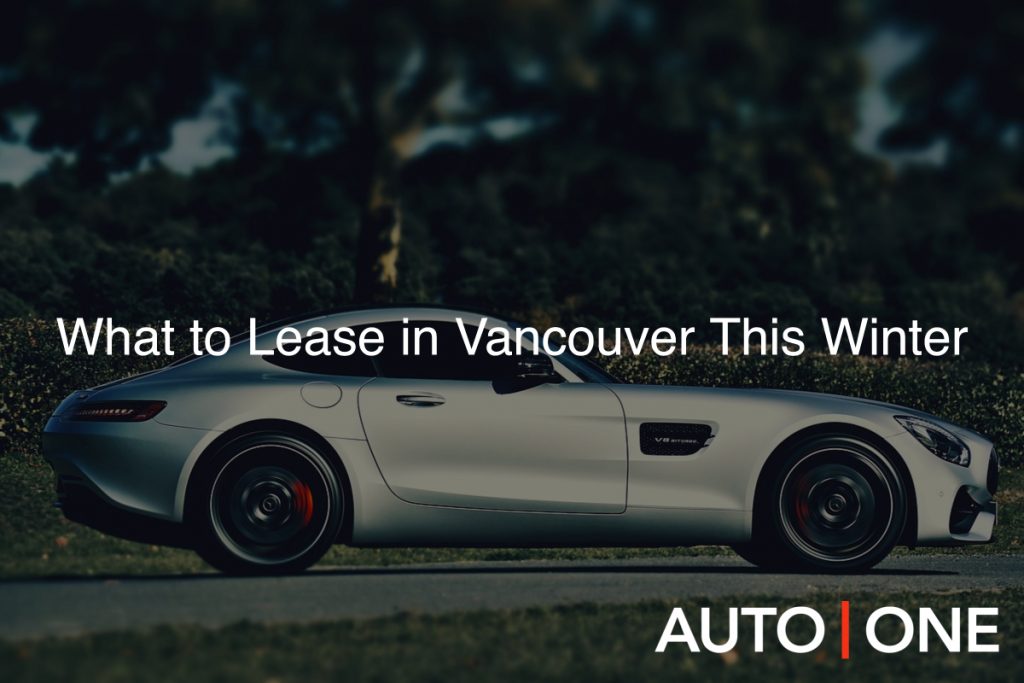 Last month on this blog we listed our top New Year's Car Resolutions, and one of the resolutions was – to no one's surprise – "lease a new luxury car". But it makes good sense, actually. New Year's is a time of new beginnings: a time to re-evaluate our possessions and make sure everything we own brings us joy. The winter also just so happens to be the time of year when we could most use a new car, one with the youth, technology and safety features required to navigate the lousy weather.
With that in mind, we here at Auto One Group figured it would be helpful to give a specific rundown of what's available to lease. In this post, we're talking about our Vancouver dealership, which you can find conveniently located at 8555 Cambie Street in central Van. There's always a smorgasbord of beautiful cars to gawk at in the Cambie dealership, each available to lease for competitive prices. Here, though, we've singled out eight.
These eight cars reflect three of the primary criteria our diverse Vancouverite clients have told us are important to them: luxury and eco-friendliness. At the time of writing, each of the following cars are available in Vancouver, but, as always, if you want to lease a car in Vancouver and there's something you want that you don't see here, just chat with one of our pro representatives.
Peak Luxury
Those looking for the cream of the crop need look no further than our Vancouver showroom floor. If you're on the hunt for a car that turns heads, that rips down Highway 99 and that feels every bit as sophisticated as it looks, these are your cars. To purchase, these cars would be somewhere in the ballpark of "astronomical" but leasing breaks the costs down into manageable monthly payments.
Mercedes-Benz AMG GT S
The 2016 version of the AMG GT S we have here in Vancouver is a stunner, with a sleek silver finish and coupe top. It has a 4.0-lire BTurbo V8 engine delivering an exhilarating 503 horsepower, and a 7-speed AMG speedshift gearbox. It can hit 60mph in just 3.7 seconds. And the interior is just as impressive: Burmester sound system, dual automatic climate control and navigation, and heated seating, to name just a few of the luxury features.
To buy, these beasts run around $120,000, but this one's available to lease in Vancouver for just $1,775 a month. That's a monthly savings of $810!
Alfa Romeo 4C
Few sports cars are prettier than the Alfa Romeo 4C. But the smooth Italian design is only one reason among many to love this car; its superior agility, coupled with its lithe 1.7L turbocharged 4-cylinder engine makes it an incredibly fun drive.
In Vancouver, we have a limited Launch edition of the 4C. It retails these days for around $80,000, but can be yours to drive off the lot for just $943 a month.
Porsche Panamera
The Porsche Panamera straddles the line between statement sports car and sensible commuter car. On the one hand, it's a 3.0-litre V6 engine speed demon with a state-of-the-art Bose luxury sound system, but it's also a four-door hardtop with a bevy of safety features. Perfect for a joy ride or dropping off the kids.
Jaguar F-Type
A two-door convertible with a 3.0-litre supercharged V6 and a quickshift 8-speed automatic transmission, the F-type is the picture perfect example of what a sports car should be. Check out the stellar reviews on it before taking it out for a test drive in Vancouver. Our white, 2016 model is an easy 1,009 a month, which saves you $462 with each payment.
Environmentally Friendly
Eco-consciousness is more than a passing trend in Canada, and it's something that's uniquely important to Vancouverites. Perhaps because we see an abundance of nature daily, we understand the importance of preserving its beauty. These four cars don't just save you money at the pump – they save a good chuck of your ecological footprint as well.
Volkswagen E-Golf
German engineering without any of the gas? That's exactly what you get with this peppy, zero emission car. It's the Golf you know and love, only propelled by a sophisticated electric engine. It has an impressive battery range of 201km, allowing you to zip around for work and errands without worrying about a charge. Best of all, the Golf is only $340 a month – a little over $10 a day – to lease in Vancouver.
Tesla Model S
A perennial favourite in our car buying guide for its effortless ability to mix eco-friendliness with luxury, the Tesla Model S is the luxury choice for those foregoing the gas pump. Much has been said about the Model S, so we'll keep it relatively brief: it's awesome.
We have a 2015 model for lease that's just $1058 a month, saving you $484. In our experience, Model S's don't tend to stay around for long, so come chat with one of our representatives, who'll be happy to get you started on your journey into the world of electric cars.
Nissan Leaf
You have to love the Leaf. It has all the pep, verve and power of a car twice its size, and it pulls it all off electrically. With a range of 172km between charges, it easily lasts through long trips. And its many features – quick charge port, Bluetooth, Nissan intelligent key with push start, back up camera, heated seats and steering wheel, etc. – make it a well-rounded compact car.
It's yours, in all its electric glory, for just $308 a month. That doesn't even factor in the gas you'll save, which, in Vancouver, can be about the same per month as this lease!
Toyota Camry Hybrid
Not quite electric, not quite gas, this Goldilocks hybrid is the perfect compromise. Its blend of 2.5-litre 4-Cylinder Engine and electric motor delivers 200 horsepower using just 5.1 litres of fuel per 100 km (combined highway/city). It's the Camry many of you know and love, only with a few fewer trips to the tank.
Whether it's peak luxury you're looking for, or electric eco-friendliness, AUTO ONE Group has you covered. For a new car to kick off the new year, come visit us in Vancouver and we'll chat about affordable leases!