What to Lease in Toronto this Winter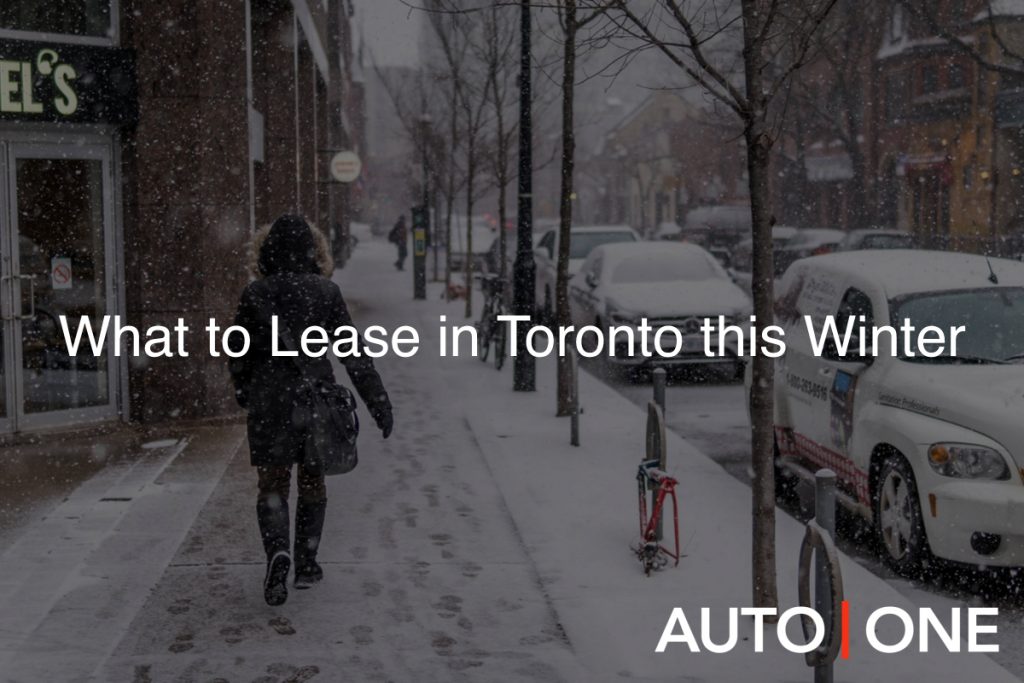 One of the New Year's Car Resolutions we proposed, way back in the last decade (a few months ago), was that drivers should lease more. We understand, it's a pretty easy take for a car dealership known countrywide for its leading lease programs, but it came from a genuine place. Life's simply too short to drive old or suboptimal vehicles.
If you're like us, you spend a good amount of time in your car, not only to and from work, but also running errands, carting kids around to various practices and even taking the occasional joy ride. When you lease, you can do all that driving in a better vehicle.
Last month, the Vancouver and Halifax locations put forward their picks for what to lease in their respective cities. Citing local habits and proclivities, they selected cars that made sense in their locations, like luxury electric and hybrid vehicles in Vancouver and built-tough trucks in Halifax.
Now, it's Toronto's turn. What does this city look for in a vehicle? Well, for one, if you've peered outside the window recently, you'll have noticed the weather. We get a lot of weather in Toronto, not all of it good. To that end, we're putting forward a few crossover vehicles in our inventory that we think deal with the winter well, while still maintaining a healthy helping of the style and luxury we're looking for.
We're also putting our best foot forward. We've included what we're calling the "crème de la crème", the finest luxury sports vehicles we currently have in our inventory. It takes a lot to stand out in a busy city like Toronto, but we're confident that if you lease one of these beauties, you'll see heads turning up and down the DVP.
If you see something you like here, come visit us to get the AUTO ONE Toronto advantage and drive off the lot in a new luxury car.
Crossovers That Mix Luxury, Safety and Style
Rather than pitch you full-blown SUVs, we've decided to go the crossover route. These vehicles are roomy enough to comfortably seat the whole family. They're sturdy enough to keep that precious cargo safe. But they're compact and sleek enough that inner city driving is a breeze.
Audi Q3
Here you have all the power, safety and luxury of an Audi SUV in a slightly more compact package. Stocked with safety and luxury features – Bose sound system, blind spot assist, panoramic roof, navigation, front and rear park sensors, rear camera, dual climate control and Bluetooth phone and audio, to name just a few – the Q3 comes perfectly fit to safely cart your family around the city.
At the time of writing, we have a 2017 Q3 2.0T Technik Quattro 6sp Tiptronic (quite a mouthful) in Toronto, for just $569 a month. That represents a monthly savings of $261 as compared to purchasing. With the money you save, you might even be able to afford parking in the city!
Land Rover Range Rover Evoque
We love the Range Rover, but it's a big vehicle. The Evoque, therefore, is the perfect Goldilocks vehicle in the Land Rover line-up. Relax in its heated and cooled massaging seats, brave the winter with its heated steering wheel, turn on the Bluetooth to stay connected, stay safe with its 360 camera, and save a bit of cash with its good fuel economy.
Our 2016 Evoque is a perfectly priced $619 a month, saving you $284 monthly. If you want to lease a luxury car at AUTO ONE Group that's perfect for both family trips and daily commutes, come chat with us about the Evoque!
Porsche Macan
We looked at both the Macan and the Cayenne (another mid-size luxury crossover SUV from Porsche we have here at AUTO ONE Group) and we really couldn't make up our minds. But a coin toss later and we're presenting you the Macan, a succinct statement of sophistication, German engineering and power.
Normally, Porsches come with a price tag befitting their high status and superior performance, but the one we've got is a great deal. For just $554 a month (a savings of $255 a month) you can lease a little piece of luxury.
The Crème de la Crème
You might just want to throw practicality to the wind and drive the absolute best car out there. If that's the case, we've got you covered. For better or worse, status is currency in Toronto, and these cars deliver an image of style and sophistication quickly and completely. Feel free to check out available luxury cars at AUTO ONE Group, or take our word that these are some of the finest head-turners we've got!
Ferrari 430 Scuderia
When the 430 Scuderia first graced our dealership, most of us had to wipe the drool from our chin. This is a racecar that's been dressed up to look like a street vehicle. Its 4.3-litre V8 engine and F1 transmission deliver a shocking 503 horsepower and a 0-60mph of just 3.6 seconds. Put pedal to metal and your head will be firmly glued to the headrest (which you won't mind, because it's luxury leather).
To buy, the 430 Scuderia costs a cool quarter million. Most of us don't have that kind of money lying around, right? But on lease, you can zoom out of here in the 430 Scuderia for $4,154 a month, which represents a massive savings of $2,013 a month. If you want the highest performance possible, this is your new car.
Maserati Granturismo
We have to give it up once again for the Italian car manufacturers – they make a mean sports car. Not only that, but they make a gorgeous one too. The Granturismo's 4.7L V8 engine delivers 454 horsepower and a 0-60mph of 4.7 seconds. But you really have to see it to love it; with its sloping hood, wide grille, sleek pain job and convertible top, it is the platonic ideal of a sports car.
In Toronto right now we have a beautiful blue 2013 Granturismo for $1,563 a month, a monthly savings of $759. That's a dollar for every head this thing will turn, each and every day.
Don't suffer another winter in a suboptimal car. Come visit us at 150 Oakdale Road in Toronto, and jump into one of these fantastic luxury vehicles!