The Finish Line: What to Do When Your Lease Term Ends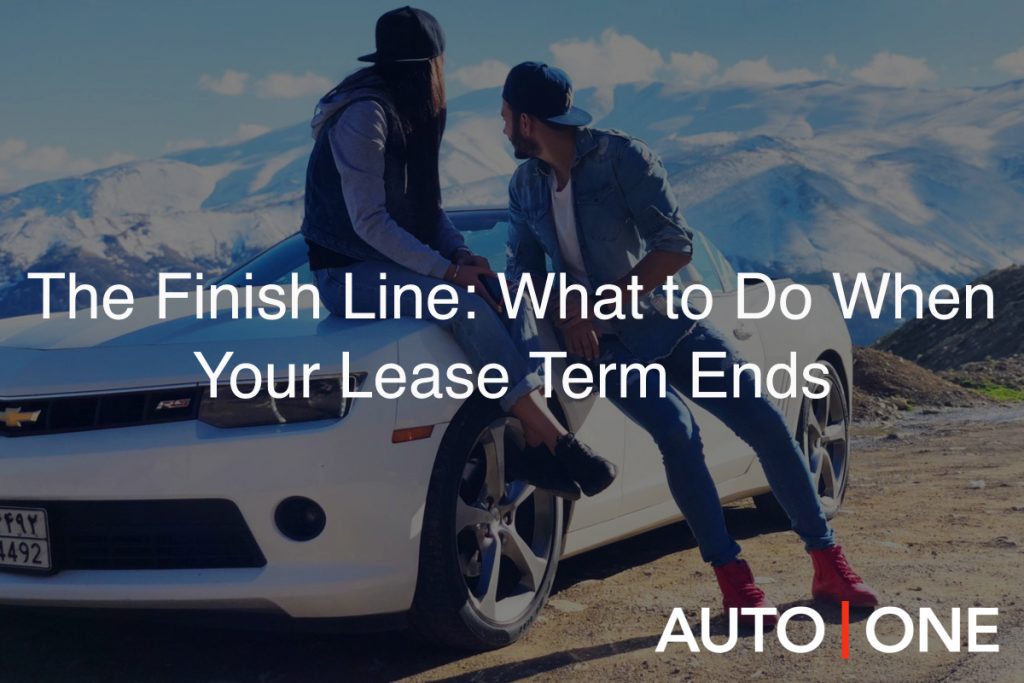 Across Canada, we're bidding farewell to yet another awesome summer. As the weather – all the way from Vancouver to Halifax, and via Toronto – gets cooler and crisper, we at AUTO ONE Group are celebrating the successes of the season. Drive, our innovative car subscription service, celebrated its first year anniversary with resounding success, and we had a fantastic summer continuing to source and offer the best luxury cars in Canada, at the best lease prices.
But the end of summer also has us thinking about endings. How all good things must come to an end at some point. We're not here to be fatalistic, though; instead, we're more concerned with discussing the end of your lease term.
Lease terms may vary in length, but a common feature in every single one is the fact that, eventually, the term has to end. When that happens, you the customer have a few different options as to how you wish to proceed, whether your agreement was one of our commercial car lease options or a private lease.
Let's take this post to talk about what to do when your car passes the proverbial finish line. Each option is beneficial in its own right, and which you choose is wholly dependent on a) what you want from your vehicle going forward, b) whether you want to turn your lease into a personal investment, and c) and how you feel about the lease you just completed.
Trade In Your Vehicle
This is a popular option amid customers, both commercial and private, because it allows you to upgrade to a newer, better car without losing a financial step. When you trade in your vehicle, you can carry your positive equity over, which means the trade value/lease payoff differential can be applied to your next lease, saving you money.
Many of our customers feel most comfortable moving lease to lease. For private lessees, it means that, throughout their driving life, they are in a constant state of upgrade. Whereas with purchase financing you often stick with a car for a decade just to get your money's worth, a lease allows you to carry your positive equity over every few years. You're always driving something new, something amazing.
A similar benefit awaits the commercial lessee. We make commercial vehicle leasing easy and, at the end of a lease term, upgrading and applying positive equity is a cinch. Unlike other business-related processes that require time and energy (and, therefore, money), leasing with AUTO ONE Group is a fluid and completely painless ride. And the clear benefit of trading in is that your fleet always looks up-to-date and works perfectly; there's no dealing with an ugly old junker that barely does its job.
Buy the Vehicle
Listen, some people get to the end of their lease having formed a solid bond with their vehicle. If that's the case, who are we to take the car back. We can't come between a vehicle-lover and their vehicle – it's against the car dealer's code of ethics.
Some people, too, want to ensure that their lease payments were funnelling into a vehicle that they could ultimately own, a vehicle that they can continue to wring value from, and that they are free to sell themselves eventually.
Some people enter a lease this way. Instead of buying right away – which requires an immediate, costly down payment followed by high monthly payments – they ease into their vehicle with a lease. A lease allows you to drive a car for a full term, making low monthly payments, at the end of which you can simply pay the residual value. It's a move that prominent car authorities seem to like a lot.
Continue With Another Term
There are numerous people that walk through our doors at AUTO ONE Group, when they are initially looking for a car, and find their perfect car. This is thanks to our representatives, whose wide scope of knowledge allows them to pinpoint customers' needs and direct them to their ideal vehicle. What this means, however, for lessees is that when their term is up, they sometimes don't want to part ways with their car. Businesses are the same: you could apply for a commercial lease today and find that, even in a few years, you still love the car you chose.
Like we mentioned above, it's natural to get attached to your car, especially if it was picked specifically to suit your needs. Having said that, some people or commercial businesses don't have the extra cash right that moment to buy the residual. In this case, it's easy to just continue with another term.
It's also a great option if you're at a period of uncertainty in your life. Maybe your family is growing, or your work location is changing. You want your trusty car, on the trusty lease you know, paying the same old trusty price. Of all the options, this is probably the least disruptive (though with our smooth service, none of the options are "bumpy").
Hit the "Subscribe" Button
This one isn't exactly a conventional lease end option, but we figured that, in honour of Drive's year anniversary, we would list it. If your lease term is coming to an end and, rather than any of the above options, you just want to enter a flexible program that lets you drive different luxury cars month-to-month for an single monthly price, Drive is the option for you.
When Drive came out, the Globe and Mail referred to it as "Netflix for cars", a nod to its wide range of options for a low monthly subscription cost. If you're finishing a lease and want to try something different, check it out. You can download the Drive app on your phone, peruse the available luxury cars and price packages, and figure out whether it's a fit for you.
If your lease is coming to an end, it's time to start planning your next move. If you need any more information on the above options, don't hesitate to reach out; one of our awesome team members will be happy to talk through it with you.