How to Brainstorm Your Perfect Vehicle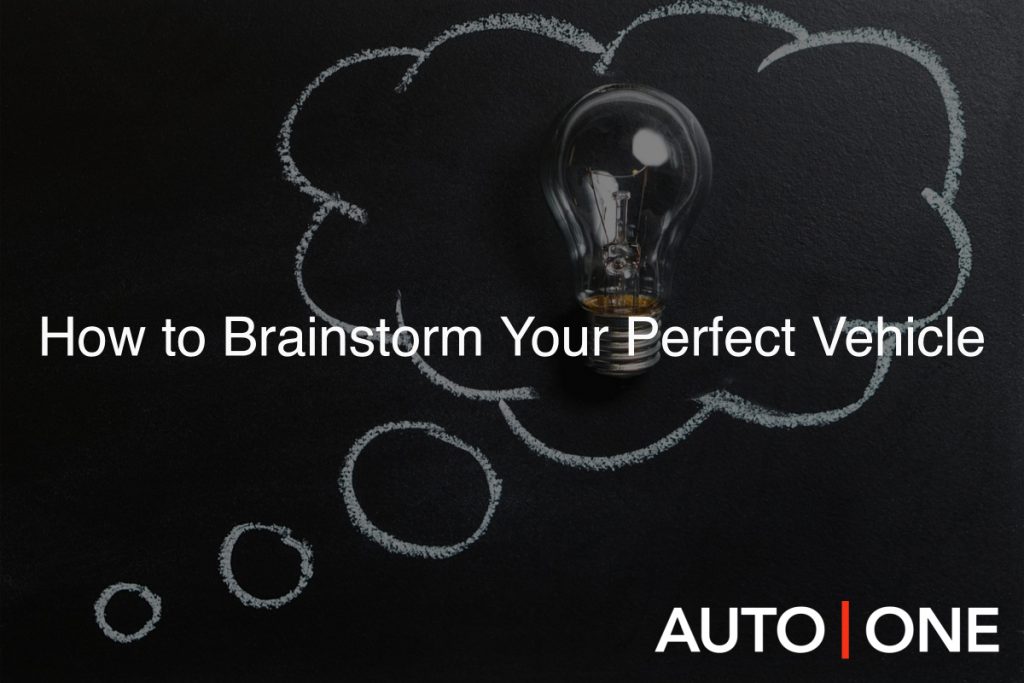 If you've ever wound up in the wrong car, you'll understand the importance of finding the right one.
The wrong car has the potential to be uncomfortable. The wrong car can't accommodate the number of passengers you need to fit in it, nor the amount of stuff you need it to carry. The wrong car is well beyond your budget. The wrong car might look nice to other people, but you don't really love the appearance. The wrong car is a daily reminder that you should've done your research.
In order to avoid getting the wrong car, and ensure that you drive off the lot in your perfect luxury vehicle, it's best to start brainstorming. But we want you to be methodical about it. Don't just dream up a brand that you want, or a type of car you're interested in. Approach the problem by neatly detailing each of the important criteria, and research your perfect car from there.
Once you've got a good idea what criteria the vehicle needs, check out these luxury cars from our nationwide inventory, or chat with us about sourcing your dream vehicle.
To help you kick off your brainstorming session, we've compiled what we believe are the eight key categories you want to focus on. Each category contains critical questions you need to answer in order to arrive at your perfect vehicle. Take out your own notepad and follow along, or just read through and consider!
Budget
Often the primary concern of vehicle searchers, there's some flexibility here, but not a ton. Arriving at the right budget will help you focus your search and make certain that leasing your vehicle never stings financially. Luckily, we have leading prices that are broken down easily into monthly payments, so there are no surprises.
Look at your personal finances, credit and prospects, and arrive at a minimum and maximum budget for a new vehicle. As opposed to buying, where you're forced to pony up a considerable down payment followed by high monthly payments, you can lease a luxury a car in Toronto, Vancouver or Halifax for far less, and with much more ease.
Seating
This one's pretty straightforward, but you'd be surprised how many people miss it in their considerations. People get so enamoured with that two-door sports car that they forget they have three children at home that need to get to soccer practice on Thursday while mom takes the five-seater to work.
That's not to say the opposite doesn't also occur. Someone who exclusively drives solo – or with one other passenger – might choose a full-size SUV despite not needing 70 percent of that space.
Ask yourself, realistically, how many people you anticipate needing to drive in your car.
Cargo Capacity
This is a major consideration in business fleet leasing, since cargo capacity and payload are intimately tied to business procedures, but it's a category that any vehicle leaser should think about. If you don't anticipate needing any cargo capacity, that's fine – you don't need to think much further about it. But if you anticipate moving furniture, band equipment, shrubbery, building supplies, large appliances, or any other weighty item, you might reconsider that Honda Civic.
Fuel Efficiency
Again, this is a question of whether this category is of importance to you. If you value fuel efficiency, either because you like saving money or because you want to reduce your carbon footprint, make this a central issue in your search. Find a car that fits your budget, your seating needs and cargo capacity, but that also gets good mileage.
Huge leaps have been made in electric and hybrid engines over the past few years, and you can expect the industry to continue innovating. This, we believe, is a fantastic reason to lease. With leasing, you get to upgrade your vehicle every few years, meaning that you can constantly take advantage of new electric and hybrid motor technology.
Driving Type
We're not talking about whether you're a passive, active or road rage driver. Driving type refers here, roughly, to the roads you intend on frequenting, the main three being:
Residential
Highway
Off-road
A car that spends 95% of its life on the highway needs to be built for distance driving – reliably built, zippy and good on gas. A vehicle that spends its time tackling dirt roads and climbs needs to be larger and more rugged.
Purpose
This is a pretty nebulous category, but it's still important. Essentially, it boils down to this question: "What do you want this vehicle for?"
And be honest. Is it to impress people? To appear successful? Is it to treat yourself to a little well-deserved luxury? Is it to get out of the city more? Or maybe it's simply because you hate taking public transit to work?
Answering that simple question can tell you a lot about what kind of car you ought to end up driving, whether you're leasing an SUV in Halifax, luxury car leasing in Toronto or joining our car subscription in Halifax.
Personal Aesthetics
No one's asking you to create a dream board of your favourite car looks, but everyone has some aesthetic preferences when it comes to cars. It might be as basic as "I like red cars", or "I prefer small cars", or as detailed as "I like 70's muscle cars" or "I like the 2014 Mercedes CLS facelift".
More often than not, you'll know your perfect looking car when you see it. It's just a matter of finding one that meets all the other criteria on this list.
Bells and Whistles
Finally, what more do you want from your car?
Do you want a car with abundant safety features? Do you want a sophisticated infotainment system with easy connectivity? Do you want a sound system that thumps like a nightclub on New Year's Eve? Do you want a stately leather interior with brushed wood paneling?
You're allowed to have a few trivial features that you just can't live without, and any good dealership rep will work to find you those features in your perfect car.
With all these categories answered for, you should be able to narrow your search down significantly, eventually landing on a vehicle you love. And then, in three of four years – and this is the beauty of leasing – you get to fall in love all over again.