At AutoOne, we consider ourselves passionate car enthusiasts. Whether it's the latest supercar or a 1950's classic, our team knows what makes it tick, how its drives, and likely have a fun story that is somehow related to the car. Below are a few stories, from our employees, about the classics they love.
Oldsmobile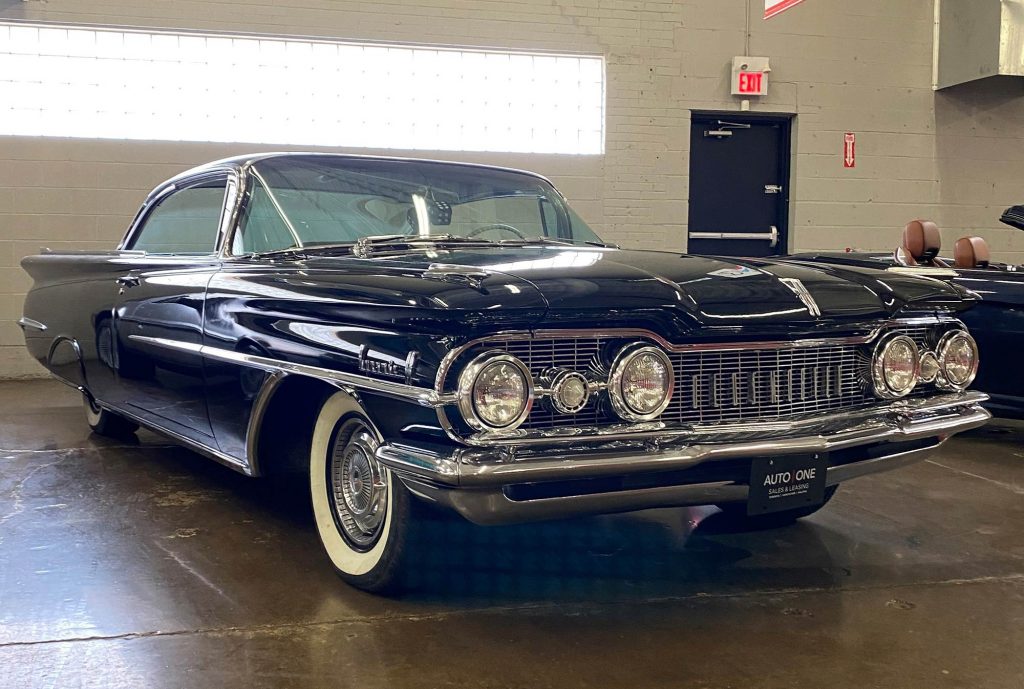 Sam is one of our sales reps and his dad, Rick, is an absolute car fanatic; the apple certainly didn't fall far from tree here! Rick is also a very traditional guy. He always put his family first and rarely, if ever, indulged in things for himself. Sam decided to change that.
About 10 years ago, Sam and his family decided to surprise Rick with a special Father's Day gift. They knew he has a special affinity for 1950's big fin cars so they looked long and hard before finally finding a 1959 Oldsmobile Dynamic 88. With 2 doors and a hard top, as well as being finished in tuxedo black and enough chrome to blind onlookers on a sunny day, the car was the perfect fit for Rick.
They got the car licensed and insured and parked it around the corner from the house so they could do a big reveal on Father's Day. When Rick saw the car, his jaw hit the floor and it took quite a bit of explaining before he realized the car was not a rental, it was his. The car has since become a part of who he is, and Rick will happily tell anyone the story of how he was surprised with the other love of his life.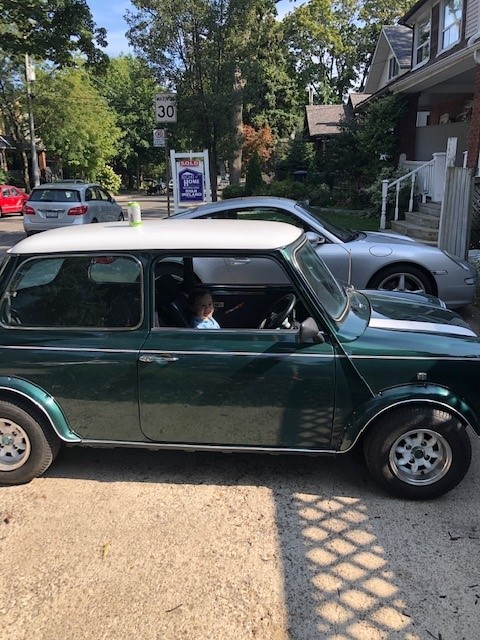 Mini Cooper
Sam also has a few classic cars of his own, to go with his dad's Oldsmobile. Here is the story of his Mini Cooper in his words.
I bought the Mini out of necessity if I am being honest. The other classic car in the family is almost 19 feet long, has one mirror the size of a shot glass and cannot be parked in a conventional fashion, nor can it be relied upon for general daily driving duties. Enter bad ideas and the approval from my wife to purchase another classic, because one is never enough.
I chose this Mini because it is the classic British Racing Green with a white roof and white strips, it has 10-inch wheels and has fuel injection so you can drive it daily. The Mini is a timeless design resonates with people from all over the world. Everywhere I go people love it, its nice to be able to bring a smile to people's faces! It also brings a smile to my face every time I get to drive it. It handles so well in corners. This is also one of the slowest cars I have ever driven. 56 horsepower and 10-inch wheels tied to a 4-speed manual means the car is best suited to city driving duty. Thankfully, its size and proportions make it perfect for just that.
At this point I only own the car on paper. My 3-year-old son is already learning to drive manual in it and is going to be its custodian in the not-too-distant future.
Mustang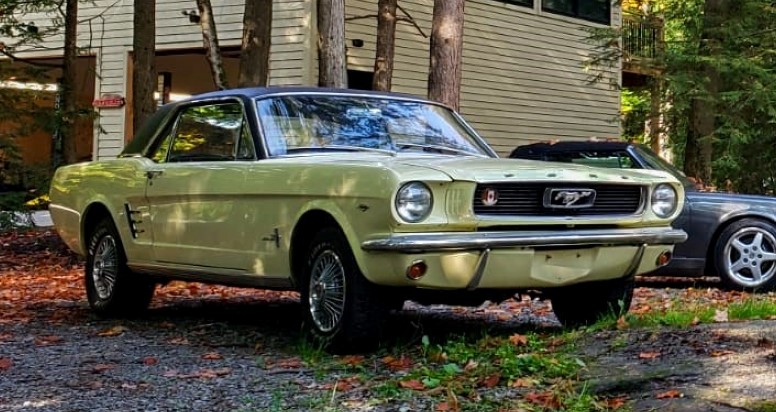 AutoOne's Dealer Principal Kevin Andrews, is quite the car collector himself. The below story was just the start of his automotive journey.
A long time ago in a place far away, I got a birthday present, that has so far lasted a lifetime. My 1966 springtime yellow 289 Mustang coupe, was gifted too me on my 19th birthday by my parents – my Dad had just won $2000 in Vegas and when I was home for spring break in Pompano, Florida, my surprise was waiting.
After driving the car back to Halifax in the Spring of that year, a lifelong attachment, and a lot of miles have ensued. Of course, in the early days it was my only car and a daily driver, with fix on the go repairs to keep it going. Thankfully, my Grandfather was a mechanic and with his skills and my muscles, there was no repair that couldn't be overcome! And there were many… rads, tranny, engine, electrical, just name it.
Thirty-eight years later though and I still drive that beauty every summer.
Porsche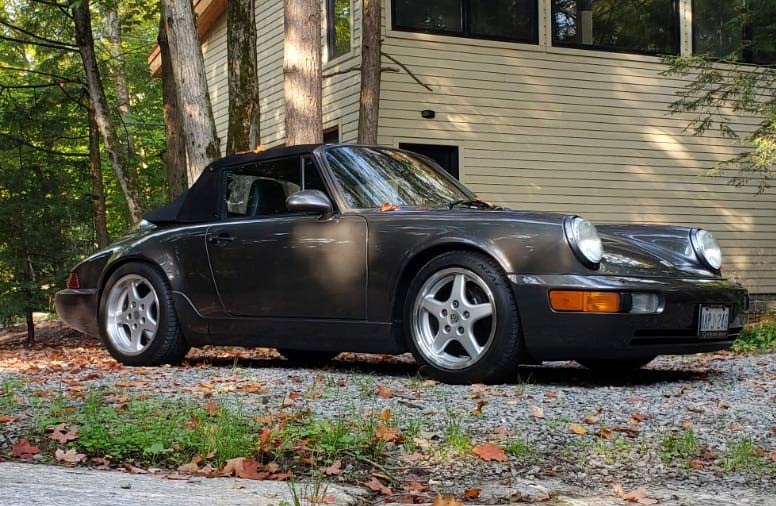 And staying with Kevin Andrews on his journey…. My first Porsche was a green 1987 928. It was bought in Florida, driven to Halifax through a snowstorm, and eventually sold, to my older brother, when I upgraded to a 1991 911 C4 Cab.
Both Porsches were daily driver replacements for my now sidelined Mustang. With rear seats that managed to fit a baby seat, what else did I need? The 911 came from a client in 1999; while I didn't own a leasing company in those days, my investment bank provided loans to about 30 different ones. The client had taken the 1991 911 as an end of lease return.
My new driver was definitely a performance upgrade, and its 5 speed added a bit of fun. I've had the car for most of the last 22 years. I considered selling it for a newer one, but I just couldn't bring myself to part with it so had my younger brother take over the lease for a couple years. Then I bought it back when I realized I wasn't going to officially sell it anytime soon.
I do still have the winter tires on original rims but tend not to drive it in the winter anymore. It still drives beautifully during the summer however, and even my children drive it on a regular basis. Yes, I made sure my kids could drive standard!
The 911 is getting ready for the summer, with a full tune up and service at AutoOne, this week. Let the good times roll and cheers to keepers!
Triumph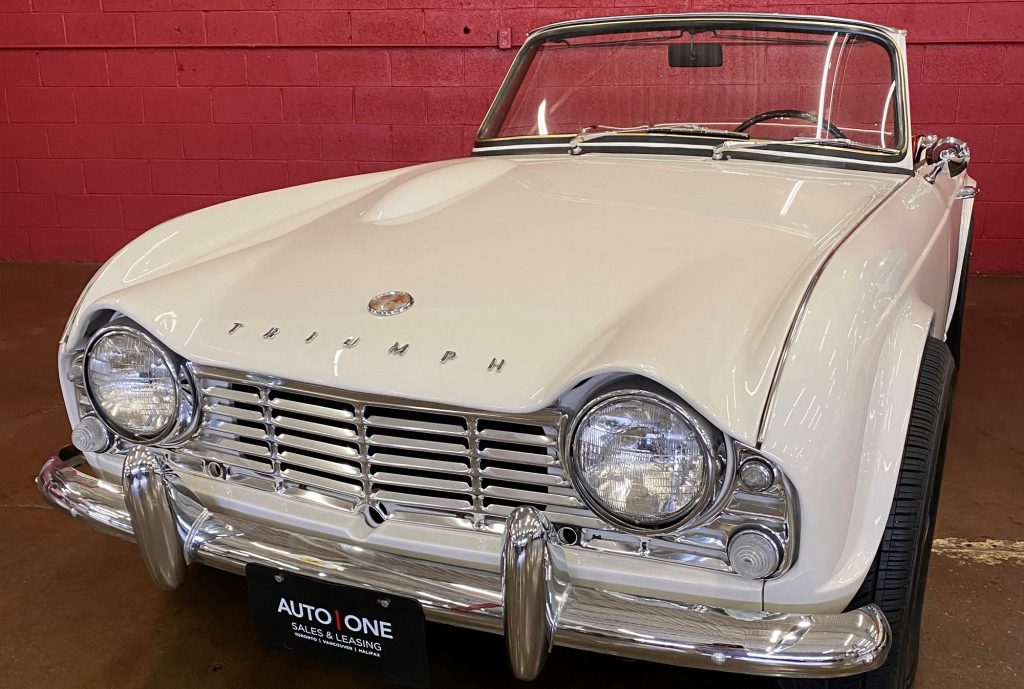 What happens when your husband is a car enthusiast? You become a de facto car enthusiast. Below is a story from our Dealer Principal's wife about when she was gifted a 1964 Triumph TR4 for her birthday.
For my 40th birthday, my husband gifted me a 1964 Triumph TR4. There is no denying it was very cool to receive a car from the same year I was born, but I must admit I was a bit confused at first. The car was completely undriveable, it had been in an accident and was a total write-off, it arrived on a flatbed! For my husband though, that was part of the gift; getting to restore this beautiful car together.
It was the most comprehensive restoration you can do to a vehicle. We took everything back to the frame and then took the frame in to have it sand-blasted and bent back into shape. The physical car and the engine were retained, but essentially everything else needed to be replaced, all the way down to the wiring.
The total process took about 5 years but resulted in a beautiful car. With a canvas roof, barely working windshield wipers, and minimal heating or AC, it is certainly a fair-weather vehicle. That didn't stop me from enjoying the occasional Sunday drive, until it inevitably needed some extra work done. For now, the Triumph sits in the AUTOONE showroom, but it will be back on the road soon!
MG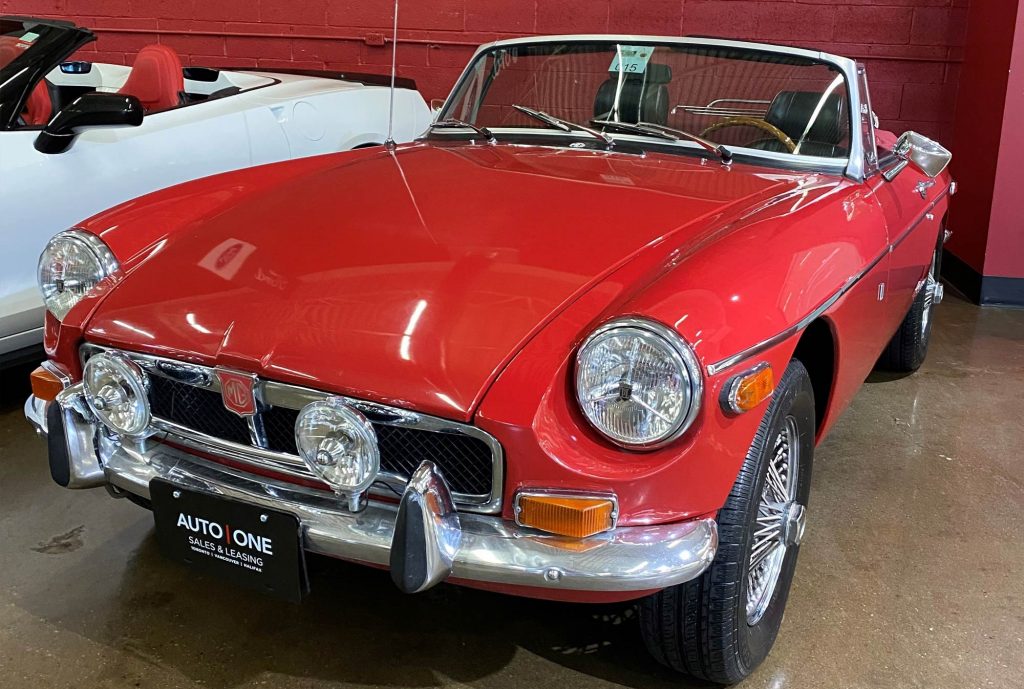 Chris Ball, co-founder of AutoOne, is just another one of our car enthusiasts in the group. Below is the story of his MG.
It was about 8 or 9 years ago when Chris was driving up to cottage country with his wife. He spotted the MG, looking lonely in a mostly empty lot, and was instantly taken back to his teen years when he drove a similar car. Of course, the first step in any decision, is to ask the wife. She pondered and ultimately decided there could be worse vices than restoring and driving classic cars.
As the car had been sitting unused for about 6 years, it was not quite road ready when Chris got possession of it. After a few repairs and adjustments, and getting a safety, the car was ready! The MG is not particularly fast, it can reach 70-mph but drives more comfortably at the 60-mph mark, but it is surprisingly comfortable!
As a 1974, Chris's MG is one of the last classic models before they started making adjustments so the vehicle would fit the North American market. Chris now puts about 500-700 miles on it each summer and he loves attending MG meets. He has taken the MG to Louisville Kentucky and Gettysburg Pennsylvania for MG meets, where he was 1 of 1200 people who showed up with their MGs, and is hoping to attend more meets once pandemic ends.
TVR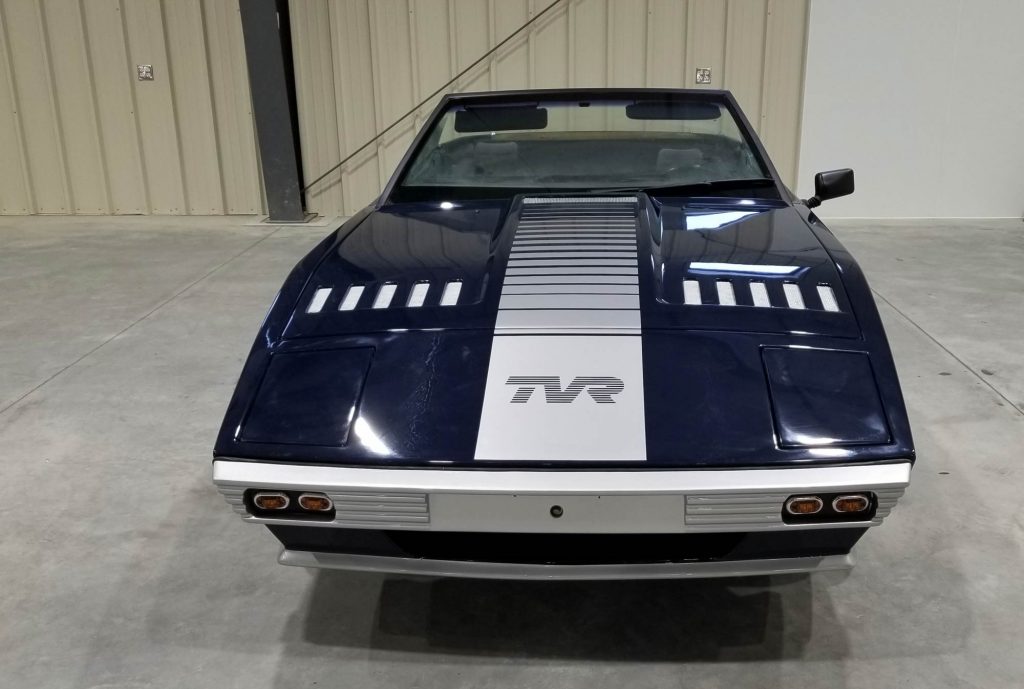 Scott Andrews who oversees the Halifax Operations, you guessed it, he also has an affinity for "special" cars. Here is his story about the TVR.
A 1981 TVR Tasmin. What is that you say. Who makes that? Is it a triumph of some sort? What does it have for a motor? These are the questions I get every time somebody spies the TVR. It is a wedge shape car that nobody in North America has heard of much less seen. Likely because it hails from the UK.
The official description is as follows. "TVR is a British manufacturer of high-end sports cars. The company manufactures lightweight sports cars with powerful engines and was, at one time, the third-largest specialized sports car manufacturer in the world, offering a diverse range of coupés and convertibles." TVR back in the day had an impressive line up of cars but ended up getting sold in the early 2000's and stopped manufacturing and exporting cars.
Back to the Tasmin, which was a lesser-known model in the early 80's. They have a fiber glass body with a tube frame and a 6-cylinder 2.8 liter V6 engine made by Ford's European division. Because of its lightweight and big V6 it makes for an impressive little machine for its vintage.
This particular car first came into my brother's possession back in the in the late nineties and it was decided between my brothers and I that it would be the perfect gift for our Dad's 65th birthday present. Fast forward to the present day and Dad 80th birthday, he will soon get his car back after an extensive restoration completed over the past several years that includes engine rebuild, new interior, new tires, new clutch and slave cylinder, new paint, and a complete electrical rewiring to build new memories!!
Hopefully from these stories you can feel the true passion that everyone at AutoOne has for cars. Whether they're road ready or not, classic cars hold a special place in AutoOne's heart! If you love classic cars as much as we do, let us know! With our expertise and connections, we will definitely be able to help you find your dream classic car.
Here's to the love of classic sports cars and keeping their history alive!