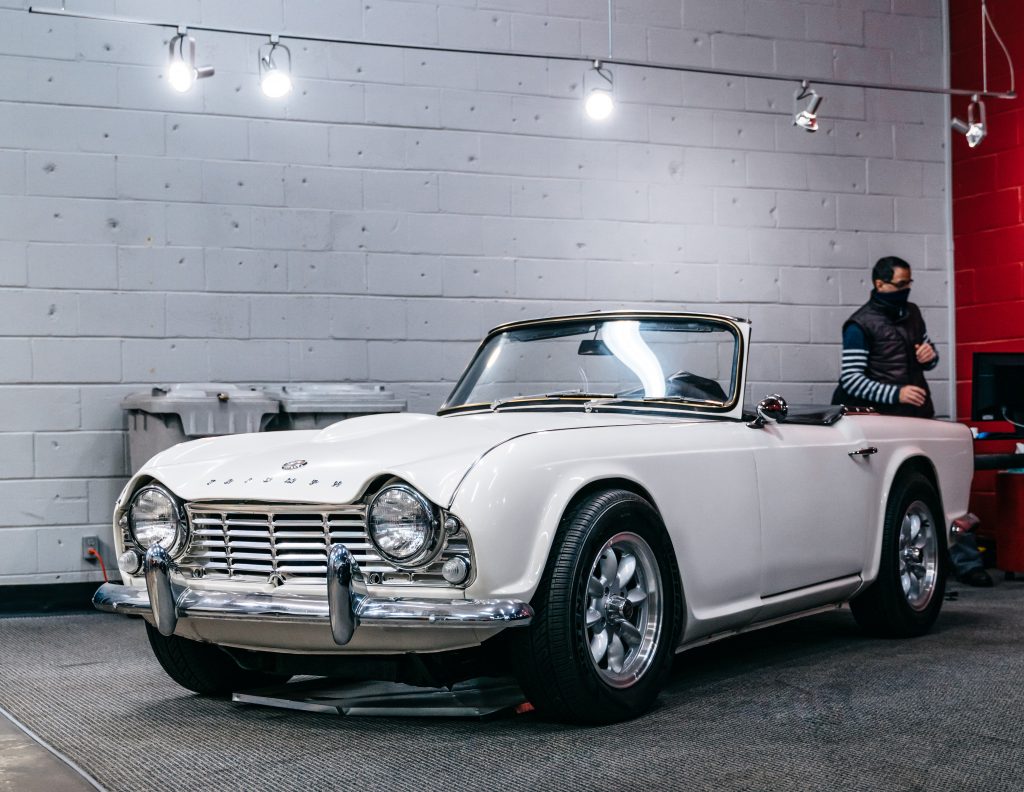 For my 40th birthday, my husband gifted me a 1964 Triumph TR4. There is no denying it was very cool to receive a car from the same year I was born, but I must admit I was a bit confused at first. The car was completely undriveable, it had been in an accident and was a total write-off, it arrived on a flatbed! For my husband though, that was part of the gift; getting to restore this beautiful car together.
It was the most comprehensive restoration you can do to a vehicle. We took everything back to the frame and then took the frame in to have it sand-blasted and bent back into shape. The physical car and the engine were retained, but essentially everything else needed to be replaced, all the way down to the wiring. While this is a lengthy process, as with any classic car restoration, we experienced a few hiccups.
Our original mechanic, Mario, worked on the car sporadically for 2 years. He would often disappear for months at a time without completing any work, until I decided to get a little more involved. I would sit down with the mechanic to inquire exactly what parts were needed, order them myself, hand deliver them to him, and ensure the work got done. Unfortunately, we found out that Mario was suffering from Cancer, but he had decided that he wanted to finish the vehicle before passing. Although Mario was unable to complete the car, we eventually found another mechanic that did, and had him paint Mario's name on the side as a tribute to all his hard work.
The total process took about 5 years but resulted in a beautiful car. With a canvas roof, barely working windshield wipers, and minimal heating or AC, it is certainly a fair-weather vehicle. That didn't stop me from enjoying the occasional Sunday drive, until it inevitably needed some extra work done. For now, the Triumph sits in the AUTOONE showroom, but it will be back on the road soon!