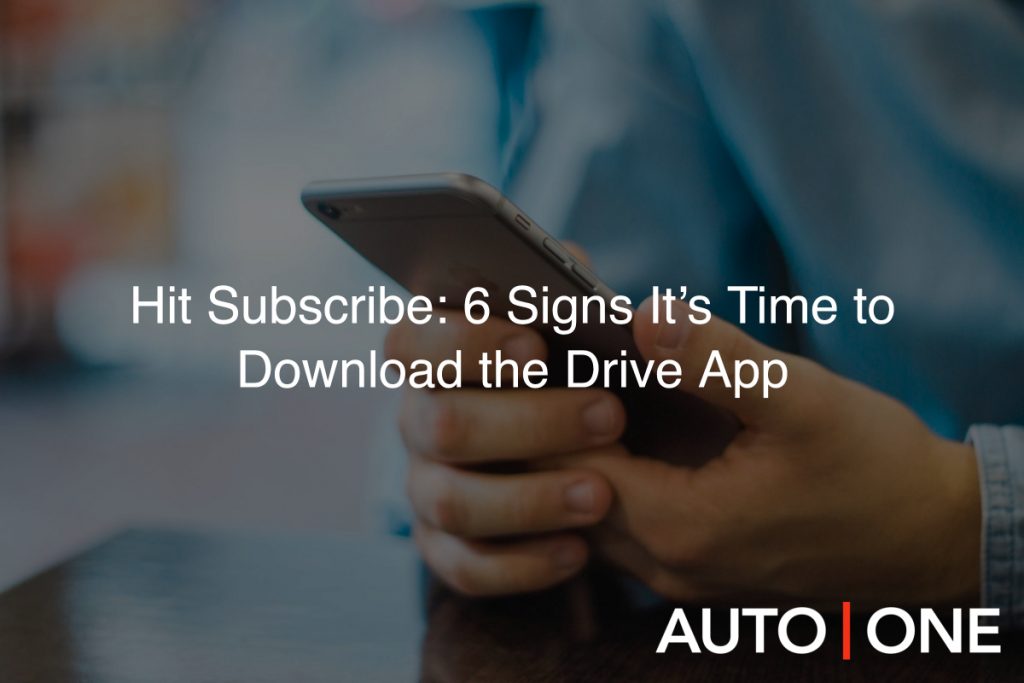 Since releasing the Drive App, and with it the first car subscription service in North America, we've been seeing a surge of support for the idea. Not only is it appealing to younger drivers, tired of the years-long commitment of purchasing or leasing, but with older drivers as well – the ones who perhaps don't need a car year-round, or want a different car for each different season.
It's been a hit with car lovers, who want to drive as many vehicles as possible in a calendar year, as well as with daily drivers, who are simply looking for a dependable commuter without the attachment of a long, protracted deal. Families love it and lone wolves love it too.
In other words, it has been a hit across the demographic spectrum, piquing the excitement and imagination of all sorts of drivers. But we can always do better. Even though we here at AUTO ONE Group pride ourselves on vehicle leasing made easy we still want to get the word out about subscriptions. The same way that YouTube channels implore you to "like and subscribe" at the end of each video, we want to encourage you to subscribe to Drive to see what it can do for you.
If you're looking for a sign, or a reason to download the app, check out these six reasons, each from real-world examples, for why you should download drive and hit subscribe!
You Need a Dependable, Affordable Commuter Car
Your day-to-day vehicle needs to be dependable. After a few years with the same vehicle, it starts to show its age, laboring up hills and rattling its way down the highway. With a car subscription, you never have to drive a car past its prime. You're always behind the wheel of a reliable, new vehicle.
What's more, through AUTO ONE Group's Drive app, you can subscribe to the newest all-electric models, like the Tesla Model S, so you can save time and money at the pump as you cruise to work.
But You Want to Take a Summer Road Trip
You've got yourself a reliable commuter vehicle, one that runs on sheer electricity, but the summer is fast approaching – you want to take yourself, and a few friends, on a summer road trip. With purchasing or leasing, you'd be stuck driving that electric vehicle past its limited range, without a charging station in sight.
With Auto One Drive however, you can simply swap your EV for a traditional fuel vehicle with great mileage and set off on your summer adventure. And the best part is, when you're back from your road trip, and work starts up again, you can just swap back to your regular, fuel-economical commuter. Every month, in fact, you have the opportunity to swap, renew or cancel your vehicle subscription.
Your Aunt's in Town from Florida for the Summer
The Canadian Snowbird Association estimates that about 350,000 Canadians fly down to Florida over the winter each year, spending roughly three to six months. That figure represents nearly 350,000 automobiles that go unused for up to half the year, every year. In the traditional financing models, there wasn't really much you could do about it – you were going to pay an entire year's cost for a vehicle you're only using part-time.
Next time your aunt visits from Florida for the summer, introduce her to AUTO ONE's Drive program. Rather than paying for a vehicle year-round, she can easily get a car for however many months she's in Canada, and simply pause the subscription – paying nothing – while she's living it up in in Florida.
And Your Friend is in Town for Business
The current job market isn't as sedentary as it used to be. People get moved around, often working from one location for part of a year, and then moving for another part of the year. This is a lifestyle that, unfortunately, purchasing and leasing doesn't really address. How can you lock yourself into a 2-7-year relationship with a vehicle if you only plan on staying for a year?
Again, Drive has the answer. Whether you're looking for a sophisticated Porsche Cayenne to drive to your new contract job, or simply need an economy commuter like the Kia Soul to jet you back and forth from a temporary gig, we've got you covered. If it's time to leave, simply cancel the program, or pick back up in another AUTO ONE Group city (Vancouver, Toronto or Halifax). If you plan on staying, renew your vehicle hassle-free and keep driving to work!
You Want a Car for the Whole Family
No one knows what the future holds. While your family might be small today, it could get a little bigger the next. Your two-door sports car or EV commuter might be perfectly fine for yourself, but when you have a family to cart around, you'll need something safer and more spacious.
Drive is there for you for all of life's surprising moments, allowing you to customize your vehicle to accommodate your newly changing family life. Check out the available cars in our nationwide inventory, including family-friendly SUVs like the Range Rover or Audi X5.
You Want to Try Something New
Finally, here's a sign that it's time for you to download the Drive app: you want to drive something new. And in a year from now, you'll want to drive something new again. Life's too short to be tethered to a single vehicle for the better part of a decade, and you want the freedom to explore the fantastic variety of cars on the market.
With Drive's monthly Swap/Renew/Cancel option, you get to try something new… over and over and over again.
Haven't downloaded AUTO ONE Group's Drive app yet? Check out what the CBC called Netflix for Cars and start driving the vehicles you want – whenever you want, and for however long you feel like. For more information, click through to the homepage and read about Drive.